Session 21
The MSAR is a helpful tool that the AAMC offers students. Too many students use it in the wrong way though. How should you use it? We'll talk about that today.
Our episodes in this podcast are recordings of our Facebook Live that we do at 3pm Eastern on most weekdays. Check out our Facebook page and like the page to be notified. Also, listen to our other podcasts on MedEd Media.
Interested in hearing from different medical specialists? Check out SpecialtyStories.com
[00:21] What Is the MSAR?
The MSAR (Medical School Admissions Requirements) used to be a book which is now a website. Produced by the AAMC every year, they provide updated data from the medical schools. So they go to medical schools and they get information, which is then given to AAMC to put on the MSAR website. It costs around $25-$30 for one year of access to it.
[00:53] What You'll Find on the MSAR
It will allow you to look at each school. The site's user interface is much better than it used to be. The database lets you compare schools.
You can see what classes are required for each of the schools. They will usually have data there if it lets you have online classes for your prereqs or not. It gives a breakdown of students interviewed and where they're from or whether they're international.
[01:50] MSAR Should Not Be Your Basis
Here's one thing to keep in mind when you're looking at the MSAR and using it to decide whether or not to apply to a medical school. MSAR looks at historic data (last year's class or the year before). So it doesn't tell you anything about what the medical school is looking for.
It gives you an idea of how they look at international applicants. But it doesn't tell you anything else. It doesn't tell you whether or not you should apply to a school or not. Unless you are completely missing prereqs required or you don't fit with the mission of the school, this shouldn't be your basis for which school to apply to.
[02:55] Looking at the MCAT and GPA
A lot of the students look at the MCAT data and GPA data on the MSAR for each school. You will see median MCAT and median GPA. And many students look at that to determine whether or not they're going to apply to the school.
All that score tells you is that half of the class is above it and the other half is below it. That's all it tells you.
If your median MCAT score is 510 and you scored a 505, does that mean you shouldn't apply to a medical school? Absolutely, not. It only tells you that half of the class is below 510.
It also has percentile ranges like 25th to 75th and 10th to 90th percentile. Those are better ones to look at to give you a better idea. Specifically look the 10th percentile range or number. If that is a 505 and you have a 502, that doesn't mean you shouldn't apply to that medical schools. It just tells you that 10% of the class is below that number.
[04:40] It's Just Data
What the MSAR doesn't tell you is what else students have in their application that allowed them to be accepted to the medical school with an MCAT score in the bottom 10% of the class.
Again, the MCAT and GPA are just two parts of your application. Your application consists of so much more. When you look at MCAT and GPA for a school, that should not ever dictate whether or not you apply to a medical school or not. It's just data. It's not telling you who those students are. At the end of the day, it only tells you that for the 10th percentile that 10% of the class is below that number and 90% is above it.
[05:55] Look to MSAR for Specific Requirements
The MSAR can tell you stuff about the curriculum and the school's mission statement. They provide what kind of students they're looking for. They have the breakdown of the types of students they've accepted in the past. Again, this is historical data that doesn't tell you about the future of what they're looking for.
Therefore, the MSAR should not dictate what schools you're applying to or not. But they're there to help give you some more information.  As you're trying to gather the information, they help you figure out what schools are out there.
One of the biggest uses of the MSAR is they tell you what specific requirements the school has. And even if they say they don't accept online classes, you can still call the school and present your situation to them. Sometimes, they'll say yes. Other times, no. So look at those specific requirements on the MSAR. But other than that, it's just information. It shouldn't dictate where you are applying to medical school.
Links:
Medical School HQ Facebook page
Medical School HQ YouTube channel
Get the Podcast Free!
Listen to Other Episodes
Leave us a Review and Rating!
Just like Yelp reviews or IMDB ratings help you choose your next restaurant or movie, leaving a 5 star rating and/or a written review is very valuable to The Premed Years. It allows us to be able to share our information with more people than ever before.
I am so incredibly thankful to those who have recently gone into our listing in iTunes to provide a five start rating and a written review of The Premed Years.
Subscribe and Download
iOS/Mac/Windows – You can subscribe to the show in iTunes. Or you could manually add the RSS feed to your aggregator.
Android/Mac/Windows – You can download DoubleTwist and use that to manage all of our past and future episodes
Please help us spread the word!
If you like the show, will you please take a moment to leave a comment on iTunes? This really helps us get the word out!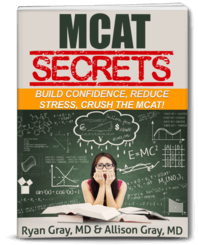 DOWNLOAD FREE - Crush the MCAT with our MCAT Secrets eBook