Choosing Premed Colleges and Majors
Congrats! You are half-way through your undergraduate studies (unless you're studying in Canada in which case it's only the end of freshman year) and it is now time to choose a major. At this point, you may have also decided that you want to go to medical school and you are trying to decide what to major in. The first question you may be asking is "Does it matter what my major is if I want to go to medical school?"

The answer in large part is no. Medical schools want applicants who are smart, hard-working and well-rounded. In addition, medical school requirements state that there are a set of courses which must be completed prior to applying to medical school; these include general biology, general chemistry, organic chemistry, physics, and typically at least 1-2 semesters in English. Aside from those courses which are required for med school, you can major in anything you want. The majority (75%) of medical school matriculants major in the biological, physical and social sciences. This leaves 25% of students accepted to medical school that have majors in other disciplines.
Read more > >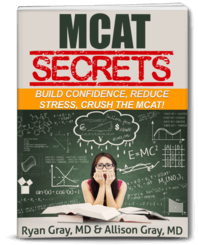 DOWNLOAD FREE - Crush the MCAT with our MCAT Secrets eBook