Dr. Zubin Damania, a.k.a. ZDoggMD, is a hospitalist, healthcare visionary and internet personality. He was grateful enough to sit down and talk to me for a little while about his path to medicine, some of his struggles with his career and the exciting stuff he is doing with the Downtown Project in Las Vegas, NV.
Dr. Damania grew up in a dual physician household, and went into medicine just to "spite" his parents. He followed this path into medicine because he liked science, was good at taking tests and had an aptitude for taking tests – which he now says are not good reasons for going into medicine.
Dr. Damania talks about how he mostly saw the negative side of medicine as he grew up with parents as physicians, which he thinks helped in proving to the admissions committees that he truly knew medicine was what he wanted to do.
One of the most disturbing things Dr. Damania said near the beginning of the interview – that he actually liked the process of being premed, getting into medical school and going through it. Maybe we should call a psych consult for him?! He actually finished his undergrad at UC Berkeley in 3 years and found medicine a "nice change of pace." If only we could all see it that way!
Read more > >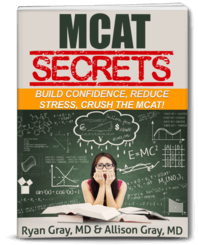 DOWNLOAD FREE - Crush the MCAT with our MCAT Secrets eBook