Session 128
In this episode, Ryan and Allison talk about some tips for you to successfully submit your medical applications on time.
If you're applying, first take a deep breath. You don't need to submit your application on the first day.
Meanwhile, here are tips on how it successfully submit your medical applications on time.
Apply early.
The school's deadline for submission should not be your goal date.
Submitting late is not an option; if you do, better apply the next year
Make sure you have all the information you need when you sit down the first time.
What are the things you need?
Transcripts from every school you've been to
A list of extracurricular activities you've done
A list of your advisors/mentors/supervisors and their contact information
Take note of how many hours you spent for a particular activity, what you did there, and how it affected you
Keep a log of everything you're doing
Know in advance how many schools you're applying to.
Don't apply to a ton of schools due to the high cost; however, apply to enough number  of schools to increase your chances of getting in
Get your letter writers to write letters now.
Who's writing all your letters? Know more about them.
You can pick what letter goes to what school
Proofread everything.
Take note of some weird formatting issues
Have other people proofread your application
Make sure you follow all the proper protocols (like when requesting for your transcripts to be sent to the testing service)
Use an appropriate email.
Your email address should be professional-looking.
Use your personal email instead of your work email.
Only put activities that really matter and have great impact to you.
Include activities that are/have:
Transformative
Major impact
Changes your outlook to make you grow
Your personal statement can make or break your application.
Take your time and a lot of reiterations
Have a physician read it
Have someone read it for grammar and another one for content
Know your timeline.
When should each thing be submitted?
Links and Other Resources:
Subscribe for Free
Listen to Other Episodes
Leave us a Review and Rating!
Just like Yelp reviews or IMDB ratings help you choose your next restaurant or movie, leaving a 5 star rating and/or a written review is very valuable to The Premed Years. It allows us to be able to share our information with more people than ever before.
I am so incredibly thankful to those who have recently gone into our listing in iTunes to provide a five start rating and a written review of The Premed Years.
Subscribe and Download
iOS/Mac/Windows – You can subscribe to the show in iTunes. Or you could manually add the RSS feed to your aggregator.
Android/Mac/Windows – You can download DoubleTwist and use that to manage all of our past and future episodes
Please help us spread the word!
If you like the show, will you please take a moment to leave a comment on iTunes? This really helps us get the word out!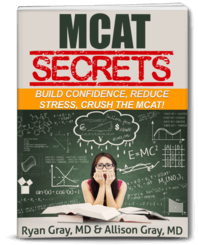 DOWNLOAD FREE - Crush the MCAT with our MCAT Secrets eBook