Session 149
In this episode, Ryan talks with another orthopedic surgery resident here on the show, Dr. Daniel Paull. He is the author of So You Got into Medical School… Now What? A Guide to Preparing for the Next Four Years.  
Ryan brought him on the show to talk about his book and how this might help you as a premed and eventually as a medical student. Daniel talks about the challenges he met while applying for medical school as well as the joys of really pursuing his passion.
Want a copy of Daniel's book? Get a chance to win by leaving us a comment on the bottom of the page and tell us what you're hoping to do after you graduate from medical school. What do you hope to accomplish as a physician?
Here are the highlights of the conversation with Daniel:
The aha! moment when Daniel realized his calling to become a doctor
Coming from a family of engineers
Being injured and getting exposed to orthopedics
On writing your personal statement…
Tell the truth.
Be sincere because this is the reason why you're doing it.
Steps he took to prepare for medical school:
Focusing on getting good grades
Took his premed at NYU
Getting a major in physics just because he really liked it
Applied twice to get into medical school
What steps did he take to finally get into medical school?
He tweaked his personal statement
Did more extracurricular activities
Finally got into University of Miami
Course correction strategies he took to get better grades:
Paying attention to details more
Doing the instructional stuff beforehand
Going to the lecture, taking notes, and reviewing them
What kept him motivated:
Not worrying too much
Taking Step 1
What was Daniel's Step 1?
Spaced Repetition Learning
Use of flash cards
Applying to medical school vs. applying to ortho residencies
Find out why Daniel finds it easier to apply to the residency.
On his book, So You Got into Medical School… Now What?
This book is for those who want to make the transition easier
For premeds, this will give them a better idea of what medical school is really like
Some pieces of advice for premed students:
People will help you out in medical school to help you get through and it does get better as time goes on.
Links and Other Resources
Transcript
 Pending
Subscribe for Free
Listen to Other Episodes
Leave us a Review and Rating!
Just like Yelp reviews or IMDB ratings help you choose your next restaurant or movie, leaving a 5 star rating and/or a written review is very valuable to The Premed Years. It allows us to be able to share our information with more people than ever before.
I am so incredibly thankful to those who have recently gone into our listing in iTunes to provide a five start rating and a written review of The Premed Years.
Subscribe and Download
iOS/Mac/Windows – You can subscribe to the show in iTunes. Or you could manually add the RSS feed to your aggregator.
Android/Mac/Windows – You can download DoubleTwist and use that to manage all of our past and future episodes
Please help us spread the word!
If you like the show, will you please take a moment to leave a comment on iTunes? This really helps us get the word out!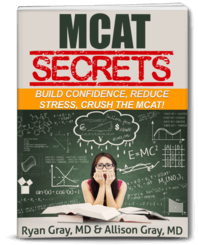 DOWNLOAD FREE - Crush the MCAT with our MCAT Secrets eBook