Choosing Premed Colleges and Majors
Dr. Polites is back with us again to talk about how to go about fixing a poor start to a premed career. If you remember, Dr. Polites joined us back in session 23.

Dr. Polites and I try to create scenarios that students may be in, whether it is a poor GPA or low MCAT score, so he/she can listen to the advice Dr. Polites has to offer.

If you have a good GPA and low MCAT, should you retake the MCAT? Should you try to retake the test with the hopes of raising the score? We talk about that!

What about getting a C in a course – should you retake the course? For the AMCAS application you have to average you grades. For the AACOMAS application you us the LAST grade, even if you do worse.
Read more > >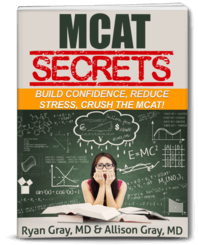 DOWNLOAD FREE - Crush the MCAT with our MCAT Secrets eBook