Personal Statement Editing
Fifty Six Percent!
With 56% of medical school applicants getting a rejection in the mail, YOU need to stand out.
Why it Matters
The personal statement can make or break your chances at a medical school interview.
Just because you have a 4.0 GPA and a 39 MCAT does not mean you're a shoo-in.
Until 3/31/2017 - Get 3 Edits instead of 2
Limited Availability
Editing personal statements takes a lot of time and brain power. If you can still see the button below to get help with your personal statement, don't hesitate!
Sign-up Now for just $200
What Others Are Saying
Ryan brings the most valuable assets in the medical school admissions process: honesty and experience. His focused advice was key in helping me create a truly compelling personal statement. - Ryan Ga.
Do it Now
Application season never ends. You need to get your application submitted as early as possible for the best chance at getting accepted.
Click the Button
We will work together to get you the best personal statement to show admissions committee members exactly why they would be foolish to not accept you!
What you Get
You'll get two three (until 3/31/2017) revisions of your personal statement and the support you need to write the best personal statement so the admissions committee knows who you are, why you want to be a physician and what you will do with that degree in the future. I guarantee that we can work together so you can be confident in your personal statement when you submit your applications.
Common Questions
Q: How long does it take to get my personal statement back with comments?
A: I usually am able to read them and comment within a few business days. If it's taking longer than you thought, ping me. There are rare occasions that the Google Doc email ends up in Spam!
Q: Do you look at extracurriculars too?
A: I sure do, there is a separate package below specifically for extracurriculars. Because ECs can be more than twice as long as a personal statement, it does take a little longer, 4 days on average to get those turned around, but often time faster!
Sign-up Now for just $200
Having Problems Getting Started? Don't Know What to Write About?
If you're having problems just getting started, you can schedule a more one-on-one session with me to help you start to draft your personal statement. I'll have you fill out a short form to give me some ideas about who you are and give me a rough draft if you have one. Then we'll jump on a 30 minute Skype call to flush out some ideas. After that, I'll review your first draft of your personal statement and give you feedback on how you can make it stronger! You'll get all this for $300.
Sign-up for the One-on-One Personal Statement Starter Package
Need Help With Your Extracurriculars?
Did you know that I think the extracurricular descriptions are actually harder to write that the personal statement? And you know how hard the personal statement is! Don't worry. I can help you write those as well! Sign up below for just $250.
Still Have Questions?
Email me - ryan@medicalschoolhq.net and we can talk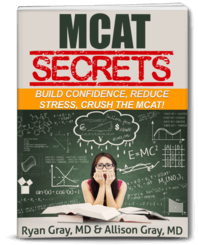 DOWNLOAD FREE - Crush the MCAT with our MCAT Secrets eBook