New Jersey (Rutgers) Secondary Essay Prompts
(If you have updated prompts, please submit them at updatesecondaries.com)
These prompts are from the 2019 Application Cycle.
Prompts:
If you have participated in any program(s) affiliated with NJMS (i.e. summer programs, research, high school programs, internships, volunteering, graduate school, etc.), please indicate below. Please provide name(s) and date(s) of program participation.
If you have any relatives currently enrolled or who have graduated from NJMS please provide name(s), relationship to you and graduation year in the space provided below.
If you have any other connections to NJMS, or Rutgers University, please provide details below.
If you previously applied to NJMS through AMCAS or an accelerated program, please provide the following: Program name(s) and Application year(s).
Please indicate below if you previously met with either Dr. Heinrich or Ms. Rivero (prior to July 1, 2018). With whom did you meet and date(s):
NJMS recognizes the importance of diversity in the medical profession. We understand that the applicant pool is multidimensional and as such we would like to learn more about you:

How do you self-identify Racially
How do you self-identify Ethnically
How do you self-identify Culturally

Integrity is a core value at NJMS. Please share your thoughts on Integrity. Additionally, we seek students who are self-aware, resilient and adaptable. Discuss a personal or professional challenge you have experienced and how you resolved it.
NJMS is committed to fostering a collaborative and cohesive environment. With this in mind, how will you contribute to our medical school community?
Please discuss any additional information you feel may help us in our review of your candidacy. Feel free to elaborate on any gaps (educational or experiences), discrepancies in academic history, institutional actions, etc.
---
Secondary Deadline: December 15, 2018
Secondary Fee: $95
FAP Waiver: Full Fee Waived
CASPer Required: No
Screens Applications: No
Accepts Application Updates: Yes/Email
---
Rutgers New Jersey Medical School Mission:
The mission of New Jersey Medical School is to educate students, physicians, and scientists to meet society's current and future healthcare needs through patient-centered education; pioneering research; innovative clinical, rehabilitative and preventive care; and collaborative community outreach.
Rutgers New Jersey Medical School Vision:
To create, transmit and utilize knowledge to shape the future of medicine and to enhance the quality of life for the people of New Jersey.
Rutgers New Jersey Medical School Values:
Personal respect for patients, students, staff, faculty and community
Passionate commitment to excellence in service, research and training
Celebration of diversity in culture, ethnicity, religion, gender and individual goals
Professionalism in all conduct
Commitment to serving needs of constituents
Progress through partnerships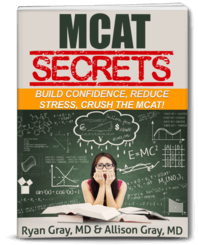 DOWNLOAD FREE - Crush the MCAT with our MCAT Secrets eBook