USMLE Step 1 – The dreaded 1st step in the process of obtaining your medical license. Preparing for the USMLE Step 1 test involves reading and taking practice questions, thousands of practice questions. USMLE Weapon is one of many options of qbank (question banks) for the USMLE. USMLE Weapon specifically has a qbank for USMLE Step 1 and USMLE Step 2 CK (clinical knowledge). I gave it a thorough, unbiased, review so that you can make a more informed decision when you purchase a qbank.
First Impressions
The USMLE Weapon website is very clean and professional. Looking around and seeing that USMLE Weapon is part of a larger company which has other test banks is very comforting. I always try to make sure a company I am going to invest some time and money with is not a fly-by-night operation. They have a very basic homepage with a video demoing the product and a couple of links to their test banks and authors. It is really all you need. Going into the Step 1 and Step 2 CK pages shows some basic benefits of the program. I did read one statement about the ability to "Test Anywhere," using their mobile apps that I took exception to – it may seem trivial, I just didn't like it. They claim "Perfect for testing on rounds. We understand that every minute is valuable, so we've created our mobile apps to allow you to test while completing rounds or other activities." The "other activities" is great, but while on rounds, you should be learning and paying attention to the team and the treatment of your patients. Just because you CAN doesn't mean you SHOULD.
My Tests Tab
The first tab, besides the home tab on the main menu on USMLE Weapon, takes you to a list of the tests that you have, or tests that you are in the progress of taking. This is a basic screen with some basic, but useful, data about your tests. Some of the useful information includes your score and your peers' scores as well as time per question.
Create a Test Tab
This tab is the meat of the site. This is where you go to start the process of creating a test. There are a few options for creating a test:
Number of questions – type in how many questions you want. I wish this was a drop down, and not a text input box.
Type of the test – The options include timed test, untimed test, tutor mode.
Type of questions – Choose if you want questions you haven't seen before, ones you have gotten wrong, ones you have seen, or a mix
Question difficulty – Four choices include not specified, easy, moderate and hard. Here is one of the first places that I saw a somewhat big flaw with USMLE Weapon. 98% of the questions were Moderate while only 1% were Easy and Hard. Between testing and writing this review, USMLE Weapon read my mind, and they removed the option! As of this writing, they do have 1709 questions, so the amount of questions is fairly substantial. The only problem is that the questions are marked Moderate. While I don't know how they "grade" their questions, I do know that students like having the option. Pounding through a handful of Hard questions and scoring higher than your peers is reason to celebrate. I will be interested to see when they bring back the option if they will just reevaluate the difficulty of the old questions or significantly increase their qbank size.
Here you also choose the subject matter of the test you want. This allows you to stay in line with what you are studying. Near the end of your studying, you can switch to "Select All Categories" and test your knowledge against everything USMLE Weapon has to offer. I do know that USMLE Weapon has a
Shelf Series
in the works, but until then, a 30-day subscription to their Step 1 qbank and testing only on a specific subject might be a valuable way to study for the shelf exams.
Test Format
The question format once you are in a test is very basic, and similar to most other qbanks, and even the true USMLE Step 1 exam. There is an answer sheet and attachments tab on the left that you can hide. Each answer can be crossed off by clicking a red "x" that shows up when hovering over a question. The timer for a timed test shows up at the top. The bottom of the page has typical navigation buttons and also includes a note and mark button. You can add any notes you want to a question and search your notes later. "Marking" a question will show a flag in the answer sheet section so you can quickly see which questions you have to go back to. The question isn't actually marked until you switch to the next question, so if you mark it and do something else, it might not actually get marked. One feature that I think many people will want, even though I am not one of them, is a highlighting feature. When reading the vignette, highlighting small pieces of key information can be very helpful when reviewing the question. I personally think it is a feature that just distracts me when taking the test.
Answer Explanations
One question gives you many learning opportunities. Instead of just giving you the correct answer and a link to more information on that topic, USMLE Weapon does a very good job of going through each answer and giving a valuable explanation as to why that answer is wrong for this particular question. After reviewing all the answers and explanations for why they are wrong, there is a "Bottom Line," one last opportunity for you to take in a bit of knowledge from the question. If the question is based on one of the many key subject matters on USMLE Step 1, there is another resource provided called "Step 1 Insight." These insights basically give you one last opportunity to make note of an important topic to study.
My Performance Tab
Data, data, data. Medical students love looking at data! Especially when they can compare themselves to others. The My Performance tab allows you to take a VERY in-depth look at how you are performing.
Performance Over Time is a basic re-hash of the My Tests tab we discussed earlier. It does add a simple line graph showing you a pass line (70%) and a graph of all your test scores.
Subject Analysis is a thorough breakdown of each subject with a simple bar graph for each showing your performance and the performance of others. Hover over each bar and get a breakdown of each subject.
Decision Analysis is the "gut check" tab which tells you how many questions you changed, from correct to incorrect, incorrect to correct, and incorrect to incorrect. Possibly one of the more undervalued pieces of data, knowing how YOU react to your initial responses is very valuable. Learn if you typically wrongly second guess, or if you are a quick clicker and then take the time to change to the proper answer.
iPhone/Android Apps
I'm not going to go in-depth on the performance of their mobile apps here. I did use the iPhone app enough to get an idea of how it worked. The basic function of the iPhone app is very similar to the website. I did run into multiple crashes in different scenarios while using the app. Looking around at reviews I have seen some complaints about other bugs in the Android version as well. What I thought was interesting is that the iPhone app is a little buried in the App Store. You have to search for USMLE1 to find the app.
Conclusion
For USMLE Step 1 preparation, the USMLE Weapon qbank is a solid addition to what is becoming a crowded market. Here are some takeaways:
Pros
1700+ questions and growing
Price competitive to other question banks
Good, in-depth explanations detailing why wrong answers are wrong. Includes links to outside sources for further reading
Extensive performance reports so you understand where you stand and what you need to work on
Cons
Only about 2% of total questions are marked Easy or Hard
Formatting Issues seen sporadically
Normal Lab values one giant image, listed as in Step 2 CK
No highlighting of questions
iPhone/Android App Bugs
USMLE Weapon is built on a solid foundation, having many different question banks developed by Test Weapon. There is room to grow, but they are still new. If you are looking for a different question bank alternative, give USMLE Weapon a look. You can find them at http://www.usmleweapon.com.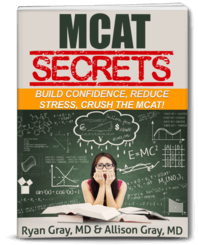 Crush the MCAT with our
MCAT Secrets eBook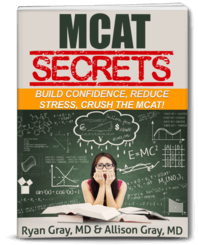 DOWNLOAD FREE - Crush the MCAT with our MCAT Secrets eBook