13 Video Course
If you aren't ready for 1-on-1 help with your mock interview prep, you definitely should look at our video course offered here.
In this course, we cover everything you need to know about the medical school interview! We cover do's & don'ts, the mock interview, preparing for the interview, common questions and more! You'll get a worksheet that you can fill in to help you plan your questions and reasons for applying to each school.
You'll also get two full audio recordings of mock interviews that I've completed with students just like you. Listen to the process and when you're ready for 1-on-1 prep, check out the offerings below.
The Premed Playbook: Guide for the Medical School Interview
Get it on Kindle here (you don't need a Kindle device - you can use a Kindle app!)
"Dr. Gray has compiled a very detailed, comprehensive, and practical book on the medical school interview. What makes this book so unique is his emphasis on the introspective process. Instead of simply providing a checklist of do's and don'ts, he challenges the reader to examine their strengths and weaknesses and gives them a blueprint on how to put their best foot forward. His advice is real-world and complied by many interviewers, including myself, who have years of experience interviewing medical school applicants. I highly recommend this book as a fundamental preparation tool for the application process."
--Gregory M. Polites, MD, Associate Professor of Emergency Medicine, Chairman of the Central Subcommittee on Admissions, Washington University School of Medicine
Get it on Kindle here (you don't need a Kindle device - you can use a Kindle app!)
"The Premed Playbook: Guide to the Medical School Interview is a must-have for every future doctor's collection. Great advice, comprehensive, and to the point. Dr. Gray breaks it down, play by play."
--Sujay Kansagra, MD. Author of The Medical School Manual, Everything I Learned in Medical School, and Why Medicine
Get it on Kindle here (you don't need a Kindle device - you can use a Kindle app!)
"Dr. Gray offers a simple and concise guide to having a successful medical school interview. Having been through the medical school process three times while applying and then serving on the admissions committee during my last year of medical school, I know what it takes to have a successful interview. This book touches on every aspect of the interview from applying, during the interview and things to do/not to do after the interview. I highly recommend this book for every student to read and have available for reference during the medical school interview season."
--Antonio J. Webb, MD is an Orthopedic Resident Surgeon, Motivational Speaker, and Author of Overcoming the Odds.
Get it on Kindle here (you don't need a Kindle device - you can use a Kindle app!)
If You're Not Ready to Work 1-on-1 With Me
Check out our podcast episodes that we've one on the medical school interview!
Prepare with Me - 1-on-1
If you're here, you understand that the medical school interview is the final obstacle between you and an acceptance to medical school. You understand how important it is to be prepared for the gauntlet of questions that the interviewer can ask you. You understand that the mock interview is THE BEST method of preparing of the interview.
I've conducted countless mock interviews with students preparing for their interview day and time and time again, the feedback that I've received has been incredible.
I know that conducting mock interviews with me will get you prepared to crush your interview.
Over Skype, we'll meet for 45 minutes - about 25 minutes of questions and 20 minutes of feedback. I love the feedback - that's where you learn how to take your interview skills to the next level. I don't sugar coat it!
Most students sign up for 4 sessions with me near the beginning of interview season to help them prepare for any interview that may come their way.
There are several types of interviews that you may encounter, the open interview, closed interview and the MMI. You may even get a mix. I'll get you ready for all of them.
Don't wait until you know you have an interview, because by then it may be too late. I may not have availability or you may not have enough time to practice what you need to based on my feedback.
"When I first decided to apply to medical school, most people told me I would be lucky if I got one acceptance. With Ryan's help, I was fortunate enough to gain several acceptances! His podcast helped me navigate the murky waters of the premed path, and when it came time to interview at schools, his mock interview helped me overcome my nervous jitters, clarify my answers, and flush out my story. Out of the 11 interviews I went on, I received 10 acceptances and 1 waitlist offer. I know that the mock interview I did with Ryan had a lot to do with my success. Believe it or not, I was more nervous during my mock interview with Ryan than I was during my actual interviews! His mock interview gave me the confidence and clarity of thought that I needed to successfully gain multiple acceptances to medical school." - Jessica W - Stony Brook Class of 2020
Get the Book for Free
With any of the packages, I'll send you the digital version of my book - The Premed Playbook - Guide to the Medical School Interview. It's being released on Amazon and Kindle mid August, but if you signup before then, I'll send you the copy before then.
1-on-1 Mock Interview
Why it Matters
Medical schools interview only a small percentage of those that apply, and still only percentage of those students are accepted. Preparation for your medical school interview will help you stand out and be noticed. If you have an interview, the school KNOWS, based on your application, that you can handle it.  Now they just want to make sure that you can handle yourself in a professional setting and that you can communicate your thoughts well.
Just because you have a 4.0 GPA and a 39 MCAT does not mean you're a shoe-in. If you are at this point, consider yourself on a level playing field with every other applicant there for the interview. The INTERVIEW will determine if you get an acceptance or a rejection, nothing else.
Even the Greats have Coaches
Think about every major actor, sports player, singer or dancer. Do you think they got to be the best because they just willed it to happen? No - they practiced. And they practiced hard! They not only practiced, but they received coaching from experts to help bring them to the next level. That's why I'm here for you.
Tailored for You
You'll send your application so I can review it, just like an admissions committee member would. Your questions will be tailored based on what's in your application, not just a list of generic questions that can be asked to any student.
"Do it! Only positive, helpful information and experience can come from mock interview coaching. It is the perfect opportunity to have a true mock interview with someone who knows the process very well! I don't know anyone who knows as much about the application process as Ryan!" - Hannah C. - VCOM Class of 2020
What's Included
Questions tailored to your application for open file interviews
A PDF copy of my book The Premed Playbook: Guide to the Medical School Interview
Access to my medical school interview training course ($47 value)
Recorded Sessions so that you can watch yourself (something other services don't offer)
Thorough, honest feedback to help you be the best on your interview day
Access to me. After having gone through the process myself, and having interviewed many experts, I know that the information I have available to share with you is second to none.
4 Mock Interview Session (Most Popular)
With our most popular package, you get one closed interview, one open interview, one MMI and one mixed (based on what we need to work on from the other three interviews).
"After three interviews at two schools I can say with confidence that the core questions Ryan covered came up in each and every conversation. I spent quite a bit of time re-watching our mock interview tape. The notes I made on my answers and Ryan's advice helped me prepare, as well as FEEL prepared. Feeling prepared for interview day decreased my anxiety, enabling me act like myself and talk with confidence about my candidacy." - Danny M - UC Irvine Class of 2020.
Start now and be prepared! 4 Sessions for only $200 per session. Thats a 20% discount off of our single session rate.

Click the Button
We will work together to get you prepared to crush your interview and make it impossible for the admissions committee members to not accept you!
Don't need 4 sessions?
If you don't need all 4 sessions, don't worry, we can still work together. You'll still get all the great things mentioned above, with the only difference being the number of times we meet.
3 Sessions
Get 3 sessions at a 14% discount!
2 Sessions
Get 2 sessions at a 7% discount!
1 Session
Just need one! We got you covered. One session is $250.
Still Have Questions?
Email me - ryan@medicalschoolhq.net and we can talk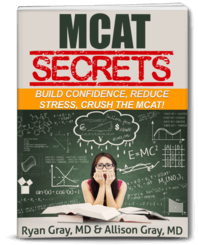 DOWNLOAD FREE - Crush the MCAT with our MCAT Secrets eBook