After almost 3 years, the Academy closed it's doors for good on August 26th, 2016. That doesn't mean I'm not here to help you though! Over the course of working with students both in the Academy and one-on-one, I'm continually learning new ways to help premed students like yourself.
There are several ways to learn what it takes to get into medical school.
Podcasts
Podcasts have and will always be the cheapest (they're free) way to get the best info on how to successfully navigate your premed path. Check out all the podcasts we have currently by going to Meded Media!
Books
I published my first book—The Premed Playbook: Guide to the Medical School Interview. You can check it out on Amazon and even read it for free for 30 days by signing up for a trial Kindle Unlimited account!
Personal Statement Editing
I read a lot of personal statements! I know what is good and what is not. There is an art to writing a good personal statement. Don't rely on another premed or medical student to tell you what is good. Check out everything I can do here.
Mock Interview Prep
Properly preparing for the medical school interview is perhaps the #1 failure of premed students. Don't make the same mistake. You wouldn't go into your MCAT without taking a practice test would you? I can help with your mock interviews in several different ways:
Medical School Interview Course - Check out this video course for a cost efficient way to self-studying the interview.
Medical School Interview Prep Platform - COMING SOON! I'm so excited to announce this new service that we will offer premed students. This new platform will allow you to do a mock interview anytime, anywhere. You'll be recorded so you can watch yourself, take notes, perform assessments and even share your video with mentors, friends and family.
One-on-One Interview Prep - This is the most customized experience because I'm on Skype with you, one-on-one, giving you direct feedback on your answers.
One-on-One Application Prep
Some advisors work with students on an hourly basis for application prep. For you to put forward the best application, you need more than an hour or two of my time. I have worked with students for almost a year before they applied, making sure that everything for their application was ready to go. Applying early, with a polished application is the best way to ensure your best possible chance at getting an acceptance. Check out how I can help you prepare for your applications here.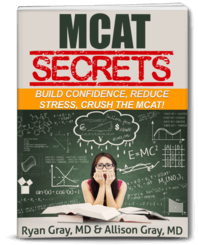 DOWNLOAD FREE - Crush the MCAT with our MCAT Secrets eBook