Session 173
In today's episode, Ryan talks with 32-year old Christina who is about to enter medical school. You could probably say all cards were practically stacked against her – a first generation college student with poor undergrad GPA, going to a community college, defaulting on her student loans, getting her bachelor's degree pretty late, getting a not-so-good MCAT score – a perfect example of a nontraditional premed. Yet these experiences have given her a solid ticket to get herself into medical school.
This is a very inspiring episode worth listening to as you learn about her crazy path to medical school.
Here are the highlights of the conversation with Christina:
What Christina is currently doing:
Works as a clinical research coordinator at Biopharma Services, where she heads the clinical trials for human pharmaceutical research.
She also gets their principal investigators who are physicians
She is starting medical school soon
Christina's crazy path to medical school:
Cristina being a first-generation college student
Feeling she was "too dumb" all her life that she didn't tell anybody about her decision to apply to medical school
Not finishing her Bachelor's until 2011 after graduating from high school in 2002
Going to a community college taking general requirements
The challenges:
Doing great in the first semester at the 2-year college and going downhill from there
Working full time and driving two hours to get to school
Defaulting on her student private loans
Deciding to enter the workforce due to money issues
Making that leap to medical school:
Having a son has put them on a whole new category where she was able to get government loans
Having the support of her husband and kid
What she did differently to do better in a 4-year university:
Learning how to study and figuring out what works for her
Focusing on just her studies since she's already had a vast clinical experience since high school working at a nursing home, rehabilitation center, group home, and laboratory research
Shadowing in the last two semesters
Her shadowing experience:
Shadowing with physicians of different specialties and seeing the different aspects of it
Using people she knew (personal physician and her family's physician) and calling the hospital's HR department to apply for shadowing
Reaching out to doctors and not hearing from them
Persistence is key.
Choosing which medicals schools to apply to:
Location (anywhere 2 hours within range)
Near family
Medical school grade requirements
Leaving her with four schools to apply to (3 MD and 1 DO)
A mention on Mizzou MedPrep program:
Introduction to the whole application process
Mock interviews
Factors she believes has carried her over through medical school:
Experiences
Personal statement
Age
The interview process:
Before the interview, the school reached out to her telling her to get more shadowing experience with a DO
Is it important to shadow a DO?
Shadow DO that does DO things such as manipulation. As with Cristina's case, she was able to shadow a DO but not seeing any aspects of manipulation. So she proved to the admissions committee that she did her homework, doing research, and watching videos to show that she understood what it was without witnessing it.
DO vs. MD: Debunking the DO Philosophy
Deferring a year:
Being waitlisted for 2016 but guaranteed for 2017
Deciding to defer a year mostly as a family decision
Working in her position to save up and go on a vacation
Some pieces of advice for premed students:
Don't let yourself be your biggest failure. If this is what you want to do then do it. Show you're passionate about it. Fight and do everything you can to get to it. Don't give up.
[box type="whitestroke" pb_margin_bottom="no" width="1/1″ el_position="first last"]
Gap Medics – Show Sponsor
If you're looking for shadowing experience, then you know how hard it is. Did you know that you can get your shadowing done, and travel the world and explore new places and cultures too? Check out Gap Medics' Pre-medice Internship Program to get a unique insight into the rewards and demands of a medical career.
With amazing locations in East Africa, Poland, the Dominican Republic and more, you'll be sure to have a great time all while strengthening your application to medical school
Head to Gap Medics to learn more!
[/box]
Links and Other Resources:
Missouri University MedPrep program
Listen to Session 113 to learn more about Gap Medics
Session 005 – Interview with OldPreMeds Publisher Richard Levy
If you need any help with the medical school interview, go to medschoolinterviewbook.com. Sign up and you will receive parts of the book so you can help shape the future of the book. This book will include over 500 questions that may be asked during interview day as well as real-life questions, answers, and feedback from all of the mock interviews Ryan has been doing with students.
Are you a nontraditional student? Go check out oldpremeds.org.
For more great content, check out www.mededmedia.com for more of the shows produced by the Medical School Headquarters including the OldPremeds Podcast and watch out for more shows in the future!
Free MCAT Gift: Free 30+ page guide with tips to help you maximize your MCAT score and which includes discount codes for MCAT prep as well.
Hang out with us over at medicalschoolhq.net/group. Click join and we'll add you up to our private Facebook group. Share your successes and miseries with the rest of us.
Check out our partner magazine, www.premedlife.com to learn more about awesome premed information.
Next Step Test Prep: Get one-on-one tutoring for the MCAT and maximize your score. Get $50 off their tutoring program when you mention that you heard about this on the podcast or through the MSHQ website.
Listen to our podcast for free at iTunes: medicalschoolhq.net/itunes and leave us a review there!
Email Ryan at ryan@medicalschoolhq.net or connect with him on Twitter @medicalschoolhq
Tweet Allison @allison_mshq or send her an email at allison@medicalschoolhq.net.
Transcript
Introduction
Dr. Ryan Gray: If you're looking for more great information like you get here at The Premed Years, go to www.MedEdMedia.com. Again, that's www.MedEdMedia.com.
This is The Premed Years, session number 173.
Hello and welcome to the Medical School Headquarters Podcast; where we believe that collaboration, not competition, is key to your premed success. I am your host, Dr. Ryan Gray, and in this podcast we share with you stories, encouragement, and information that you need to know to help guide you on your path to becoming a physician.
If you're on Facebook and you're not part of our Medical School Headquarters hangout group, go to www.MedicalSchoolHQ.net/group today and join the over 1,200 amazing premed and medical students that are collaborating every day in there. Again, that's www.MedicalSchoolHQ.net/group. Click 'Join' and I will accept you into the group as soon as I can.
Today I have an amazing guest for you, Kristina. I first met Kristina in the hangout group that I just mentioned, again www.MedicalSchoolHQ.net/group. And it came up after a discussion from somebody about shadowing DO physicians when applying to a DO medical school. And Kristina was saying that you don't need one, you don't need one, you don't need one. And I was making the argument that if you look at the College Information Book, which is the DO equivalent of the MSAR for allopathic schools, for the MD schools. If you look at the CIB, the College Information Book, it talks about DO letters of recommendation. And that DO- most of the verbiage, if you look at it, talks about how a letter of recommendation from an osteopathic physician is highly recommended for applying to that school, whatever school it is. And as an advisor to students applying to school, when I read that something is highly recommended, I suggest that you read it as required. You don't want to take the time and effort to apply to a school, only for them to see that you didn't get a letter of recommendation from an osteopathic physician, even after they said it's highly recommended, and have them look at that and go, "Well I guess they just didn't care enough." So when you read something like that, I take it as you'd better do it. Now it's not hard and fast rule, no. But it's highly recommended; I read that as required, do it. You should do it. And so Kristina and I actually started talking, and I found out that she had a pretty circuitous path to medical school, a pretty crazy path, a great path to talk about here on the podcast. So let's welcome her to the show, and hear all about that crazy path.
Kristina, welcome to The Premed Years, thanks for joining me.
Kristina: Thank you for having me.
Dr. Ryan Gray: I want to talk about what you're doing right now for a career.
Background on Kristina
Kristina: Okay. So I work as a clinical research coordinator at a company called BioPharma Services, and my job is to be the head of clinical trials for human pharmaceutical research.
Dr. Ryan Gray: That's very interesting, and it seems like some great experience for later in life as a physician, getting some of that behind the scenes knowledge of what happens.
Kristina: Absolutely.
Dr. Ryan Gray: Where drugs are born.
Kristina: Yes. And I also get to work with our principal investigators who are also physicians, so that's been nice to work side by side with them.
Dr. Ryan Gray: Great relationships, I'm assuming?
Kristina: Yes.
Dr. Ryan Gray: That's awesome. So this is what you do now, but you're also starting medical school soon, correct?
Kristina: Yes.
Dr. Ryan Gray: That's awesome.
Kristina: I'm actually going to be starting July of next year. I chose to start next year instead of this year so that I could take a vacation.
Dr. Ryan Gray: Vacations are good.
Kristina: Yes.
Dr. Ryan Gray: Vacations are very good. When did you realize that you wanted to be a physician?
Kristina: So unfortunately as cliché as it may sound, being a physician is something that I've always wanted to do. I can remember saying it as early as five or six. So it's definitely not something that I woke up one day and thought, 'Hey that might be fun.' Or it wasn't a particular experience that say I had in high school, or in college. It's very something that's very interesting to me. It's something that I've just always had a passion for, and always felt that I needed to do ever since I was very small.
Dr. Ryan Gray: Knowing that, knowing that you always wanted to be a physician, why aren't you one now? Where has your path taken you?
Kristina: Everywhere but there. So definitely a lot of life. This was a goal that I had always fought toward, but my story is a little different in that I kind of diverted myself. It's something that I talk about in my personal statement, and I remember being little and I'm a first generation college student. A lot of people in my family didn't even finish high school, so even going to college wasn't really something- I don't want to say it wasn't supported, but it was just sort of- it had the attitude of that's not really needed. And I remember saying to people, "I want to be a doctor," and they would look at me and they'd say, "Oh that's sweet. Well maybe you should be a nurse instead." Or it was, "Oh well maybe you should do this instead." You know it was sort of they thought it was cute. And so over the years as I grew up, I almost felt like people were saying that because they just thought I was too dumb, and I think that I convinced myself that I was too dumb, and that it was just sort of this grandiose dream that I would never have. I didn't even tell people after a while that that's what I wanted to do, and when I had made the decision to apply to medical school, I didn't even tell anybody. It was I wanted to keep it a secret, I sort of felt like I wasn't good enough, and my husband was a very big supporter and he said, "You need to do this, you can do it, just do it." And I remember saying to him, "I'm too dumb," and he said, "You're not dumb." And so I just really had to try to get past that thinking. So that was one reason it took me a while. Also not finishing school; I didn't finish my Bachelor's, I didn't go back to finish that until 2011 and I graduated high school in '02. One reason was because I just didn't have the money, and I wasn't a great student. I didn't do great in high school, I didn't do particularly great when I got my Associate's outside of high school. So that was another thing that I kind of convinced myself, 'Well if I can't do the easy stuff, if I can't ace Associate's degree, how would I ever expect to go down this path?' But a lot of that was having a defeatist attitude. Some of it was just really not knowing how to study, at least not knowing what I needed to do to put myself in the position to be where I knew I could be. And so for me, I'm very glad that this has come as I'm older, because I'm 32. I don't think that I would have been in a position to succeed environmentally, or in mature enough to succeed the way I know I could if I were to have gone at a younger age.
Dr. Ryan Gray: Okay. Let's go back to finishing high school. You said you weren't that great of a student then.
Kristina: I wasn't.
Dr. Ryan Gray: Did you immediately go and start college and get your Associate's degree?
Kristina: I did. And I actually got my CNA license my senior year of high school.
Dr. Ryan Gray: Okay.
Kristina: So I did that, and I went right into the two year college outside of graduation.
Dr. Ryan Gray: Okay so you went to a community college?
Kristina: I did.
Dr. Ryan Gray: Okay and at the community college, were you taking general requirements? Or did you go in saying, 'Hey I'm premed.'
Kristina: Oh no, absolutely not, it was general. General. And in my mind, my plan was to do my first two years at the community college where it was cheaper, I could get my general courses out of the way, and then transfer to a four year college.
Dr. Ryan Gray: Okay and somewhere on that path you said, 'This isn't going so well. Maybe I need to rethink what I'm doing.'
Kristina: Right. Yeah so my first semester at the two year college I did great. 4.0, got into an Honor's Society, and then it just went downhill from there. Most of that was not focusing on school; I was also working full time and driving two hours to get to school from where I lived. And I pretty much did what I did in high school, I did enough to get by. I didn't do the extra step to really succeed. And so- and I defaulted on my student loans, and it was a huge mess. So even if I had wanted to go right into a four year college, I couldn't. I didn't have any money and I couldn't get any loans because I had defaulted. So I just at that time, just entered the work force primarily and thought I'll go back and finish at some point. And I actually did try to go back and finish sometime around 2009 and couldn't pay for it then. Was supposed to drop a class because I couldn't get out of work, and then procrastinated and didn't, and ended up with an F and it was a huge ordeal.
Going Back to School after Defaulting on Loans
Dr. Ryan Gray: What did that look like going back to school, having defaulted on your original loans? How did you fix that issue? Because I don't think that's something we've talked about before.
Kristina: Well my husband was a huge help in that he was in the military for quite some time, and actually the money he made from that, he paid off my student loans. They were private loans, so it's not the same thing as defaulting on those federal loans. I was still considered- when I went to get my Associate's I was still under my parents' income, but once we were married and I tried to go back to school, I still was unable to get financial aid. And really the reason- the only way that I came back from that and was able to go to school, was I had my son. And having that kid put us in a whole new category, and I was then able to get government loans. And really he's the reason that I even got to where I am, because I don't even know if we could have ever afforded for me to go back to school.
Dr. Ryan Gray: Wow. The government loan is such a crazy, crazy game.
Kristina: Absolutely, and I don't even remember now why I couldn't get them, because we weren't making any money. My husband was still in school, and I was just working in retail, and we were married so I wasn't under my parents' income anymore. But for some reason I just didn't qualify.
Dr. Ryan Gray: Interesting. So you obviously at this point, you have your son.
Kristina: Yes.
Making the Decision to Follow Dreams
Dr. Ryan Gray: And you say, 'Okay I can get money to go back to college, I'm going to do it.' How did you make that leap to say, 'Okay I'm ready for this now'?
Kristina: I just knew. I mean really it had to do with I had my son, he was an infant, and I start thinking about all the things that he could do. He might be into sports, he might be into music, and I'm just thinking of all these things. I don't know what he's going to be when he grows up. He could go be an actor, he could go be a mechanic, I have no idea. And I start thinking about how I owe it to myself and him to show him that if you have a dream, you don't give up on it. And you do whatever you can to make certain that it comes true. He was a huge inspiration. Like I said, my husband really pushed me too, and without those two I don't know that I would have ever- I think being a physician would have always just remained my little secret, my little dream that I always thought was unattainable. But those two were the big inspirations. I knew that I had the support of my husband because we all know it's a hard road, and it's a long road. I mean just even attempting to apply is a long process. So I think with knowing that I had his support, and it just seemed like I was at a right time in my life, and a right place. I was mature, much more mature than I was when I got out of high school, and I was just ready. It was just- I just knew I was ready.
Making Changes to Improve
Dr. Ryan Gray: When you started your college career at the four year university, what did you do differently to overcome not being a great student in high school, not being a great student at community college?
Kristina: Well the first thing I had to do and very quickly, was learn how to study. I had to learn what worked for me. I had to accept the fact that I had to work at it. My husband is one of those people where he didn't even study for the ACT and he got almost a perfect score. And he's one of those people, and there's people like that in our schools. And I always thought, 'I should be like that. I shouldn't have to work this hard.' But it doesn't mean just because I have to work a little harder that I'm not capable. So that was something that I really had to get over, and just realize that if I wanted it, I needed to work hard. So I just had to realize that I needed to figure out what way I needed to study, and I needed to buckle down and do it. And of course being older, you don't have your friends calling you saying, "Hey let's go out tonight," and you say, "Oh I'll do my homework later," and then you never do. That's kind of the trap I fell into when I was younger, and so I didn't have that. I had an infant, I had a husband, and so that really helped ground me to say, "I have schoolwork to do, I need to focus on that." And I loved it, it was interesting. It wasn't the general classes, you know those are all boring. We've got to take the speech and debate, and we've got to take the computer class to learn how to use Excel. But once I got into those last two years, I got to take the chemistry, and the biology, and the microbiology, and that's what I really wanted. So having that interest, and knowing that I was at this point where my goal was to apply to medical school really helped me. I knew that that was what I was working toward, this was my end goal, not just getting a Bachelor's. And so that really helped to ground me.
Gaining Clinical Experiences
Dr. Ryan Gray: What were you doing in this time to gain clinical experience, and remind yourself what you were aiming towards?
Kristina: Nothing actually. I know that's probably not the answer you want to hear. I had worked in the healthcare field ever since I got out of high school. I worked as a CNA, I worked in a nursing home, I worked in a rehabilitation center, I had worked at a group home for people with disabilities, developmental disabilities, and I had also worked in retail. I had also worked in a laboratory aspect in a microbiology lab and a chemistry lab. So by the time I went back to get my Bachelor's, I had already had this experience. So I really just focused on finishing school, and in my last semester, last two semesters, that's when I kind of did a little bit more shadowing because I had talked to a lot of schools, a lot of admissions, and they said, "Look your work experience in the healthcare field is great. We're not going to tell you, you need a certain amount of shadowing hours because you've had that clinical experience. But we would like you to get some shadowing." So I did a little shadowing, it wasn't by any means a lot, but I did just to show that this is something I'm serious about. But when I finished those last two years, it was just school. I mean I really didn't do much of anything else.
Dr. Ryan Gray: And that's okay. Like the admissions people said, your clinical experience was probably second to none. But after you shadowed, from the admissions point of view, we want to see that you understand what life is like as a physician. Clinical experience, great, but that's being a CNA. Do you know what it's like to be a physician? Did you feel that shadowing painted that picture a little bit better for you?
Kristina: Oh absolutely. Yeah, it's much different. You know you can go get that clinical experience and work in a hospital, and that's great. But when you actually follow the physician, and you see them dictate, and you see them go through their process, it's very different. So yeah shadowing was great. And I got to shadow several different specialties. I spent a little bit of time in the Cath lab with a cardiologist. I followed a neurologist for a day, and I did most of my shadowing with actually my personal doctor who does internal medicine. And I did a little bit of pediatric with a DO. So it was great to see all the different aspects of that.
Dr. Ryan Gray: You had it sounds like a ton of great experiences with the shadowing, and tons of variety. I talk to students that can't even find one physician to shadow.
Kristina: Oh it's hard.
Dr. Ryan Gray: How did you do that?
Finding Physicians to Shadow
Kristina: So I had to- my main thing was using people I knew. Like I used my family physician, my physician, he was willing to let me shadow him. I had a little bit of 'in' with the cardiologist because my father has had a lot of heart problems and I was able to contact his cardiologist, and they referred me to another one because he was too busy. So I had already had these connections. With the neurologist, it was purely me just harassing the hospital. Unfortunately calling the HR department- the hospital here at the university, it's the teaching hospital. So they already have a lot of that going on; they have the volunteering, they have the shadowing. So they actually have a specific application you can fill out just to shadow. So it was a little different with that university here, that hospital, because it is a teaching hospital. But I can't tell you how many doctors that I would call their office, and you get shot down. Or they say, "Oh yes, we'll call you back," and then you never hear from them. It's very hard to find somebody to shadow. I got in contact with doctors who said, "Oh I can have you follow me for an hour." Well thanks but that's not really going to do anything for me. I'll contact somebody else. And that's the main complaint that I hear from people, is getting in contact with a physician, and by no means it's hard. My best advice to that would be try to use the contacts that you already have.
Dr. Ryan Gray: Yeah and keep calling, keep emailing even when you get all those no's.
Kristina: You have to be persistent.
Dr. Ryan Gray: I love telling the story of- because everybody knows JK Rowling, everybody knows Harry Potter. And so telling the story of how many times she was shot down for Harry Potter and previous stuff that she's written, until she finally got that one publisher that said yes, and now look at her.
Kristina: Oh absolutely. I mean it's just like in acting, Danny DeVito, he short, he's overweight, and I mean they tell this great story about how he auditioned 99 times for a role, 99 times and he got shot down but he kept going back. So you just have to be persistent.
Dr. Ryan Gray: Yeah that's awesome. Alright so you got your shadowing experiences, you're back in school doing better than ever because you're focused, you're motivated, you're more mature.
Kristina: Absolutely.
Choosing Medical Schools to Apply
Dr. Ryan Gray: Talk about how you decided where to apply to medical school. Obviously having a husband who's working, having a child, it sounds like maybe you're ingrained in the area where you are with family and other stuff. How did you choose what schools to apply to?
Kristina: So I peppered the two hour radius around my home with my application. I was not discriminate at all. I did- in researching schools obviously see some schools that I loved. I really fell in love with Drexel in Philadelphia. My husband has been very supportive through this process, but that was one thing that he was very adamant about. "We're not moving, if you apply to a school outside of the state you will have to go by yourself, and that will be an issue." So it was very clear where I stood. And you know my family is here, my in-laws are here, and we have a four year old. So to me it would be stupid to pack up everybody and go to a place where we have no support. So my first go around at applications was to apply to everywhere literally two hours within range; which being in Missouri didn't give me a lot of options. Because first I had to make sure right that I qualified. So like SLU or Wash U here, I wasn't even close to meeting the requirements to even apply.
Dr. Ryan Gray: What are some of those requirements? Because I think a lot of students will apply to schools- because a lot of schools don't have hard and vast requirements. But they have their averages, right?
Kristina: Right, so like Wash U for example, one of their requirements- you know how they give the list of classes that you need to have taken before you apply to their program? One of theirs was Diff EQ, and they wanted math all the way through calculus three which I had none of.
Dr. Ryan Gray: Wow.
Kristina: So that was just one thing that I looked at. The grade point average, mine wasn't even close. I graduated with a 3.8 when I finished my Bachelor's, but when AMCAS recalculated my GPA with my prior grades, it was only a 3.0. So in terms of medical school it was terrible. So I knew if say Wash U, their average GPA was a 3.8 and average MCAT score was a 38, mine was a 24, I'm not going to waste my time. I'm not even close to their requirements, or their averages. So it was I used that to kind of gauge what schools to apply to within the area. So really it left me with four schools; I applied to four school, three MD and one DO. All of the MD schools shut me down, which I kind of expected.
Dr. Ryan Gray: What did that look like? Did they just- did they send you secondaries?
Kristina: Oh yes. So here in the state of Missouri, if you are an in-state, if you are a resident, you automatically get secondaries when you apply to any school in Missouri. So I already knew that I was going to get secondaries. The exception was KU. I applied to KU and I did get a secondary for them, but I did not get an interview. So for like MU, I did- MU and Kansas City, UMKC, and then A.T. Still in Kirksville here; I already expected to get secondaries from all of them because I am a resident.
Expectations of Acceptance
Dr. Ryan Gray: When you fill out your secondaries, and you're waiting to hear from interviews knowing your GPA and how that's calculated, knowing your MCAT score, what were you expecting?
Kristina: I was expecting everybody to say, "Thanks but no thanks." I knew my greatest- so for example at MU, University of Missouri, I had met with their admissions staff many times, I had done their program. They have a program there for nontraditional students called Mizzou MedPrep, and they have three different classes. One is where they introduce you to the whole application process, they help you with your personal statement, you can do mock interviews. The admissions people actually grade you on your interviews, give you feedback, they read your personal statement, grade your personal statement, so it was great.
Dr. Ryan Gray: That's awesome.
Kristina: Yeah it was amazing. And their admissions people told me straight up, "Don't expect to get in on your first try. You need to be able to reapply. You probably won't get in the first time." And so I said, "Okay." So I wasn't expecting anything from them. UMKC, I guess I kind of felt the same way because it's just an extension of MU. So in KU it's out of state, you have to have really good scores to really go to an out of state school if they even accept out of state applicants. So that was sort of like, 'Oh I've applied to all these other schools, why not just throw one in?'
Dr. Ryan Gray: It's just another $37.00.
Kristina: Exactly, at that point it was like, eh- I'll just- great. So honestly I mean I really wasn't expecting to get an interview. My MCAT score wasn't great, I didn't have any wrong ideas about- I guess I didn't have any misrepresentations of what I thought was going to happen. I was very realistic; I knew that I didn't really have competitive scores, I knew that what was going to carry me was my experiences, and my personal statement, and my age being a nontraditional student, being more mature and having the work experience. So I really knew that my best bet was A.T. Still which was the DO school, just simply because I felt like my experiences really fit in to the type of student they were looking for. And so I really felt that if I were going to get anywhere, it would be with them.
Dr. Ryan Gray: Alright before we fast forward to your interview and acceptance and everything, at this point in the game, what was your plan B?
Kristina: Well it had always been to reapply, and I was very prepared to answer that question if I were to get an interview, you know sometimes they ask you, 'If you don't get in this year, will you reapply?' So I always wanted to reapply. Because I couldn't change my GPA, it was my undergraduate GPA, it was locked in, I couldn't do anything, I knew that if I wanted to show an improvement in that, I would have to do some sort of graduate degree. And so I had planned on going and getting my certificate to teach chemistry. I thought teaching high school chemistry might be something that I would be interested in, and I knew that as much as I wanted to fight it, that I probably should take my MCAT again, which nobody wants to do, and I certainly did not want to. So I took the last old MCAT before they changed it, and so I would have had to have gotten all new materials, and it's just I didn't want to have to reapply, but it was something that I think I was prepared to do. I don't think I would have done it right away. I think that I would have taken at least a year before I reapplied.
Getting the Interview
Dr. Ryan Gray: Alright so you have this plan B, you're waiting for interviews, and you finally got one. What was that like, the day you got your interview invite?
Kristina: Well I cried. I was actually in Toronto, my company had sent me for training, and I was in Toronto and I was checking my email and I saw an email from A.T. Still. And of course my heart fell through the bottom of my shoes and I'm thinking, 'Oh here's my rejection letter,' and I open it up and they're like, 'Hey we'd like to invite you for an interview,' and then I just cried. Which is saying something because I'm not a crying type of gal. I was stuck, my cell phone didn't work in Toronto, so I couldn't call anybody I wanted to call and tell, so I was frantically trying to find a phone in the hotel and see if I could get a call out. But it didn't seem real, I had to keep reading the email over and over. And my situation was kind of odd. Before I got my interview invite officially, the Director of Admissions emailed me personally and said, 'Hey just a head's up, we're going to offer you an interview. We really love your application, and we want you to be one of the strongest candidates at interview day.' So at this point I had only shadowing experience with an MD and they said, 'Before you interview in the next couple of weeks, go get some shadowing with a DO just so we can say you did it.' Great. So I did that and they said, 'Write us a little bit about your experience, send it to us about a day before you interview and we'll put it with your file.' So that's what I did.
Dr. Ryan Gray: And that was through email or a phone call?
Kristina: An email, yes.
Dr. Ryan Gray: That's incredible that they would reach out to you and say, 'Hey we like everything in your application, but we want some more experience here.' And it's funny because this is how we actually connected online, right? Was this Facebook post about shadowing for DO's and you're like, 'Oh you don't need it, you don't need it, you don't need it.'
Kristina: Right.
Shadowing a DO
Dr. Ryan Gray: But then I was talking to you and you were like, 'Well they did ask me for it.' So again, it's funny, you were told that you needed the shadowing experiences before, right? And now you're told you need more shadowing experience with a DO. What did that experience do for you, and do you think it's really important if you want to apply to a DO school to have this DO experience?
Kristina: I think it's important if you shadow a DO that does DO things. Meaning we have a lot of DO's that actually go do MD residencies, and they don't do the practices that we think are a hallmark to the DO's. They're not doing the manipulations, which is the huge hallmark of the DO's. And so I was a little disappointed with my shadowing. There was one DO in town that actually teaches sometimes at A.T. Still, which is the school I had the interview at. And she was unable to give me any shadowing hours, but she does do the manipulations. And I kind of felt like the reason they wanted me to get those DO hours was because that was the part of- the aspect of that branch of medicine that they wanted me to see. However the DO that I shadowed didn't do manipulations. And I told them in my interview, I said, "I really unfortunately didn't experience anything different than when I had shadowed an MD." And I said- but at that point I knew I had to do my own research. I said, "I've looked at them, I've read up on the manipulations, I've looked at the videos on YouTube," like I had to show that I understood what that was without actually having witnessed it through my shadowing.
Dr. Ryan Gray: Okay so you did your homework, and you got the- what they required, some shadowing with somebody that had a DO after their name, but it just wasn't the same experience. What was their response to that? How did they respond to you?
Kristina: Some of- one person I interviewed with really didn't care. He was one of the professors there and he was like, "You shadowed a DO, that's all I need to see." He was fine with that.
Dr. Ryan Gray: Checkbox marked.
Kristina: Exactly, exactly. The one person that really- one of my interviewers didn't even ask about it, and my second interview I had, she was from the admissions- worked in the admissions office, she wasn't a professor or anything. And she was the one that really asked about it and she just kind of said, "Well did you see anything different? Like did he spend more time with his patients?" I mean yeah, I guess. I said you could see one thing, he wasn't as apt to give out medications, he wanted to let the body heal on its own, given its time, and that was enough for her to see that- and she said, "Oh yes, that is one of the differences." And I even said to them, "I know the reason you guys wanted me to shadow was to see the manipulations, but I didn't." They wanted to see that I could pick out just even the slightest difference. They want it to be separated from the MD experience.
Dr. Ryan Gray: Interesting. At one point I think in the future I want to have an MD and a DO on, and duke it out about really how different it is. If it is.
Kristina: Well yeah, you know as far as I've been told it's not. I've been told that the only difference is the DO's get about 200 extra hours in manipulation, and then you're on your way.
Dr. Ryan Gray: So it's an unfortunate thing. I think because of the premed world, that DO schools are frowned upon.
Kristina: Oh absolutely.
Dr. Ryan Gray: That you go to a DO school because you can't get into an MD school.
Kristina: And that's what I was told.
Dr. Ryan Gray: And so I think the DO schools are trying to market themselves as having these differences, of this 'DO philosophy.'
Kristina: Oh yeah.
Dr. Ryan Gray: But I think what it comes down to is how the physician, whether an MD or a DO, wants to practice. An MD can spend a ton of time with a patient, a DO can spend a little time with a patient. An MD can treat holistically and not want to prescribe medications, and a DO can be pushing medications left and right.
Kristina: Absolutely.
Dr. Ryan Gray: It's all based on each individual person, it has nothing to do with the 'DO philosophy.'
Kristina: Absolutely.
Dr. Ryan Gray: So anyway.
Kristina: And they actually have MD's that can go get certified in the manipulations that the DO's do. So they cross over so much that I mean it's kind of silly to have- I mean the university here told me that. They said, "Well you probably won't get into an MD, you've got to go to a DO school because your grades are low, and they take people like you." It's like, what? Come on now.
Dr. Ryan Gray: That's too bad. But you got an acceptance.
Kristina: Yes.
Dr. Ryan Gray: Congratulations.
Kristina: Thank you.
Dr. Ryan Gray: How long did that take to get?
Getting the Acceptance to Medical School
Kristina: It was a week I waited so it wasn't too bad.
Dr. Ryan Gray: What were you thinking after your interview day? Did you have strong feelings?
Kristina: I didn't. You know it's oddly I've been fairly numb through the process. I think it just doesn't seem real to me. I mean this is something that I've been waiting my entire life for, and always telling myself I would never achieve. So it was like I've just been in shock. And after the interview, my husband went with me, and he says, "Well how do you think it went?" I said, "Well I can't think of anything tragic that happened. Like I feel like it went okay." I was able to answer the questions, I felt prepared, and in some cases I felt over-prepared because I was asking questions that nobody could answer. So I felt like it went well, and it's just I'm cynical, my nature is to be cynical. So even though I felt it went well, I thought, 'Well just expect that you're going to get the thanks but no thanks email,' because I guess I was trying to prepare myself even though I thought it went well.
Dr. Ryan Gray: Okay you got your acceptance.
Kristina: I did.
Dr. Ryan Gray: There were probably more tears.
Kristina: Oh yes.
Dr. Ryan Gray: That's good. But it sounds like you're deferring a year.
Kristina: I am, yes.
Dr. Ryan Gray: Why is that?
Kristina: Well part of it is because I was waitlisted. The email that they sent me said, 'You're accepted, you have acceptance that is guaranteed for the 2017- July of 2017. If a seat opens up for July of 2016 we'll let you know by April, and if a seat does open up and you choose to go next year, you have that option. So just because a seat opened, I didn't have to take it. And I've been in contact with the school, I still have not heard about a seat opening, but I have let them know that even if a seat opens, I'm going next year. And that was partly- not partly, but mostly a family decision. My husband felt- my husband and I felt that it would be easier, my son will be going into kindergarten next year, so we won't have to be having him stay with my parents all day while I'm at school, he will be in school. I would like to continue working in my position for a little bit, because I actually just started in September, I really like it, I'm decent money, and we thought maybe I could save up some money and like I said, go on a vacation because that's probably not going to happen for like the next ten years. So we have the vacation planned, and got my son signed up for kindergarten, and we just felt that that would be the best time.
Dr. Ryan Gray: Yeah that sounds great, that's awesome. That's interesting, I don't know if I've ever heard of schools giving acceptances for the following year.
Kristina: Oh yeah, yeah. I actually hadn't either, it was my understanding that if you were waitlisted and you didn't get a seat, you know you kind of just had to apply again. But that school in particular I know does that, and I thought I heard something about MU here, the school of medicine trying to implement something like that, that if you're waitlisted and a seat doesn't open, that you get first seat the following year. And I'm not sure if that's something that they ever actually implemented or not, but I had heard that that was in talks.
Advice for Motivation to the Premed
Dr. Ryan Gray: Well Kristina, as you've gone on this long crazy journey, the student listening to this might be at the end of their high school career, or the beginning of their community college career, wherever they are with the same doubts that you had. What can you do to say to motivate them to continue on?
Kristina: Don't let yourself be your biggest barrier, because I was my biggest barrier for a long time. And you know, you hear people say, "If I can get in, anyone can," and if that was ever more true, it would be for me. I had all the odds against me, I mean if you want to be honest. But I was passionate about it; if you're passionate about it and you know this is what you want to do, you do it, and you show that you're passionate about it, and you fight, and you do everything you can to get to it, and don't give up.
Final Thoughts
Dr. Ryan Gray: Alright that was Kristina. I think I'm going to take some of that motivational stuff from the end and make some fun images for Pinterest. If you go to www.MedicalSchoolHQ.net/173 which is the designated blog post specifically for this episode, there will probably be some images there to pin onto Pinterest for your motivational wall. I think that will be great. Thank you Kristina for taking time to talk to us today. I think that you listening will be able to get a lot of great information from what Kristina had talked about, and hopefully will encourage you on your path.
I do want to welcome a new sponsor to The Premed Years. I've had them on the podcast before as a guest to discuss physician shadowing experiences abroad. Gap Medics has programs in Tanzania, Croatia, Poland and Thailand, offering you a peek into the medical field and the work of physicians. You not only get a comprehensive insight into the day-to-day work of a physician, but you get the amazing and exciting experience of exploring a new country and a new culture. About half of Gap Medics placements are in Tanzania, East Africa. Now I've been to East Africa before to Kenya, and it's a beautiful part of the world with amazing people that are very welcoming to visitors, and they all speak English for the most part, which is amazing. I know you won't regret going and getting this experience with memories that you'll have forever. I still fondly think about all the time that I spent in Kenya, and I hope to go back one day.
One of our hangout members, Saxton, actually listened to the podcast that I had Gap Medics on, which you can listen to at www.MedicalSchoolHQ.net/113. And Saxton applied for and went on a medical internship program to Tanzania after learning all about Gap Medics. He emailed me as soon as he got back and said, 'I just got back from Tanzania yesterday, and I had an absolutely amazing experience. It was everything I had hoped for.' He had also mentioned that this was the first time he had travelled by himself, and the first time that he had been out of the country. So it was a huge step for him in growing as a person, and growing as a future physician gaining that experience, and growing just all around. The culture experience that he got and everything he'll carry with that forever. So to find out more about Gap Medics, and to learn how to apply, go to www.MedicalSchoolHQ.net/gapmedics today. Again, www.MedicalSchoolHQ.net/gapmedics.
Thank you Gap Medics for supporting The Premed Years.
I also want to take a minute to thank the two people that left us amazing ratings and reviews in iTunes. We have Sarxws says, 'You have no clue as a premed until you listen to this.' It sounds like he's a 33 year old nontrad premed, wife and three kids. 'I wished I could have pursued a career in medicine for years, then found this podcast and in four months was starting a do-it-yourself premed postbac and will be applying for medical school within two years.' That's awesome. He says, 'Podcast number five was the one that changed everything for me.'
So thank you for that amazing rating and review. I am glad that you found the podcast, and it looks like it has changed your life, which is amazing. That's why we do it.
We have one more here from Salandjrs mommy that says, 'Amazing. This podcast has been the turning point for me, it's really encouraged me to pursue a medical career. It's like putting every premed article together, but better.' Thank you.
If you would like to leave us a rating and review, one that we will read here on the podcast, and one that helps keep us motivated, go to www.MedicalSchoolHQ.net/iTunes to do that.
Well I hope you got a ton of great experience and knowledge and information out of the podcast today, and as always, I hope you join us next week here at the Medical School Headquarters and The Premed Years.
Subscribe for Free
Listen to Other Episodes
Leave us a Review and Rating!
Just like Yelp reviews or IMDB ratings help you choose your next restaurant or movie, leaving a 5 star rating and/or a written review is very valuable to The Premed Years. It allows us to be able to share our information with more people than ever before.
I am so incredibly thankful to those who have recently gone into our listing in iTunes to provide a five start rating and a written review of The Premed Years.
Subscribe and Download
iOS/Mac/Windows – You can subscribe to the show in iTunes. Or you could manually add the RSS feed to your aggregator.
Android/Mac/Windows – You can download DoubleTwist and use that to manage all of our past and future episodes
Please help us spread the word!
If you like the show, will you please take a moment to leave a comment on iTunes? This really helps us get the word out!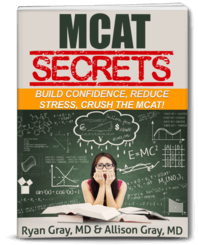 Crush the MCAT with our
MCAT Secrets eBook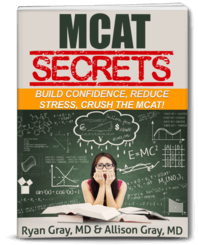 DOWNLOAD FREE - Crush the MCAT with our MCAT Secrets eBook