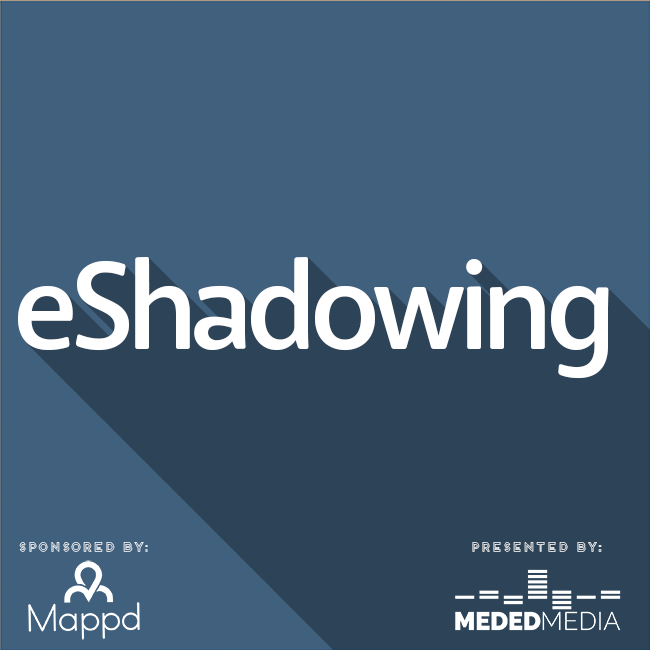 eSHADOWING: SHADOWING FOR THE COVID WORLD
Finding shadowing during COVID-19 has been hard for every premed and pre-PA student. That's why we launched eShadowing with live conversations with physicians and physician assistants!
We have sessions for premeds with physicians. We will restart sessions for pre-PA students with PAs as soon as possible.  Each guest will talk about their profession, offer a case presentation, and give their time for live Q&A with the audience.
Please read the FAQ below for all your questions.
eShadowing is transitioning to a new registration platform!
If you previously registered for weekly reminders (auto-registration), you'll need to register one more time using the updated links below.  You'll also need to track your hours going forward. You can do this for free with Mappd App: create an account at Mappd.com. See the FAQ for more information.
eShadowing for premeds: Tuesdays 4pm ET.
In November, 2022, eShadowing is on a short break while Dr. Gray travels! The next session will be Tuesday, November 29th, at the regular time of 4:00 PM Eastern.
Register for the new platform using the link below, and we'll keep you updated.
eShadowing for pre-PA students: on HIATUS 
eShadowing for pre-PAs is on a little break. We hope to return in early 2023. In the meantime, you can catch up on recent sessions on the eShadowing YouTube channel.
eShadowing transitioned to a new registration platform. If you registered before June 2022, you should re-register to be sure you're getting updates. You'll also need to track your hours; the Mappd.com free activity tracker is one way to do this.
eShadowing Frequently Asked Questions
eShadowing updates June 2022
Q: Is there a short and sweet version of the eShadowing June 2022 updates?
A: Indeed!
What stays the same:

eShadowing is FREE
eShadowing is live on a regular basis and then also available for replay

What changes:

Watch live to ask questions or watch on YouTube about a day after the session
Track your own hours on the honors system like you would any other shadowing.
Get a chance to be a student guest host!
Q: Is there a version of eShadowing June 2022 updates for those who want all the details?
A: Why, yes, we also have that.
When the pandemic started to take hold of the healthcare system in 2020, shadowing went from "hard to find" to "nearly impossible." Two years later, even as in-person shadowing becomes more available, we consider eShadowing a core offering. We will continue to offer this service to premeds and pre-PA students at no cost to you!
As with so many of the projects we create here at Mappd and Medical School Headquarters, eShadowing started because you, our students, told us you needed it. Finding shadowing has long been a big challenge for premed and pre-PA students. If you don't already have connections through friends and family, or a great gig working alongside Physicians and PAs, it can be very difficult to find someone willing to let you into their busy workdays.
While everyone agrees that in-person shadowing is the best option if it's available, eShadowing offers you another option. It also serves as a great way to see more specialties and add to the breadth of your clinical observation experiences.
We've also found that med schools and PA schools are fine with eShadowing, especially when used as a supplement to in-person shadowing. They expect students to track eShadowing themselves by the honor system, just as they would expect for any other premed activity. We've had thousands of students list us on applications for the last 2 years, and not one program has reached out to us to verify the student hours.
So, we've decided that going forward, the two most important parts of eShadowing are 1) great guests who can share case studies and answer questions live and 2) posting the replay for free for people to watch later. To focus our energies on that, effectively immediately, we're terminating quizzes, attendance, and certificates. You should track your hours for eShadowing, just as you would track any other shadowing, clinical, or volunteer experience. The free activity tracker at Mappd.com is one way to do this.
Finally, we're exploring the possibility of having students lead the interviews! We'd probably create a rotation or schedule of host volunteers, with details to be decided. We think this may help keep the questions and conversations fresher, and we are excited to hear your thoughts on this.
We hope you understand and continue to join us for eShadowing!
Q: Do you send confirmation/hours verification emails anymore?
A: No. After we saw how few people requested verification, we stopped supporting those processes to save time and money.
General Questions
Q: Is there a cost to attend?
A: No, eShadowing will always be free!
Q: Is space limited?
A: Yes, we have a cap of 500 students live. Typically this is enough space for everyone who wishes to attend live. It will be a first come first serve for the live streams. If you can't make the live stream, you can watch the replay on YouTube.
Q: Do I need to register every week?
A: You only need to register once, as long as you registered with us at least once after June 2022. If you're not sure, there's no harm in signing up again. You'll need to register at the link above and verify your email address through a link we send you. After that, we'll send invitations to the eShadowing sessions as they are scheduled.
Q: How do I get my confirmation email? Where's the link to join the eShadowing session?
A: Once you register, you need to verify your email. We send the webinar link about an hour before the session—only to folks who both registered and verified their email address. Add team@medicalschoolhq.net to your contacts and check any filters in your mailbox, such as spam or promotions.
Replay Questions
Q: Where can I find the eShadowing Replay?
A: Currently, we're dealing with a backlog of eShadowing recordings and are working to catch up. You can see all posted eShadowing replays on the eShadowing YouTube channel.
Q: I can't make it live, can I still get credit?
A: Yes! eShadowing, like all premed activities, is based on the honor system. If you've watched the session, you can track it in your Mappd account or wherever you track your activities.
Q: What contact info should I put on my application?
A: Use Ryan Gray, MD as the name and info@eShadowing.com as the email address.
On AMCAS and most application systems, you do not need a phone number, even though it looks like it. Just the email is acceptable. The location is Boulder, CO.
For OMSAS, or other applications that require a full address and phone, use this:
Medical School Headquarters
300 Center Drive, Suite G265
Superior, CO 80027
(617) 396-4360