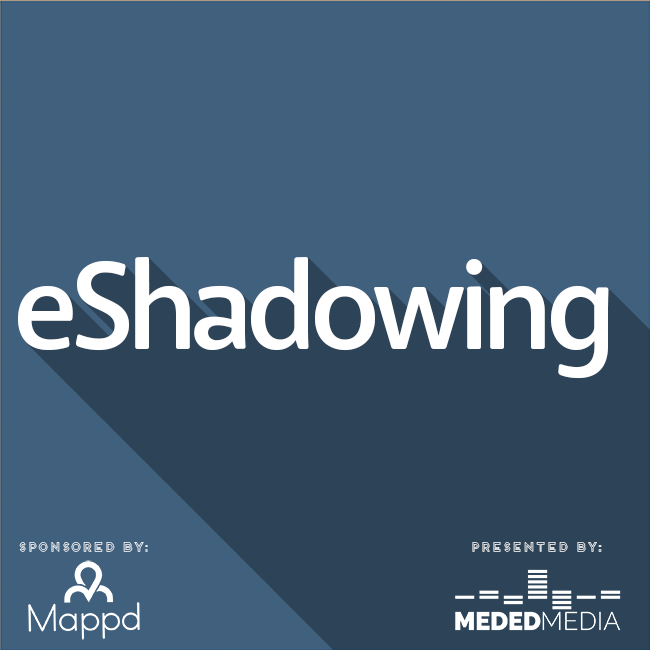 eSHADOWING: SHADOWING FOR THE COVID WORLD
Finding shadowing during COVID-19 has been hard for every premed and pre-PA student. That's why Meded Media launched eShadowing with robust attendance tracking and quizzes so we can give you a certificate to document your hours.
We have separate sessions for premeds with physicians and pre-PA students with PAs.  Pre-PA eShadowing takes place Mondays at 7 pm ET and Premed eShadowing is on Mondasy at 8 pm ET.  For both sessions, replays are available each week through Sunday night.
eShadowing will bring you physicians and PAs who will talk about their profession, offer a case presentation, and give their time for Q&A.
Please read the FAQ below for all your questions.
There will be no premed eShadowing on Monday, May 23, 2022.
You can still watch pre-PA eShadowing with Rodeline Joseph, PA-C at 7pm ET on Monday night.
Frequently Asked Questions
General Questions
Q: Is there a cost to attend or get an official certificate?
A: No, eShadowing will always be free!  We hope to keep the official certificates free as well, and you can help by only requesting a certificate once.
Q: Is space limited?
A: Yes, we have a cap of 5,000 students. Typically this is enough space for everyone who wishes to attend live. It will be a first come first serve for the live streams. If you can't make the live stream, you will be able to watch the replay.
Q: Do I need to register every week?
A: Yes and no. Every eShadowing session is a unique session on the platform we use, so you need to be registered for each. With that said, there is a button we have enabled when you do register that tells our system that it's okay for you to be automatically registered for every new session we have. While this system works, you may not receive the emails to log in. See the missing emails FAQ.
Q: Can you turn on Closed Captions?
A: Our platform doesn't have the ability to add closed captions live, but we do have a process to add closed captions to the replay by Thursday each week. The replay still counts toward your tracked time.
Q: How do I get my confirmation email? Where's the link to join the eShadowing session?
A: You're given your unique link to the webinar on the page as soon as you register, so you should save that. You'll also be automatically emailed immediately after registering, 24 hrs before, 4 hours before, 15 minutes before, and 12 hours after the webinar.
Q: I forgot to save the link when I registered, and I am not seeing the confirmation email - what now?
When we first launched eShadowing in fall 2020, some systems were flagging our email as spam.  We've since done a lot of work and upgraded to a more robust (aka more $$$$) plan to resolve these issues. However, due to the high volume of participants, we send several hundred thousand emails to students. Just like any other high-volume email, your email provider may cause the emails to go to spam or promotions or some other pre-set filter, so please search your entire mailbox.
Q: My time shows 0 but I have a quiz score - why?
A: You likely are checking before we have pulled the attendance data from the session platform. Please try again later. We update data for each live session on the second Friday after the session.
Replay Questions
Q: Where can I find the eShadowing Replay?
A: The link for premeds will always be eShadowing.com/replay. The link for pre-PAs will always be eShadowing.com/pareplay.
Q: I can't make it live, can I still get credit?
A: Yes! As long as you watch the replay and complete the quiz before Sunday evening. You should register even if you know you can't make it live. The replay WILL track your attendance for certificate credit. Our platform will send out the replay link on Tuesday morning with the quiz link as well.
Q: I'm trying to watch the replay, but the webinar says it has expired.
A: The live eShadowing sessions run at 7pm and 8pm ET on Mondays. If you try to watch around that time, you may see an expired message. The replay should be live within an hour after the eShadowing session and then will be available until Sunday evening.
Q: How long does the Replay last?
A: The replay lasts until Sunday evening, about midnight ET. After the official replay is over, we'll host the video on our eShadowing YouTube channel.
Q: My time wasn't tracked when I watched the Replay, what happened?
A: We've received a lot of questions from students who waited until the last minute to watch the replay. It appears the system will stop tracking you as soon as the replay expires, even if you're still watching it. You must finish watching the replay before the time above. Remember that the time above is not an exact cutoff so please don't wait until the last minute.
Quiz Questions
Q: Where can I find the eShadowing Quiz?
A: The link for premeds will always be eShadowing.com/quiz. The link for pre-PAs will always be eShadowing.com/paquiz.
Q: How long do I have to take the quiz?
A: Because the Replay lasts until Sunday night, we need to give students time to take the quiz. We'll deactivate the quiz Monday afternoon.
Verify Time/Quiz and Request Certificate Questions
Q: How can I get a certificate?
A:  Please wait to request a certificate when you're organizing your application or when you know you're finished attending eShadowing. When you're ready to request your certificate, you may use the "Request Certificate" button above. That's a manual process and may take a few days.  If you want data on a specific session or a quick round-up of dates, use the Verify Time/Quiz function instead - that's automated and up to date as of the last session listed in the dropdown box.
Q: How can I verify my watch time?
A: Use the "Verify TIme/Quiz" button above. You have two choices.
First, you can use the drop-down to select a session and get an automatic check of your watch time and quiz score for that specific session.
Second, if you send an email to [email protected] (for premeds) or [email protected] (for pre-PAs) with ONLY your email in the subject, you'll receive an email with all available dates you've qualified for a credit.
Because the process is very intensive, data for each session is posted the second Friday after the session in question. Please plan accordingly.
Q: What if I think my watch time is incorrect?.
A: All of the attendance tracking is done through the platform we are using. We are not responsible for any issues caused by technical issues that may result in your attendance not being tracked. Please make sure you turn off ad blockers and other content blockers that may interfere with tracking your attendance. We can not adjust attendance later.
Q: Why can't I see my session when I try to verify my watch time?
A: You're probably trying too early. Data for each session is posted the second Friday after the session, ie 12 days after the original session date. We need to manually pull the data from the eShadowing platform. We have to wait until the replay period is over, the quiz is disabled, then manually compile attendance and quiz data from their separate systems. We do this for you for free, and we appreciate your patience.
Q: Can I change my email?
A: Yes! If you've used multiple email addresses, it is better to use just one so that all your data is in one file. Please request the update here: https://forms.gle/BS1Pix19gmxSSS9c9
Q: When can I get a certificate?
A: Please wait to request a certificate when you're organizing your application or when you know you're finished attending eShadowing.
YOU SHOULD ONLY REQUEST A CERTIFICATE ONCE. Certificates are not collectibles. It costs us money to create the certificates, so you can help keep this process free to all by only requesting a certificate one time. Your certificate will have your total hours and date range of when you did eShadowing sessions.
Q: What information is on the certificate?
A: The certificate will have your name (the one you submitted with the quiz), your TOTAL hours (sessions where you met the qualifications to earn credit—see below), and the date range of the eShadowing sessions you attended. Asking for a certificate after every session would just make each certificate you previously received useless. Please only request when you need it.
Q: How do I qualify for a certificate?
A: You have to watch at least 45 minutes of the eShadowing session (either Live or Replay or a combination of both) and pass the quiz with a score of 4/5. Students can only take the quiz once and the replay is only available until Sunday night for attendance credit. After that, the videos will be placed on YouTube.
Q: I'm not applying for a few years, can I still get a certificate then?
A: We'll make certificates available as long as students need them. At this point, we don't know how long eShadowing will continue, but we'll keep going as long as possible!
Application Questions
Q: Can I put this on my application?
A: Yes, but it will be up to the schools to determine how they treat it. This obviously isn't "real" shadowing, but right now, when many of you can't do anything else, we thought we'd do something for you. The eShadowing team will be reaching out to schools to let them know what the qualifications are to receive certification.
Q: What contact info should I put on my application?
A: Use Ryan Gray, MD as the name and [email protected] as the email address.
On AMCAS and for most application systems, you do not need a phone number even though it looks like it. Just the email is fine. The location is Boulder, CO.
For OMSAS, or other applications that require a full address and phone, use this:
Medical School Headquarters
300 Center Drive, Suite G265
Superior, CO 80027
(617) 396-4360