Session 85
Dr. Dave Winchester, a fellow Gator, joins me today to talk about why he chose academic Cardiology, how Cardiology is changing, and why he enjoys what he does! David has been out of training now for 8 years. He graduated from the University of Florida where he now works as an academic.
Meanwhile, please do check out all of our other podcasts on MedEd Media Network so you get to have as many resources you need, as you journey along this path to one day becoming a physician!
[01:15] Interest in Cardiology
Dave's interest in cardiology started with medical school onwards. He enjoyed doing it more than other things. But he didn't really commit to it until halfway through his first year of internal medicine residency. He also loved the first rotation he did in Cardiology. And since then he knew it was something he wanted to do.
Halfway through his first year of internal medicine residency, he loved his first cardiology clinical rotation. Compared to other similar specialties, they've all got acute inpatient conditions that can be exciting and have got chronic outpatient management. But it was something about acute MI management and reading. Although he had little interest in pulmonary critical care as he found it to be challenging, fulfilling, exciting, he saw the same in cardiology as well.
[03:35] Academic vs. Community
Dave chose the academic route over the community setting as he enjoys the opportunity to stay highly engaged with teaching. He also wanted to do his own teaching and he thinks the only way to do this substantially is within an academic setting.
[04:30] Types of Patients and Typical Day
David does both clinic and ICU, as well as imaging and in-patient hospital care. He sees cases like MIs, heart failures, atrial fibrillation, and dysrhythmias. He does preventative care – pretty much everything within cardiology.
At their institutions, services are being broken up a week at a time. He'll have one week as the ICU attending and one week as the clinic attending. As an academic, he has some grant support so some weeks, he doesn't have a clinical responsibility and his job is to teach write papers and grants.
When in the clinic, he's doing full time at their VA hospital and they have a team approach where he sees patients in clinic but he sees almost every patient with either a resident, fellow, nurse practitioner, or a physician assistant. A full day of clinic for him would be 8-10 new patients in a half day where the patient has initially been seen by someone else. Then he comes in and helps with the assessment and plan.
When he's at the ICU, Dave takes care of all the in-patient consults for the day as well as rounds composed of which the unit has 16 beds with 4 of them, typically cardiac patients.
In academics, Dave says there is not so much opportunity for the general cardiology to work with their hands. There are subspecialty cardiologists that do most of the procedural stuff. There are still some though that do invasive procedures in the community.
[07:21] Taking Calls and Work-Life Balance
As an academic cardiologist, Dave illustrates a layered call structure. He might be responsible for any number of facilities, with at least a cardiology fellow on call with him, who's going to take the majority of calls up front. When he's in clinic, they'll be responsible for the primary assessment of that patient then they call him to go over what's going on with the patient. He may take the call from home or come in and see the patient himself. He may also see the patient first thing in the moment when he comes in. When on the ICU, he'd be on call 24/7 but he'd only have to come in rarely or occasionally.
With 11 cardiologists at the VA that share duty, each of them gets to take about 1 week of call every 11 weeks.
As an academic and having some grant fundings supporting his effort, his clinical responsibilities are reduced to match what's not offset by his research grants. His research productivity is up to him. As long as he's generating research findings and getting them published and pursuing additional funding, his clinical demands are relatively easy to meet. That being said, he considers himself to have a good work-life balance.
[09:33] Getting Grants and Doing Research
The opportunity is always there. Not everybody avails himself of the opportunity and academic medicine has changed a lot over the last couple of decades. There are a lot of people now that are in the academics or academically affiliated but may be doing 100% clinical work.
It doesn't matter whether you have a PhD or not. Dave doesn't have one and he says it hasn't affected anything for him. But he's a relatively nontraditional researcher. He doesn't have a lab, he doesn't have mice, or any testing near him. He describes all of his research as being built around health services research or health systems science.
He's looking more at the bigger picture of things – outcomes, quality of care, reducing low-value care, and things that don't require a traditional lab. While you can get advanced degrees in those fields, there are very few researchers that he networks with who are MDs that also have PhDs. That said, there are PhDs in those fields, but very few that are both.
[12:00] Path to Cardiology Residency
First, you go through three years of internal medicine residency and three years of general cardiology training as the basic. There are a couple of variations with some programs where you might do a year or two of research. If you want to work in a genetics lab or a pharmacology lab or something else, there are opportunities to do that. You might spend a year doing that and it could give you a leg up on some of the grants.
In terms of competitiveness, Cardiology is pretty more competitive than it is with Internal Medicine. This is based on some medicine residents that he gets to work with and mentor every year. Some of them don't get in so it can be pretty challenging.
To be a competitive candidate, sometimes it starts with what program you're coming out of. Are you coming out of a highly respected academic internal medicine program, or are you coming out of one that doesn't have a track record of producing people with an interest in academics? This is actually one of the things that some programs look at in their decision process. Some programs still look pretty highly on USMLE scores, and so that can continue to be an important factor along down the road.
Moreover, there are opportunities for medicine residents to do research and to do other sorts of extracurricular things. That said, being involved in that as early on as you can I think is certainly not going to hurt and it can be quite helpful.
[14:24] Subspecialty Opportunities
Within the field of cardiology, there are three ACGME recognized fellowships that are officially sanctioned by the governing body for residencies and fellowships, namely: Invasive Cardiology (1 year), Electrophysiology (two years), and Heart Failure Transplant (1 year).
There are non-ACGME approved fellowships in things like structural heart disease. So if you wanted to be an invasive cardiologist and then also do percutaneous valve procedures, that's a fellowship that you could consider doing, and imaging is another one. Dave is the program director for an imaging fellowship at UF, and those are variable depending on what the needs of the program are. Some of them are based on cardiac MR, or cardiac CT, cardiac echo, etc.
[15:30] Bias Against DO
One of his classmates in his fellowship class was a DO and he is an incredible guy. He had no concerns or reservations, and there was no distinction made between MD and DO. So there's not a whole lot of difference, but there are some institutions in some regions of the country that don't have similar views.
[16:21] Working with Primary Care and Other Specialties
Dave wishes that referring providers felt a little bit more comfortable with symptoms that occur in the chest. There are a lot of people out there who, when a patient describes any kind of chest pain, will immediately and reflexively send them straight to the emergency department. They'd call up frantic for a stat consult.
Sometimes that's necessary, but frequently, it's not. It not only puts strain on the systems of care, but it can harm the patient too if somebody tells them, "Go to the ER or you might die," when in reality they've got either non-cardiac symptoms or it's a patient with known coronary disease and they have stable angina that's completely manageable with medical therapy.
Moreover, Dave has also noticed, in general, a lot of use of the pronoun 'they' on rounds and in clinical care. 'Cardiology wants this or they ordered such-and-such test.' People have names and so they have to be specifically mentioned – people that are speaking to specialists, and specialists, when they're getting back to referring teams, could do a better job of.
Additionally, there are primary care docs who simply don't want to get their hands on "heart stuff" and Dave appreciates their honesty. But he has also encountered other people who are terrified that something bad is going to happen to the patient. Dave totally understands this but if the patient had a stress test three months ago and they're on all the appropriate therapies that they need to be on, then they don't need to go down that road again. They don't need to send them straight to the cath lab or repeat a nuclear stress test.
Other specialties they work the closest with include cardiothoracic surgery, anesthesiology, hospital medicine, and the emergency department. The emergency room is where a lot of chest pain shows up and begins their evaluation. And there are better and not so great ways of conducting those initial evaluations. Dave works with their emergency medicine specialists to try and develop some streamlined models of care for chest pain
[21:16] Special Opportunities Outside of Clinical Medicine
Dave has done routinely done lectures for their fellows, as well as for our internal medicine residents. In the past, he has done career development curricula for medicine residents and helped them trying to figure out which specialties they want to go into.
You could also do some teaching. Dave is currently teaching medical students on the first, second, and third year at a different number of settings. He also did some undergraduate teaching.
[22:38] Decision to Stay in General Cardiology
One of the things that drew Dave to Cardiology early on was that there was the opportunity to continue to decide further if he wanted to pursue a subspecialty or not.
Dave got some advice during medical school that he thinks is a useful thought exercise. He actually was on his OB/GYN rotation, and one of the faculty asked him, "What do you want to be doing at 3:00 AM?" And the concept was that as a doctor, you're going to be on call, there's at some point in the middle of the night when somebody is going to call your phone. It's going to be 3:00 AM, and what do you want them to be calling you about? What are you motivated or excited to go and do at that time?
And Dave has reflected back on that at a number of different stages in his career, and that was one of the things that he thought about when trying to decide whether he wanted to do a subspecialty fellowship or not.
In particular, the one sub-specialty he was the most interested in was invasive cardiology. He enjoyed being in the cath lab, but not the difficult cases. And that was his thought process for not pursuing it as a career.
He admits not having the temperament for that, and so he was best served and the patients were best served by doing something he was more passionate about, which was imaging and general cardiology.
[25:08] Most and Least Liked in Cardiology
What he likes most about cardiology is something about the disease processes. He enjoys providing explanations to patients about what's going on with them. And what he finds to be one of the most rewarding experiences in cardiology is taking that time with patients and really helping them to understand their disease process.
On the flip side, what he likes the least is how some doctors can be uncomfortable with taking some cases. However, he's willing to help since it's for the best interest of the patient anyway. That's his job as a specialist and so he needs to make the best of it.
[27:14] Major Change in the Field
Some exciting changes in the future include structural procedures where they're now alter structural elements in the heart, which is just amazing. So that's continuing to be advanced and refined.
In imaging, there's three-dimensional imaging coming online, particularly with echocardiography, as well as new advances in CT technology that may be able to let us make functional assessments of stenoses, whereas CT normally just gives us pictures.
There's PET imaging and neurotracers coming online for positron emission tomography that has the potential to further improve diagnostic accuracy prognosis for patients. Moreover, Dave believes that prevention is something he sees more and more interest in within the cardiology community.
[29:11] Final Words of Wisdom
If he had to do it all over again, Dave certainly would. He's happy coming to work every day, and he points out that this is really what you want in any kind of a career.
Finally, he advises premeds and medical students to go out there and experience as many things as you can. Get a broad exposure to a variety of different specialties.
For some people, they just know it's the path they want to take. But for other people, they just don't. And they get to the end of their medical training, and they're just not quite sure what to do, and even if that's the case, there are plenty of good jobs to go out there and get started doing. All this being said, continue looking for that thing that's really going to be fulfilling for a long and fruitful career.
Links:
Listen to Other Episodes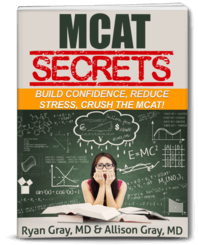 DOWNLOAD FREE - Crush the MCAT with our MCAT Secrets eBook