Session 08
Link to the full article: https://www.commonwealmagazine.org/footnotes
The famous," wrote Elizabeth Hardwick in her essay "Wives and Mistresses," "carry about with them a great weight of patriarchal baggage—the footnotes of their lives." Hardwick, a sort of self-styled footnote to a famous man herself, knew what she was talking about. "Footnotes," she continues, "worry a lot." They can be "mistresses and wives, sometimes but not often husbands; friends and enemies, partners in sudden assignations. Some have been the inspiration for poems or have seen themselves expropriated for the transformations of fiction. They have written and received letters, been lied to, embezzled, abandoned, honored, or slandered. But there they are, entering history with them, with the celebrated artists, generals, prime ministers, presidents, tycoons."

Literature can have a fraught relationship with these also-rans of life. On the one hand, the overlooked and insignificant people of the world have an appeal as unexplored dramatic territory. On the other, they may not produce matching enthusiasm from readers who want to know why they ought to be setting foot in that territory in the first place. While the novelist might rejoice in his subject, some readers tend to yawn—really, another story of some tedious nobody?

Too, these tedious nobodies might be overlooked for reasons that become easy to discern rather quickly. What to do with the obscure person who is not a hidden gem, or a tortured soul, but simply what he appears to be? While I rather like, for instance, the heroine of Jane Austen's Mansfield Park, her stick-in-the-mud qualities have made her infamously dull to many. Sometimes boring people are simply that—boring.

Still, I'll say that books that linger on the unattractive and uninteresting are some of my favorites, even the ones that cheat a bit by making their subjects dramatically flawed. I enjoy Barbara Pym's extra, excellent women; I relax as Judith Hearne slides into alcoholism and despair; I grumble along with the Underground Man; I follow Bernanos's country priest as he struggles to minister to a parish that really would rather he didn't. Even in more sweepingly ambitious novels, there's usually one or two mediocrities flitting about, sad and self-conscious, and I attach myself to them.

Madame Bovary, Gustav Flaubert's novel of a beautiful, restless woman who marries a dull but good man and slowly destroys both of them, is itself a kind of tribute to insignificance. Emma Bovary sees herself as someone who deserves some sort of attention that is never quite under her command; it eludes her in marriage and in adultery and in her occasional fits of piety. The ways she seeks to extract something deeper from life mostly land her in debt. Even her suicide is a shabbier affair than it ought to be, dragged out over days as her skin becomes covered with black spots from the arsenic she ate.

Many readers are as charmed by Emma as she is charmed by herself, arriving at the book's conclusion filled with a passionate hatred for Emma Bovary's hapless husband, Charles, whose fault that sad situation must, somehow, be. "We can drive people to betray us—and even invite it—by passivity, indifference, blindness, and self-hatred," writes Judith Shklar, for instance, in her essay on betrayal in Ordinary Vices. "Charles Bovary is not an innocent; he is simply so passive and deliberately blind that he will not see that his wife has lovers.… He is too self-centered to recognize her or her growing troubles." Emma's adulteries are "a minor betrayal"; her married situation "mean and dull."
[02:50] Paragraph 1, Sentence 1:
The famous," wrote Elizabeth Hardwick in her essay "Wives and Mistresses," "carry about with them a great weight of patriarchal baggage—the footnotes of their lives."
Jack says:
This could be about the famous wives. They're using the word "famous" as a way to bring in the wives and mistresses. It's basically saying that the famous carry something with them. Something they carry is a footnote. We don't know what that is but we can probably assume it's their wives or mistresses or someone secondary to them.
[04:11] Paragraph 1, Sentence 2:
Hardwick, a sort of self-styled footnote to a famous man herself, knew what she was talking about.
Jack says:
The footnote is the baggage. Take note that the em dash in the first sentence separates important stuff from maybe not so important stuff. So the footnote is not that important but another way of saying it's a baggage. And the author is saying that the author was a footnote, a baggage to a famous man.
[05:33] Paragraph 1, Sentence 3-4:
"Footnotes," she continues, "worry a lot." They can be "mistresses and wives, sometimes but not often husbands; friends and enemies, partners in sudden assignations.
Jack says:
The famous person has a wife and a mistress and these people are worrying. It suggests that a footnote could be anyone. It could be a wife, a mistress, a husband. It's someone secondary to the famous person. It's someone not so important.
[08:44] Paragraph 1, Sentence 5:
Some have been the inspiration for poems or have seen themselves expropriated for the transformations of fiction.
Jack says:
These footnotes are used into fiction as stories.
[09:10] Paragraph 1, Sentence 6:
They have written and received letters, been lied to, embezzled, abandoned, honored, or slandered.
Jack says:
They're just things that are negative.
[09:33] Paragraph 1, Sentence 7:
But there they are, entering history with them, with the celebrated artists, generals, prime ministers, presidents, tycoons."
Jack says:
Hardwick is saying all this stuff. The author may or may not disagree with this. But we do know Hardwick's opinion on this.
The big picture for this paragraph is that these footnotes are attached to more important people and they're just secondary in a way.
[11:01] Paragraph 2, Sentence 1:
Literature can have a fraught relationship with these also-rans of life.
Jack says:
Writings can have a fraught relationship.
[11:32] Paragraph 2, Sentence 2:
On the one hand, the overlooked and insignificant people of the world have an appeal as unexplored dramatic territory.
Jack says:
Maybe they're not well-received. So these footnotes are not significant, but they can be appealing. They could be explored in some way.
[12:30] Paragraph 2, Sentence 3:
On the other, they may not produce matching enthusiasm from readers who want to know why they ought to be setting foot in that territory in the first place.
Jack says:
If there is something written about them, readers may wonder why they should be interested in them.
[13:00] Paragraph 2, Sentence 4:
While the novelist might rejoice in his subject, some readers tend to yawn—really, another story of some tedious nobody?
Jack says:
We don't really know if the author likes them or not. The author is simply showing us how they are portrayed in society. The author is saying this is how people see them. That said, you have to read the whole thing in order to know the author's perspective.
This is just one way the author is describing these people. So we don't really know the author's opinion yet. One thing to note is that CARS passages are very fluid. The author could present points from different angles and not take a point or direction, or side with one of those angles. Then there are other passages where the author is lopsided on one side. So it just depends on what you're reading and how they're saying it. A lot of students are not necessarily comfortable with that but with experience, you realize this is just a conversation. So be open to anything and just understand it for what it's trying to say.
In this case, it's trying to say that these less important people are difficult for literature to depict and they're not something literature has been able to depict well in a way that people enjoy.
[15:44] Paragraph 3, Sentence 1:
Too, these tedious nobodies might be overlooked for reasons that become easy to discern rather quickly.
Jack says:
There are other reasons these people are overlooked. It seems like the author doesn't like them. So how do you know whether this is the author's opinion or this is the author's opinion on how society sees them as? That distinction doesn't matter right now. But be open to the author changing their opinion.
[16:54] Paragraph 3, Sentence 2:
What to do with the obscure person who is not a hidden gem, or a tortured soul, but simply what he appears to be?
Jack says:
This is the same as what's occurring before. The author is saying, what do we do with these people? What should happen? This is another way the author is showing us that society doesn't care about them.
The author is trying to portray footnotes in a negative light. People don't know what to do with them. They're bad. So what should we do? This is what the author is trying to speak to us right now.
[18:22] Paragraph 3, Sentence 3:
While I rather like, for instance, the heroine of Jane Austen's Mansfield Park, her stick-in-the-mud qualities have made her infamously dull to many.
Jack says:
The author is introducing another work of art. The author likes this footnote but maybe other people don't. If you assume that a heroine is not a footnote then this could kill you. You're confusing yourself as they never educated on the difference there. So you have to assume that it's just a footnote.
[20:05] Paragraph 3, Sentence 4:
Sometimes boring people are simply that—boring.
Jack says:
Footnotes are boring. "Stick in the mud" qualities – you don't really know what it means but it's probably associated with being born since they continue and say, "have made her infamously dull to many." So it's probably something that's bad or boring.
The big picture of this paragraph is that boring people are just boring.
[21:03] Paragraph 4, Sentence 1:
Still, I'll say that books that linger on the unattractive and uninteresting are some of my favorites, even the ones that cheat a bit by making their subjects dramatically flawed.
Jack says:
The author here is saying that books dealing with these footnotes are the author's favorites.
[21:30] Paragraph 4, Sentence 2:
I enjoy Barbara Pym's extra, excellent women; I relax as Judith Hearne slides into alcoholism and despair; I grumble along with the Underground Man; I follow Bernanos's country priest as he struggles to minister to a parish that really would rather he didn't.
Jack says:
These are just several pieces of work that the author likes.
[22:03] Paragraph 4, Sentence 3:
Even in more sweepingly ambitious novels, there's usually one or two mediocrities flitting about, sad and self-conscious, and I attach myself to them.
Jack says:
The author likes mediocre things. So he seems to enjoy reading about these footnotes. Now, we see that distinction that the author likes reading about the footnotes, while society as a whole does not so much.
[22:44] Paragraph 5, Sentence 1:
Madame Bovary, Gustav Flaubert's novel of a beautiful, restless woman who marries a dull but good man and slowly destroys both of them, is itself a kind of tribute to insignificance.
Jack says:
This is another example of a book that the author likes.
[23:13] Paragraph 5, Sentence 2:
Emma Bovary sees herself as someone who deserves some sort of attention that is never quite under her command; it eludes her in marriage and in adultery and in her occasional fits of piety.
Jack says:
The author is just describing the footnote that he likes.
[23:37] Paragraph 5, Sentence 3:
The ways she seeks to extract something deeper from life mostly land her in debt.
Jack says:
The author is saying that the character is trying to extract something deeper, like maybe trying not to be a footnote, but it just keeps landing her in more debt.
[24:07] Paragraph 5, Sentence 4:
Even her suicide is a shabbier affair than it ought to be, dragged out over days as her skin becomes covered with black spots from the arsenic she ate.
Jack says:
The author seems interested in what this character is doing. This is one of those examples that that author likes but others don't necessarily like.
[24:55] Paragraph 6, Sentence 1:
Many readers are as charmed by Emma as she is charmed by herself, arriving at the book's conclusion filled with a passionate hatred for Emma Bovary's hapless husband, Charles, whose fault that sad situation must, somehow, be.
Jack says:
The author is now bringing in Charles, a patriarch and blaming Emma's footnote situation on Charles. Emma is the main character but in a way, the author is suggesting that people are actually liking this person, who is a footnote. The husband is maybe someone who's sad or dull.
[26:09] Paragraph 6, Sentence 2:
"We can drive people to betray us—and even invite it—by passivity, indifference, blindness, and self-hatred," writes Judith Shklar, for instance, in her essay on betrayal in Ordinary Vices.
Jack says:
We're introduced to another voice here talking about how we can drive people to betray us. But we've got to continue reading to understand this.
[26:58] Paragraph 6, Sentence 3:
"Charles Bovary is not an innocent; he is simply so passive and deliberately blind that he will not see that his wife has lovers.… He is too self-centered to recognize her or her growing troubles."
Jack says:
Judith is saying that it's the husband's fault that Emma is being disloyal.
[27:39] Paragraph 6, Sentence 4:
Emma's adulteries are "a minor betrayal"; her married situation "mean and dull."
Jack says:
It seems this paragraph has gone tangent. But does this really affect the bigger picture? The author was saying that he seems to like footnotes. And Emma seems to be a character that she resonates with or likes, who is one of those footnotes that maybe other people find boring.
But then they go into this story that distracts you from that bigger picture. So it's really important to not lose sight of why we're talking about this.
What really matters at this stage is that you realize that these maybe these footnotes are not so boring. Maybe they have some interesting characteristics. You can be so engrossed in the whole story of Emma having a dull husband that you forgot the fact that she's "boring." As this is what the author is trying to make us believe that Emma's story may actually be interesting.
This last paragraph is basically saying that readers may actually find her interesting. And we know that because of the first sentence of this paragraph. So we know that maybe some readers actually find her interesting.
[30:20] The Big Picture of the Entire Passage
The big picture here is that footnotes that people find really boring but the author likes reading about them.
This is a good article because it shows you how the author can bring up a point of view, challenge it, and then how you have to decipher the author's point of view from what other people think. So this kind of passage is common on the real test, which is a good representation of what you might see.
The first half of this passage tries to paint the picture that they're nobody. And this is where a lot of students can get confused because they're thinking they're nobodies. That's true because that's what the author believes people think. But that doesn't necessarily mean that that's what the author believes.
In the process of helping us understand what people think, we may misinterpret it and accidentally believe this is what the author believes so we have to be careful with this. Be careful and make sure you know who's saying what and why it's being said.
Hence, you have to read a lot. Keep track of the bigger picture and be very strict when you read and interpret something.
[33:00] About Jack Westin
If you want some more free CARS prep, go to medicalschoolhq.net/jackwestin. Click on the Practice tab and sign up for the daily CARS MCAT questions delivered right to your inbox everyday. It's a practice in a test environment similar to what you'll see on MCAT test day. Or tect MCATCARS to 44222.
Links:
Listen to Other Episodes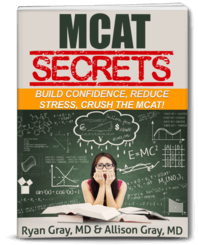 DOWNLOAD FREE - Crush the MCAT with our MCAT Secrets eBook