Guide to the Medical School Interview
Guide to the Medical School Interview
This book became the #1 Best Seller in the Medical Education & Training category for Kindle within a day and continues to be the best selling medical school interview book anywhere!
Dr. Ryan Gray has interviewed former and current deans of admissions and other Admissions Committee members for his award-nominated podcast, The Premed Years.
This book takes the information learned from those experts and helps you prepare for your medical school interview. Don't let your chances of becoming a physician slip away because you didn't know how to answer the hard questions.
Try our interview question generator here!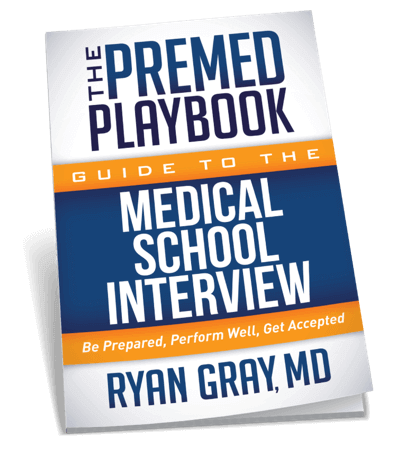 Now available at (as well as every other marketplace):
Why the medical school interview is so important and how you should prepare for it.

How to best craft the perfect answers and how to get feedback from others.

What the common question categories are (including 600 questions) and how to answer them—even those dreaded moral and ethical questions!

Over 50 real answers given by students during mock interviews and the feedback given to them so you don't make the same mistakes.
Dr. Ryan Gray is a former United States Air Force Flight Surgeon who found a passion for helping premed students on their journey to medical school. Best known for his podcasts, which have been downloaded over 3,000,000 times, Dr. Gray has interviewed numerous admissions committee members and deans of admissions for medical schools.
Through The Premed Years podcast and the Medical School Headquarters sites, Dr. Gray has helped thousands of students gain the confidence they require to successfully navigate the premed path.
Dr. Gray lives outside of Boulder, CO, with his wife Allison, who is a neurologist, and their daughter Hannah. Dr. Gray is also a Clinical Instructor at the University of Colorado School of Medicine.
Now available at (as well as every other marketplace):