Contribute to the Medical School Headquarters
WE'RE LOOKING FOR YOUR STORIES
The most popular podcasts are the ones where Ryan interviews a medical student who has overcome adversity. One of our most popular shows recently was a story of Matt, who overcame 12 W's and 5 F's on his transcript. We know you have a similar story in you. What has made you successful so far? What have you overcome? What have you learned from it that you can share with others?
Another powerful story was Silvia sharing how it took her 11 years to get her Bachelors degree. Now she's a medical student and crushing it!
What we're looking for…
We want original articles for both MedicalSchoolHQ.net and OldPreMeds.org. OldPreMeds.org is focused on nontraditional students, while this site is focused on the general premed population. We will soon be expanding this site to include medical students as well – so if you want to write about those experiences, please do!
Article Length…
There is no set minimum or maximum. The article should be as long as it needs to be to get your point across.
Submit your info here and we'll be in touch!
&nbsp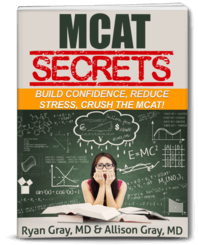 DOWNLOAD FREE - Crush the MCAT with our MCAT Secrets eBook