Session 149
Today, we talk about some changes at the AAMC in terms of their prep resources. And once again, we're joined by Clara from Next Step Test Prep.
Don't forget to also listen to The Premed Years Podcast as you're applying to medical schools. The MCAT is just one part of it so be sure you've got all your bases covered.
[02:25] What You Need to Know About the AAMC Resources
Virtually, every student purchases the AAMC resources. Or you may also get them for free. But there are a lot of misconceptions around how to use them and what they're best used for.
Overall, they're great resources as they're made by the test makers themselves. However, they're limited in terms of the amount available so students turn to other resources.
The AAMC has their own practice website. You can take the AAMC practice full-length exams as well as the other resources such as the Question Packs or Section Bank. You can use these in different ways.
Recently, the AAMC updated their own website and they've just added some functionality and features. The interface they previously used was identical to what you'd see on the MCAT. In 2018, they switched to this new benchprep system.
Now, their full-length exams are now in the same MCAT interface. But they have a separate interface for their Question Packs, their Section Bank, their official guide questions. They didn't have all the same features and functionality.
And a common feedback from students and teachers was that the AAMC practice interface doesn't have any highlighting. So if you want to practice your highlighting strategy, you would need to practice it using other resources. Or you may need to use the actual AAMC full-length tests.
[05:25] Inadequacy of the Explanations
As we've mentioned previously, it's the review and going through the explanations that can really help increase scores. And it's a very common complaint that the AAMC isn't that adequate in terms of giving explanations as to why an answer is wrong.
Basically, the AAMC is the organizations that administers the test. They're usually not focused on explanations. And this can be frustrating for students especially if they're only using the AAMC tools.
'They're not meant to be training tools so much as testing tools.'
Click To Tweet
All that being said, a change of mindset is key. Clara recommends spending twice as much time reviewing it versus taking it. The explanations point you in the right direction but it can behard to make those cognitive jumps.
Next Step usually provides really long explanations. AAMC doesn't have that but you can use their explanations for guidance. Then you can bring in other resources to help you look up unfamiliar terms.
[08:20] Adapting with the User Interface
Really spread out your AAMC practice. Students generally just use the AAMC section bank and the question packs in the last three weeks of their prep. But you're most likely to experience issues with the interface.
'Even if you haven't finished your content review, it's really helpful to start getting into the AAMC's mindset.'
Click To Tweet
So instead of unpacking all those resources in the last three weeks, you can start doing AAMC practice two months in. Then you can review it all again when you get closer to your test date. Then also sprinkle in other resources that resemble the exam interface. This way, you have a more balanced prep.
[10:00] Final Thoughts
Practice the AAMC Official Guide Questions. This is a relatively short resource but their passages are really good. They're MCAT-like.
Lastly, go to MCATCourseReview.com and watch the YouTube video where I break down Next Step's MCAT course and why I think it's the best course out there!
Links:
Get the Podcast Free!
Listen to Other Shows
Leave us a Review and Rating!
Just like Yelp reviews or IMDB ratings help you choose your next restaurant or movie, leaving a 5 star rating and/or a written review is very valuable to The MCAT Podcast. It allows us to be able to share our information with more people than ever before.
I am so incredibly thankful to those who have recently gone into our listing in iTunes to provide a five start rating and a written review of The MCAT Podcast.
Subscribe and Download
iOS/Mac/Windows – You can subscribe to the show in iTunes. Or you could manually add the RSS feed to your aggregator.
Android/Mac/Windows – You can download DoubleTwist and use that to manage all of our past and future episodes
Please help us spread the word!
If you like the show, will you please take a moment to leave a comment on iTunes? This really helps us get the word out!
Don't forget to save using the promo code "MSHQ" at Next Step Test Prep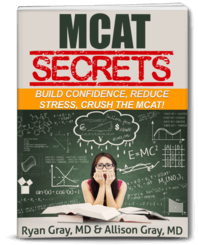 DOWNLOAD FREE - Crush the MCAT with our MCAT Secrets eBook