Session 12
In this episode, Ryan and Allison talk all about shadowing, which is a pretty common question among many premed students – where to shadow, what shadowing is, what expectations are there, and more!
Here are the highlights of the conversation with Ryan and Allison:
What is shadowing?
Observing a physician in the clinic, hospital, O.R. or wherever the physician works, going through a typical day, giving you first hand knowledge to see what life is really like as a physician.
Ryan best describes it as being "a fly on the wall; while Allison thinks your shadowing experience can turn into something so much more than you ever thought imaginable that can make a difference over your career
Reasons for shadowing:
To gain first hand, tangible knowledge of what it's like to practice as a physician
Gives you a sense of what the perks are of being a physician as well as the rewards and challenges (You also get to see how much paperwork is involved in your day-to-day life)
Building relationships and a strong network of people you can rely on and use later (think letters of recommendation)
To strengthen your medical school application in a way that you get to demonstrate your work ethic such that the person will recommend you for medical school
Getting a unique one-on-one opportunity to learn actively from a physician
To help out the team while you're there and they can help you
To see if you actually really like to become a physician
To get exposed to different specialties and figure out what you might be interested in
Shadowing Basics: Where and how to start
Talk to your family, friends, teachers who know physicians or are physicians themselves
Your own primary care physician
Don't be afraid to reach out a physician and make a phone call or send an email.
Call a hospital (volunteering office) or private practice and say that you want to shadow somebody at the hospital so they could set you up to somebody.
Why you want to shadow:
Be honest about why you want to shadow and why they would be a good person to work with and shadow.
Set your goals and expectations. Clarify for yourself and the physician why you are shadowing (letter of recommendation or are you thinking of going there for residency)
If you're doing it for a letter of recommendation:
Set aside enough time to build that relationship
Ryan shadowed 2-3 times a week for several months and he got a killer letter of recommendation.
As with Allison's case, she shadowed a cardiologist for 3 summers for several months over each summer. In medical school, she shadowed a neurologist over most of the summers
Tips on your first day of shadowing:
Be punctual. Be early. Show up on time for rounds or when the clinic opens.
Introduce yourself to the physician, their staff, and other healthcare providers that work there
Sit and look through the day
Get to know the physician a little bit and share about who you are
Begin by looking at the patient load for the day
Be discrete and be very polite so as not to make the patients feel uncomfortable.
Ask questions in between patients.
Fashion basics when shadowing:
No heels inside the OR
Dress appropriately
Ask beforehand as to where to find your scrubs
Always wear closed-toed shoes
Keep your nails free of polish or neutral (no bright colors)
Don't wear a white coat
Business casual. No need for suits. A buttoned-down shirt and a tie will do.
How to make the most out of your shadowing before you leave:
Take notes. Bring a pen and notebook with you and make sure to keep that with you.
Turn this experience into something you can use for your application by being always open and taking on more things while you're there.
Continue to be excited about what you're doing while you're there
Continue to build that relationship in the future by following up and sending emails
Take the time to really acknowledge the physician for taking you on
Thank the physician and other people on the team or hospital
Look for active opportunities to go back and work with that physician
Some pieces of advice for premed students:
Keep yourself open to all possibilities.
Do you have a life-changing shadowing experience? Let us know below!
Links and Other Resources:
DoctorShadow.com – We didn't talk about it during the session, but this is a relatively new site that offers a resource to find shadowing opportunities. And it's free!
If you need any help with the medical school interview, go to medschoolinterviewbook.com. Sign up and you will receive parts of the book so you can help shape the future of the book. This book will include over 500 questions that may be asked during interview day as well as real-life questions, answers, and feedback from all of the mock interviews Ryan has been doing with students.
Are you a nontraditional student? Go check out oldpremeds.org.
For more great content, check out www.mededmedia.com for more of the shows produced by the Medical School Headquarters including the OldPremeds Podcast and watch out for more shows in the future!
Free MCAT Gift: Free 30+ page guide with tips to help you maximize your MCAT score and which includes discount codes for MCAT prep as well.
Hang out with us over at medicalschoolhq.net/group. Click join and we'll add you up to our private Facebook group. Share your successes and miseries with the rest of us.
Check out our partner magazine, www.premedlife.com to learn more about awesome premed information.
Next Step Test Prep: Get one-on-one tutoring for the MCAT and maximize your score. Get $50 off their tutoring program when you mention that you heard about this on the podcast or through the MSHQ website. Check out their 10-full length practice tests and save 10% using the code "MSHQ".
Listen to our podcast for free at iTunes: medicalschoolhq.net/itunes and leave us a review there!
Email Ryan at ryan@medicalschoolhq.net or connect with him on Twitter @medicalschoolhq
Tweet Allison @allison_mshq or send her an email at allison@medicalschoolhq.net.
Subscribe for Free
Listen to Other Episodes
Leave us a Review and Rating!
Just like Yelp reviews or IMDB ratings help you choose your next restaurant or movie, leaving a 5 star rating and/or a written review is very valuable to The Premed Years. It allows us to be able to share our information with more people than ever before.
I am so incredibly thankful to those who have recently gone into our listing in iTunes to provide a five start rating and a written review of The Premed Years.
Subscribe and Download
iOS/Mac/Windows – You can subscribe to the show in iTunes. Or you could manually add the RSS feed to your aggregator.
Android/Mac/Windows – You can download DoubleTwist and use that to manage all of our past and future episodes
Please help us spread the word!
If you like the show, will you please take a moment to leave a comment on iTunes? This really helps us get the word out!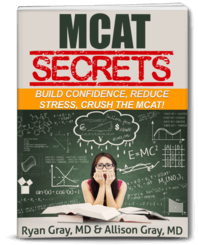 Crush the MCAT with our
MCAT Secrets eBook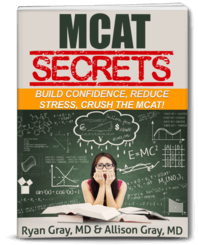 DOWNLOAD FREE - Crush the MCAT with our MCAT Secrets eBook