Session 38
In today's episode, Ryan talks with Dr. Vineet Arora from FutureDocsBlog.com about writing personal statements, whether including a quote in your personal statement is a great idea or whether it's wise to mention things like depression or other mental health issues.
Vineet is the Associate Program Director for the Internal Medicine Residency and Assistant Dean of Scholarship & Discovery at the Pritzker School of Medicine for the University of Chicago. She has been in the residency recruitment committee for the past 10 years. She coaches people in writing personal statements and worked as a career advisor in the medical school.
Listen in to find out more about the do's and don'ts when writing your personal statements.
Here are the highlights of the conversation with Vineet:
Vineet's path to medicine:
Premed at John Hopkins University, Major in Biology
Went to medical school at WashU in St. Louis when she was 20 years old
Finishing residency and pursuing a public policy degree
Maturity level as one of the things the admissions committee look at
Things to keep in mind when writing personal statements:
It's not about you. It's about your journey.
It's about what makes you unique and a good fit for the career and program.
The personal statement does not get you the interview but it's a very big part of the impression you leave on your interview day and can be a memorable part of your application.
Most of the time, interviews are granted based on:
The competitiveness of your numbers/your test scores.
Fit for the program
Do's and Don'ts in Writing Your Personal Statement:
Don't talk about the field. Talk about who are you and why are you interested in medicine and what you have to offer
Open your personal statement with the most interesting and fun thing you've done. It makes you more distinctive.
Don't make it like a SOAP note. Anything radical is a no-no.
Don't make it too short. Don't make it too long. The right length is just about a page.
End on a positive. Put your best foot forward. It's more genuine to answer what challenges you faced than on a piece of paper.
Some red flags in a personal statement you need to avoid:
Not making it too personal.
This is an oxymoron with people having to write personal statements yet they're having a hard time writing about themselves.
Anything that questions your ability to be a good candidate and complete the training program you're joining.
Disclosing that you have a personal illness is a very personal matter. Seek consultation from people to decide whether it's the appropriate thing to do.
If you're battling with a chronic illness that will make people wonder if you can do the job, Vineet recommends to not include it.
Disclosing too much dirty laundry may not be the best idea.
Highlighting challenges you faced before even going to the next change.
Disclosing mental health issues like depression
Depression is common but the medical field is challenging and a stressor.
Is it okay to put quotes in personal statements?
It has to be really meaningful and well-placed.
Do not open with a quote. You don't want to open with someone else's quote as your personal statement. The first line is often what dictates who you are at your interview.
You may end with a quote as long as it's well done.
The quote must say something about you and your likes that would be helpful.
Use quotes very sparingly.
Taking the time to write your personal statement:
Show it to others. Get feedback. Take it back and revise.
Work on it twice a week and once a week for the next few weeks.
It takes several weeks for it to really mature and come together.
On medical students rotating on the services of the hospital you're applying residency to:
She advises not to rotate if you think you've got your numbers and you think you're going to get an interview. Do not audition beforehand because that gives people more data points and it could backfire.
Be cognizant that you are on an interview the entire time you're there.
Be as unobtrusive as possible and you want to be a part of the team.
The residents are part of the interview team so keep that in mind. Be helpful to them.
Get a pulse on the place. Meet with the program directors and other people.
Understand who drives recruitment and see if you can get your name or face in front of the person so they know who you are before recruitment season starts.
Some pieces of advice for premed students:
Let people you know read your personal statement as well as people who don't know you to avoid bias, balance your personal statement, and see it all come together.
Links and Other Resources:
University of Chicago Department of Medicine
Save $225 on the Princeton Review's MCAT Ultimate or MCAT Self-Paced Prep Course through March 30th 2016 by going to www.princetonreview.com/podcast
If you need any help with the medical school interview, go to medschoolinterviewbook.com. Sign up and you will receive parts of the book so you can help shape the future of the book. This book will include over 500 questions that may be asked during interview day as well as real-life questions, answers, and feedback from all of the mock interviews Ryan has been doing with students.
Are you a nontraditional student? Go check out oldpremeds.org.
For more great content, check out www.mededmedia.com for more of the shows produced by the Medical School Headquarters including the OldPremeds Podcast and watch out for more shows in the future!
Free MCAT Gift: Free 30+ page guide with tips to help you maximize your MCAT score and which includes discount codes for MCAT prep as well.
Hang out with us over at medicalschoolhq.net/group. Click join and we'll add you up to our private Facebook group. Share your successes and miseries with the rest of us.
Check out our partner magazine, www.premedlife.com to learn more about awesome premed information.
Next Step Test Prep: Get one-on-one tutoring for the MCAT and maximize your score. Get $50 off their tutoring program when you mention that you heard about this on the podcast or through the MSHQ website.
Listen to our podcast for free at iTunes: medicalschoolhq.net/itunes and leave us a review there!
Email Ryan at ryan@medicalschoolhq.net or connect with him on Twitter @medicalschoolhq
Subscribe for Free
Listen to Other Episodes
Leave us a Review and Rating!
Just like Yelp reviews or IMDB ratings help you choose your next restaurant or movie, leaving a 5 star rating and/or a written review is very valuable to The Premed Years. It allows us to be able to share our information with more people than ever before.
I am so incredibly thankful to those who have recently gone into our listing in iTunes to provide a five start rating and a written review of The Premed Years.
Subscribe and Download
iOS/Mac/Windows – You can subscribe to the show in iTunes. Or you could manually add the RSS feed to your aggregator.
Android/Mac/Windows – You can download DoubleTwist and use that to manage all of our past and future episodes
Please help us spread the word!
If you like the show, will you please take a moment to leave a comment on iTunes? This really helps us get the word out!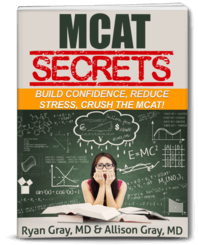 Crush the MCAT with our
MCAT Secrets eBook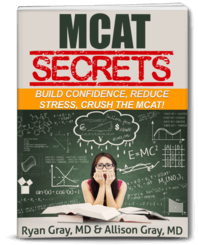 DOWNLOAD FREE - Crush the MCAT with our MCAT Secrets eBook