Session 52
Congrats to Jessica & "9th Grade High Schooler" for winning a copy of The Heartbeat of Success!" – if you didn't win,  you can purchase with the link from below
In this episode, Ryan talks with Alexa Mieses, a 2 year medical student at  Icahn School of Medicine at Mount Sinai.  Today, we talk about mentorship, its impact on Alexa's life and her path into medicine, and why she now passes this on to others as she continues to be a positive influence on others through mentoring.
Alexa is also an author of the book The Heartbeat of Success: A Med Student's Guide to Med School Admissions, which offers logical and accurate advice on applying to medical school.
Here are the highlights of the conversation with Alexa:
Alexa's current path to medicine:
A 2nd year medical student at Mt. Sinai in New York City
Master of Public Health program (She will graduate with both MD and MPH in 2016)
Getting a scholarship at Sinai
What set Alexa up for success in getting a scholarship at Sinai:
Choosing to major in Biology and minor in Psychology
Exploring her love for writing on the side
Becoming a member of the Minority Association of Premedical Students (MAPS), the undergrad arm of the National Medical Association, an organization specifically for medical students of color with a two-fold mission:

Help medical students of color succeed at medical school
Raise awareness to health disparities as well as health equity and social justice issues
Growing up in Queens, New York got her exposed to health disparity issues
Being awarded the Jeannette K. Watson Fellowship funded by the Thomas J. Watson Foundation, a fellowship that provides opportunities to undergrads for professional development through full-time summer internships for 3 summers, professional development seminars, and cultural activities.
Her experiences as a Jeannette K. Watson fellow:
Teaching biology and ecology at Bronx Zoo for the first summer
Her interest in public health started revving up
Spending her second summer at Gay Men's Health Crisis, an HIV community-based organization, specifically at the public policy department
Writing her first magazine article about a phenomenon called corrective rape and its impact on the spread of HIV
Her article being published in Pulse Magazine's Treatment Issues
The impetus for Alexa to pursue medicine:
Not the best student in high school and became very ill
Every year in her high school, someone had died of drug-related causes
Becoming involved with a drug awareness Club in high school that got her interested in psychiatry and neuroscience
Her high school experience giving her the fuel and energy to do well in college
Her college experience:
Failing in her pre-calculus class
Joining a peer tutoring program
The power of course correction:
When you face obstacles, before taking another step forward, stop
Try to figure out what went wrong and how to get back on course
The implications of being a tutor:
Allowing her to reinforce a lot of the fundamental scientific concepts that helped her with her high-level courses and the MCAT
Teaching as one of the best ways of learning
The impact of mentorship in Alexa's life:
It is transformative.
Getting involved in Mentoring in Medicine, an non-profit organization dedicated to helping students interested in pursuing a career in health professions learn more about that career and become more competitive for the different programs
Meeting two doctors who have helped her in school as well as with her medical school application; her mentors being able to fill that void in her professional life
How to find a mentor:
Your peers can be your mentor. You don't need a physician to provide you with guidance or someone who's older than you/
A mentor is someone who can be supportive and can help you find solutions to your problems.
Don't be afraid to reach out to someone. There are many different ways to reach out such as email, Skype, social media.
Be fearless. The worse that can happen is they will tell you no. But you'll never know what they're going to say if don't ask.
If you get a no, find another one who can help you.
Periodically keep in contact with your advisors, professors, colleagues. You never know what opportunities can come from that.
A guide to medical school admissions
A 30-day challenge sponsored by Mentor in Medicine and Small Business Camp
Her goal of being able to reach a larger audience and offer them invaluable tools and tips to succeed in the medical school admissions process especially to those who don't have much access to resources
Writing her book in 30 days – Wow!
Listening to different voices:
Take every bit of advice with a grain of salt.
Try to hear as many perspectives as possible and lay out every piece of advice like cards on the table.
It's okay to deviate from the traditional premed path but just be prepared to explain why you made that decision.
Some pieces of advice for premed students:
Do what you love. People are conformed to an idea of what they think is right. If you're doing what you're most passionate about, you will naturally excel. You will naturally shine. If you're not even sure yet as to what you're passionate about, that's okay. Spend time figuring out what you love.
Links and Other Resources:
Check out The Differential Blog on Medscape where Alexa's  writes for regularly
Alexa's Book -> The Heartbeat of Success: A Med Student's Guide to Med School Admissions
Minority Association of Pre-medical Students
Jeannette K. Watson Fellowship
Alexa's first article on Corrective Rape: Gender Inequality and Corrective Rape of Women Who Have Sex with Women
Save $225 on the Princeton Review's MCAT Ultimate or MCAT Self-Paced Prep Course through March 30th 2016 by going to www.princetonreview.com/podcast
If you need any help with the medical school interview, go to medschoolinterviewbook.com. Sign up and you will receive parts of the book so you can help shape the future of the book. This book will include over 500 questions that may be asked during interview day as well as real-life questions, answers, and feedback from all of the mock interviews Ryan has been doing with students.
Are you a nontraditional student? Go check out oldpremeds.org.
For more great content, check out www.mededmedia.com for more of the shows produced by the Medical School Headquarters including the OldPremeds Podcast and watch out for more shows in the future!
Free MCAT Gift: Free 30+ page guide with tips to help you maximize your MCAT score and which includes discount codes for MCAT prep as well.
Hang out with us over at medicalschoolhq.net/group. Click join and we'll add you up to our private Facebook group. Share your successes and miseries with the rest of us.
Check out our partner magazine, www.premedlife.com to learn more about awesome premed information.
Next Step Test Prep: Get one-on-one tutoring for the MCAT and maximize your score. Get $50 off their tutoring program when you mention that you heard about this on the podcast or through the MSHQ website.
Listen to our podcast for free at iTunes: medicalschoolhq.net/itunes and leave us a review there!
Email Ryan at [email protected] or connect with him on Twitter @medicalschoolhq
Subscribe for Free
Listen to Other Episodes
Leave us a Review and Rating!
Just like Yelp reviews or IMDB ratings help you choose your next restaurant or movie, leaving a 5 star rating and/or a written review is very valuable to The Premed Years. It allows us to be able to share our information with more people than ever before.
I am so incredibly thankful to those who have recently gone into our listing in iTunes to provide a five start rating and a written review of The Premed Years.
Subscribe and Download
iOS/Mac/Windows – You can subscribe to the show in iTunes. Or you could manually add the RSS feed to your aggregator.
Android/Mac/Windows – You can download DoubleTwist and use that to manage all of our past and future episodes
Please help us spread the word!
If you like the show, will you please take a moment to leave a comment on iTunes? This really helps us get the word out!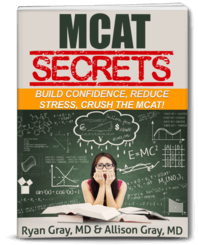 DOWNLOAD FREE - Crush the MCAT with our MCAT Secrets eBook