Session 75
In today's episode, Ryan goes on to have a heart-to-heart talk with YOU to hopefully put your mind at ease.
What are my chances of getting into medical school?
This is the ultimate question every premed student has. But this is a stressful question that is an ultimate waste of energy, stress, and time.
Now here's the ultimate response.
Your chance of getting to medical school is 0% if you don't apply. If you do apply, your chances of getting to medical school are 100% individual to your application.
You're 100% different.
You are an individual applicant applying to individual schools based on your preferences. Your application tells a story that is 100% different than every other application submitted. Your personal statement, letters of recommendation, experiences, and reasons are different.
Remember, what you do is not important. WHY you do it means so much more. It's that why that separates you from everybody else. And that's what's going to come across in your personal statement and interview.
Tell your why.
Your "why" is more powerful than your numbers. Do your best in your MCAT and GPA but figure out why you're doing this to be able to tell a much better story than anybody else. It's okay not to have the perfect MCAT or GPA.
It's not all about the numbers. It's about your story.
Find your story.
Build your story.
Tell your story.
We now have 100,000 downloads on iTunes! Thank you to everyone who's taking the time to listen to us each week. Help spread this podcast to others.
Links and Other Resources:
Session 74 – Carrie talking about her WHY
Simon Sinek – Ted Talk – Start with Why
If you need any help with the medical school interview, go to medschoolinterviewbook.com. Sign up and you will receive parts of the book so you can help shape the future of the book. This book will include over 500 questions that may be asked during interview day as well as real-life questions, answers, and feedback from all of the mock interviews Ryan has been doing with students.
Are you a nontraditional student? Go check out oldpremeds.org.
For more great content, check out www.mededmedia.com for more of the shows produced by the Medical School Headquarters including the OldPremeds Podcast and watch out for more shows in the future!
Free MCAT Gift: Free 30+ page guide with tips to help you maximize your MCAT score and which includes discount codes for MCAT prep as well.
Hang out with us over at medicalschoolhq.net/group. Click join and we'll add you up to our private Facebook group. Share your successes and miseries with the rest of us.
Check out our partner magazine, www.premedlife.com to learn more about awesome premed information.
Next Step Test Prep: Get one-on-one tutoring for the MCAT and maximize your score. Get $50 off their tutoring program when you mention that you heard about this on the podcast or through the MSHQ website.
Listen to our podcast for free at iTunes: medicalschoolhq.net/itunes and leave us a review there!
Email Ryan at ryan@medicalschoolhq.net or connect with him on Twitter @medicalschoolhq
Subscribe for Free
Listen to Other Episodes
Leave us a Review and Rating!
Just like Yelp reviews or IMDB ratings help you choose your next restaurant or movie, leaving a 5 star rating and/or a written review is very valuable to The Premed Years. It allows us to be able to share our information with more people than ever before.
I am so incredibly thankful to those who have recently gone into our listing in iTunes to provide a five start rating and a written review of The Premed Years.
Subscribe and Download
iOS/Mac/Windows – You can subscribe to the show in iTunes. Or you could manually add the RSS feed to your aggregator.
Android/Mac/Windows – You can download DoubleTwist and use that to manage all of our past and future episodes
Please help us spread the word!
If you like the show, will you please take a moment to leave a comment on iTunes? This really helps us get the word out!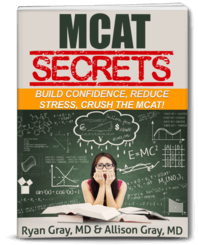 Crush the MCAT with our
MCAT Secrets eBook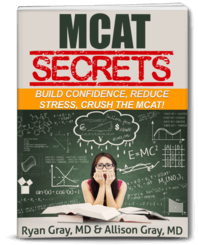 DOWNLOAD FREE - Crush the MCAT with our MCAT Secrets eBook