Session 77
In today's episode, Ryan talks with Ben Abney, a true nontraditional medical student who sent in a 4,000+-word email titled How a 38-Year Old Active Duty Applicant with a Family and Average Scores Got into Medical School, with the hope to help other people who may also find themselves in a similar situation.
Listen closely to this episode and learn first-hand about Ben's journey, the things he learned, and his recommendations that might help you in your premed and medical school journey. It's all about taking that first step!
Here are the highlights of the conversation with Ben:
Ben's path prior to medical school:
Joining the navy after graduation and becoming a nuclear power instructor
Money as a barrier, growing up in a very poor family
Figuring out the next steps: Which resources did he tap into?
Local medical schools – admissions committees
Personal physician friends
Medical school forums
OldPreMeds.org Conference
Ways to reach out to the schools:
Go to the site and familiarize yourself about the basic information about the school.
Email the admissions office and do a quick summary.
Just show up and meet faces.
During the application process:
Applying as soon as the AMCAS application cycle opened
Writing the personal statement and just briefly mentioning the highlights
Getting his schools to get all of his transcripts to AMCAS as very challenging
Note: Asking for letters of recommendation past April is too late
Applying to around 15 MD schools
Got into 7-8 interviews
Some pieces of advice for premed students:
There is no such thing as safety schools. You can't only apply to schools that meet numbers.
Apply early. Apply broadly.
Dream don't come true but plans do. So put a plan out there. Take that first step and see if it's something you like or dread. Start looking at your dream and make it a plan.
Links and Other Resources:
MSHQ 074 – Interview with Carrie
Session 17: Step Up Your MCAT Prep With the Princeton Review
The Princeton Review – MCAT Ultimate Classroom or Live Online Course
If you need any help with the medical school interview, go to medschoolinterviewbook.com. Sign up and you will receive parts of the book so you can help shape the future of the book. This book will include over 500 questions that may be asked during interview day as well as real-life questions, answers, and feedback from all of the mock interviews Ryan has been doing with students.
Are you a nontraditional student? Go check out oldpremeds.org.
For more great content, check out www.mededmedia.com for more of the shows produced by the Medical School Headquarters including the OldPremeds Podcast and watch out for more shows in the future!
Free MCAT Gift: Free 30+ page guide with tips to help you maximize your MCAT score and which includes discount codes for MCAT prep as well.
Hang out with us over at medicalschoolhq.net/group. Click join and we'll add you up to our private Facebook group. Share your successes and miseries with the rest of us.
Check out our partner magazine, www.premedlife.com to learn more about awesome premed information.
Next Step Test Prep: Get one-on-one tutoring for the MCAT and maximize your score. Get $50 off their tutoring program when you mention that you heard about this on the podcast or through the MSHQ website.
Listen to our podcast for free at iTunes: medicalschoolhq.net/itunes and leave us a review there!
Email Ryan at [email protected] or connect with him on Twitter @medicalschoolhq
Subscribe for Free
Listen to Other Episodes
Leave us a Review and Rating!
Just like Yelp reviews or IMDB ratings help you choose your next restaurant or movie, leaving a 5 star rating and/or a written review is very valuable to The Premed Years. It allows us to be able to share our information with more people than ever before.
I am so incredibly thankful to those who have recently gone into our listing in iTunes to provide a five start rating and a written review of The Premed Years.
Subscribe and Download
iOS/Mac/Windows – You can subscribe to the show in iTunes. Or you could manually add the RSS feed to your aggregator.
Android/Mac/Windows – You can download DoubleTwist and use that to manage all of our past and future episodes
Please help us spread the word!
If you like the show, will you please take a moment to leave a comment on iTunes? This really helps us get the word out!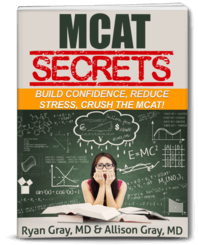 DOWNLOAD FREE - Crush the MCAT with our MCAT Secrets eBook