Session 180
Save 20% on Gold Standard MCAT Practice Test 3-month packages, or the 1-year Platinum Package!
Click here to send an email to get the discount code!
In today's episode, Ryan talks with Dr. Brett Ferdinand who has turned into one of the biggest prep gurus. He is the man behind the Gold Standard and MCAT-Prep.com. Today, they cover a countdown of the Ten Myths of the new MCAT.
Brett has a vast experience in the MCAT space including the creation of the MCAT online video library even before YouTube existed. They have also developed their online practice tests even before the AAMC made the MCAT a computer-based test.
Today, they offer 7 full-length tests and one free abbreviated test that you can practice with. With over 6,000 practice questions, students will get a balance between knowledge-based questions, application questions, and full-length exams.
It's not just about performing better for the MCAT but about making yourself a better doctor one day.
Here are the highlights of the conversation with Brett
Brett's path to medical school
Writing Dr. Brett Ferdinand as his name on all his tests back in kindergarten
Studying physics and math in undergrad
Taking the MCAT after his junior year and started writing his first book on MCAT
Getting accepted to all medical school he applied to
Continuing to write books, make sites, and practice tests
Reasons behind Brett's interest in MCAT
Problem solving
Using basic sciences (physics, math, general chemistry, organic chemistry)
The biggest fear with the new MCAT for students
Addition of Biochemistry on the MCAT
Full-day testing experience and what it does to your body and mind
Ten Common Myths of the New MCAT
Since it's standardized, the exam day is the same for everyone.
Think of the exam day in it's entirety because every day is different. The weather is going to be different. There are so many different experiences that you can have. Keep your mind open to many possibilities. Beware of the danger in going to forums. Prepare for all contingencies and understand that not everybody is going to have the same exam experience so you have to prepare for that.
I will learn everything before the exam.
In a traditional exam, you can learn all you need to ace the test before taking it. For the MCAT, it involves a different way of thinking. Perfect practice makes practice. Start very early in your MCAT prep. Based on your personality then you can start deciding which learning style suits you best which has to be problem-based learning. Start with knowledge-based questions. Move on to practical application questions and then full-length practice tests. 2/3 of your time practicing should be higher learning processes you're applying.
CARS as a reading section so it's not important.
Reasoning is a core element in the CARS section that makes up one quarter of your score. This cannot be ignored. Practice and find areas where you're reading actively. Always get the global idea, summarize, and the author's point of view.
Every question counts.
If you're going beyond two minutes when answering a question, assess the value of the question and how close you are to finishing it. The MCAT is a scales course system, which means that even if you miss 1-2 questions, the likelihood is you would get the same score as if you didn't miss those questions. Other exam questions are also not scored. Mark questions where you're unsure of the answers and go back later.
I can take the MCAT as often as I like.
The MCAT is a full-day exam that is so stressful enough that you would want to minimize exposure to the exam. AAMC has also come up with rules on test taking where one can only take the exam up to:
Three times in a single year
Four times during a two-consecutive year period
Seven times in a lifetime
A high MCAT score is vital for medical school admissions.
AAMC has created a new marking system to make people at ease with the mid-range scores so they have found a way to minimize the MCAT score on medical school admissions. The hope is that medical schools will put more emphasis on the personal statement and other application materials like the MMI which has a stronger correlation with a person's clinical performance than the MCAT.
It's only about the test.
It's natural for students to focus on the materials but this is an unusual exam. There are peripheral matters that can significantly affect your experience such as stamina. The MCAT is not a sprint but a marathon. So you have to live the experience. One or two weeks before the exam, live your daily life similar to the exam day. Maintain your body and nutrition in the most stable way possible in anticipation of the exam day.
You have to know more content for the new MCAT than any other standardized exam.
Not drill and kill. Not lots but hots. It's not a purely knowledge-based test but it also involves understanding, comprehension, application questions, analysis, and synthesis. It has lower order thinking skills and higher order thinking skills. MCAT has the least amount of lower order thinking skill questions.
Some questions are designed to trick me.
Take a step back to understand the questions. Evaluate graphs, tables, diagrams, research, experiments in a clear way and pay attention to the wording. MCAT is designed not to trick the students but to help students develop precision and pay attention to details.
I can't practice yet.
Once you've made a decision to take the MCAT, do a few questions. Take your time. work through them and see what it's like. By thinking about it, you won't turn the MCAT into a greater beast. Think like the AAMC where you see the big picture and not just the knowledge details. Familiarize yourself with questions and problems and that will change how you will prepare for the exam. That will make you not just a better MCAT student, but a better doctor one day.
Products offered by Gold Standard MCAT prep:
Save 20% on Gold Standard MCAT Practice Test 3-month packages, or the 1-year Platinum Package!
Click here to send an email to get the discount code!
7 full-length test and one free abbreviated test
Over 6,000 practice questions
MCAT practice courses
MCAT University program
Home study package
Individual exams
Other resources from other companies
Some pieces of advice for premed students:
A good doctor cures sometimes, diagnoses often, but comforts always. You can take that into your medical school interview.
Links and Other Resources
Send an email to learn@mcat-prep.com with the discount code goldstandard528 to set up a discounted purchase with them. Save 20% through June 16, 2016 on their Gold Standard MCAT practice test 3-month packages or their 1-year platinum package. Or save 10% after June 16, 2016.
Gold Standard Biochemistry App
FREE MCAT Biochemistry app for the link section on the page on your website with the podcast:
Android: https://play.google.com/store/apps/details?id=com.ruvenco.goldstandardmcatbiochemistryflashcardspremiumedition&hl=en
iPhone: https://itunes.apple.com/us/app/gold-standard-mcat-biochemistry/id1077668565?mt=8
If you need any help with the medical school interview, go to medschoolinterviewbook.com. Sign up and you will receive parts of the book so you can help shape the future of the book. This book will include over 500 questions that may be asked during interview day as well as real-life questions, answers, and feedback from all of the mock interviews Ryan has been doing with students.
For more great content, check out www.mededmedia.com for more of the shows produced by the Medical School Headquarters including the OldPremeds Podcast and watch out for more shows in the future!
Hang out with us over at medicalschoolhq.net/group. Click join and we'll add you up to our private Facebook group. Share your successes and miseries with the rest of us.
Listen to our podcast for free at iTunes: medicalschoolhq.net/itunes and leave us a review there!
Email Ryan at ryan@medicalschoolhq.net or connect with him on Twitter @medicalschoolhq
Subscribe for Free
Listen to Other Episodes
Leave us a Review and Rating!
Just like Yelp reviews or IMDB ratings help you choose your next restaurant or movie, leaving a 5 star rating and/or a written review is very valuable to The Premed Years. It allows us to be able to share our information with more people than ever before.
I am so incredibly thankful to those who have recently gone into our listing in iTunes to provide a five start rating and a written review of The Premed Years.
Subscribe and Download
iOS/Mac/Windows – You can subscribe to the show in iTunes. Or you could manually add the RSS feed to your aggregator.
Android/Mac/Windows – You can download DoubleTwist and use that to manage all of our past and future episodes
Please help us spread the word!
If you like the show, will you please take a moment to leave a comment on iTunes? This really helps us get the word out!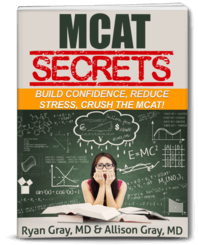 DOWNLOAD FREE - Crush the MCAT with our MCAT Secrets eBook