Session 253
Dr. Glenn Cummings is the Associate Dean and Director of the Postbaccalaureate Premedical Program at Bryn Mawr College in Pennsylvania. We discuss mistakes students make and so much more about postbacs.
If you're a nontraditional student, you will certainly get a lot of information from this. And even as a traditional student, there will be plenty of information for you as well. Also, don't forget to check out all our other podcasts on MedEd Media Network.
One quick thing which we didn't get to talk about in the interview is if you're thinking about applying to postbac programs, there is now a centralized application service for postbac programs. Not every postbac is participating in yet. As you're doing your research and looking at postbac programs, figure out if they're taking part in PostBacCAS. Or learn if you need to individually apply to that postbac program.
[02:21] From PhD in American Literature to the Premed World
From a PhD in American Literature, Glenn has been a pre-health advisor for seventeen years now. And he started for two reasons. First was he wasn't happy with the research he did in graduate school. He knew it just wasn't where he was headed. Second, he really wanted to do the advising piece.
Just as he was finishing his doctorate, he had a job at a small nursing college. Then it began to turn into a liberal arts college that was poorly funded. They didn't have any system for academic advising. He was teaching American literature to older students who have gone back to school after raising families and having careers. Some were working full time.
He was at the University of Virginia at that time and the premed advisor of 20 years left. Then he was asked to do it on a trial basis to see if he enjoyed it. It also included pre-law since he was the director of pre-professional advising at that point. Ultimately, he likes the pre-health students the best so he decided to stick with it.
Although science was not his background, he wanted to alleviate suffering and improving people's well being and it was something he shared with the students. That's what has brought him to Bryn Mawr, as their Associate Dean and Director. Today he has been in these positions for three years.
[05:55] What is a Postbac Program?
Glenn defines postbac as the short term for postbaccalaureate. It's a program you do after you get your bachelor's degree. The premedical postbac programs fall into two types: The career-changer (which he sometimes calls it "start from scratch") program is where most students that have not had the premedical requirements. So they take this program for a year to take the basic sciences to be eligible to apply to medical school.
The other type is where the students have done most, if not all, of the courses in college, but they didn't do as well as they wanted to. So they need to do additional science and enhance their record.
[07:00] Postbac Right After College: Is It Right or Wrong?
Many college students, say in their sophomore or junior years, and they're planning on taking a postbac. Is it wrong thinking?
Glenn has been at UVA for four years and at Princeton for eight years. He also ran the health professions advising program there. Glenn says that in his last couple of years before leaving Princeton, he saw there were students who were very well-informed. And that were so many opportunities offered to them that were exciting to them. These are things like studying abroad for a year or double-majoring. Or the institution has a senior thesis. And so sometimes they thought they just couldn't get those courses in.
"The number of applicants we get in our program that are college seniors has grown a little bit every year."
Whether it's wrong or right, Glenn admits that he doesn't know. But what he sees is the advantage of time where they're able to think about whether it's the right decision. However, it's not in the spirit of what these programs were created for. At their institution, Glenn says they still consider students right after college but they'd interview them. They would carefully inquire about their interest in medicine.
Personally, my assumption is they've been told to be a perfect student with perfect numbers and extracurriculars. So they would take the safe road and delay all of that stuff until later. But Glenn thinks it's more of the students getting excited with so many activities in college. But in terms of this being a better way to get better grades or to take the easy route, Glenn doesn't think this is the case.
[13:00] To Take a Postbac or to Pursue Continuing Education?
He further explains that students attracted to their program express their desire for a sense of community. He describes their program as having a very tightly knit community between 75 and 80 students. They are fairly small college, but large enough to be able to foster diversity. So they wanted that group with similar goals and similar values.
"They wanted a group of people going through the same thing they were going through, almost like a dress rehearsal for medical school."
Secondly, in some schools, students may not also have a structured advising system. At their institution, they're very involved in the student's academic success. They have one-on-one with students every day, making sure their weaknesses are being addressed. They know what their strengths are. They're essentially guiding them towards academic success.
My usual advice to students if you need the structure, then a formal postbac program will give that to you. And community is a very important aspect too. Glenn adds they facilitate cocurricular activities as well such as speaking and different events centered around healthcare. It's very important that you're able to show that you can be part of that community during interview.
[17:25] Shadowing and Clinical Experiences
Although not part of the curriculum, they do orient students about the need for having shadowing and clinical experience as part of their typical week. At Bryn Mawr, students arrive at the beginning of the summer. And over that summer, Glenn has a staff member who works with them to find a place in the community where they can get some clinical experience. This is done in a way that enhances what they've already done. Many of their students have already had these kinds of experiences under their belt, while others have very little. There are others who might be doing clinical research or working in a clinical setting for a couple of years before they got there. So it basically depends on the individual. Nevertheless, the staff member works with them closely to help guide them towards a clinical experience they find valuable.
Moreover, they have a large database of what everyone has done in the past so they also have access to that. Although they don't have this, some colleges have a shadowing program at the local hospital that you could apply for.
[20:45] How They Evaluate Their Students
Glenn mentions two things: the academic ability and their familiarity with medicine and their passion for it. So he admits it's a challenge for them when looking at applicants.
"Almost all of the people that come to our program have something in their story that did familiarize them with medicine."
Glenn explains that almost all of the students that apply to them have had some familiarity with medicine in some ways. Either they're volunteering at a hospital or they've shadowed a doctor or they have dealt with illness in the family. Or they've lost someone in their family or they're patients themselves. In fact, some of the most interesting applicants they've got are the ones that have seen the doctors, they want to be like, treat them, as well as the doctors they never want to be like.
They can get it wrong sometimes; but occasionally, there may be students who didn't have clinical experience. Then they'd go to the local hospital and they won't enjoy it. They don't like being with sick people. And they didn't realize what they were getting themselves into. But this is rare.
Sometimes, Glenn also finds that personal connection. They show they've been in a setting where they've been around patients. And sometimes this is enough for them. Their program is also short. It's only one year. And before you know it, you're trying to apply to medical school. So what he looks for students is that short-term potential for them to be able to go for an interview and talk about their motivation.
[24:10] Judging Career-Changer Applicants
Glenn says that this is a surprise to applicants all the time but they look at high school transcripts.
"We look at high school transcripts. We look at their high school science grades. So we do go back pretty far."
It does make sense because they've been in college for a long time, then high school is even farther back. But they want to see the last time the applicant was in an environment where they did lab work and they had to do science. They also look at their SAT and ACT scores. This can also surprise people sometimes. But they find this very informative especially if they haven't had any science in college. So they need to go back and look at those things. This gives them some sense to be able to predict the challenges.
"The grades in college mean more than you might think, even if it's in discipline completely far from science."
Looking at how many classes they took or the level of classes they took or the challenges they face in whatever discipline they chose you can get some sense to be able to predict how they're going to do in a rigorous science program. In addition, Glenn says the letters of recommendation help a lot too. Many skills are actually transferable to doing well in the sciences. MCAT is not required for career changers but only for academic enhancers.
[26:50] The Biggest Mistakes
Glenn says the biggest mistake he sees in applicants is applying late. As what he said, they're like a dress rehearsal for medical school.
"We're a mini, little version of a medical school in terms of our application process. Get it in early."
The only have a certain number of seats for their classes. And they see some really amazing applicants at the very end of the cycle. It's very hard for them to turn them down or to put them on the waitlist. It can be frustrating for them trying to build the best class they can. They're applying late for some reason. Nevertheless, they shut down by the first of March. They start accepting applications in August. For someone to wait until February to apply, unfortunately, the train is leaving the station. February is their actual deadline for the applications but they're still making decisions after that.
Historically, students work off deadlines. The whole rolling admissions is brand new to students who are now career changers or those undergrad students applying directly to medical school. Personally, I wish medical schools would get rid of the word "deadline" and Glenn agrees with me on this.
Another important thing during application process is interview. They can do it via Skype. But regardless of Skype or in-person, there needs to be some real thought put into what they want they communicate in 30 or 40 minutes. This is the second most common mistake they see: is when they come in poorly prepared. They don't listen very well and they do all the talking. They don't stop to breathe. Or they give just one-word answers. This is an interpersonal skill which Glenn thinks is not a problem for most older career changers. It's mostly the younger students that struggle with this.
[31:30] Common Mistake Among Career Changers
Glenn thinks career changers generally do well in the interview because of their maturity and comfort level talking about themselves. But one common mistake they make is they dominate too much. They're just strong on the conversation they wanted to go in.
"Leadership is nice but over-leading can be a real problem."
Especially when you think about how they're going to treat a patient someday or how they're going to interact with a patient or medical staff, you don't want someone to be overly assertive.
The biggest takeaway as you're preparing for an interview is that you're being judged based on how you're communicating in that clinical setting. Glenn has actually read my book, The Premed Playbook: Guide to the Medical School Interview. And what he likes is the emphasis on being positive during the interview. But career changers tend to go through the professions they've tried and explain why it wasn't right for them. They talk about the reasons they don't like that certain career. It's negative and it comes out in the end that medicine was just the default they arrive at.
[34:20] What Is Linkage to Medical Schools?
At Bryn Mawr, they have eighteen linkages. They've been around for a long time thus the number. They've basically developed relationships with these schools. The medical schools see graduates of the program come to them and they really do very well in their medical school. So they want more of those students.
In a medical school linkage, instead of finishing the program and taking a glide year while you're applying to medical school, you applied to medical school halfway through the program. This happens at the very end of the application cycle (winter). If you're conditionally accepted and you finished the program strong then that conditional acceptance turns into a real acceptance. Then you can start medical school that summer.
Some of them waive the MCAT.  They've got plenty of tests later on, your boards being the big one. So you're not getting out of standardized testing for the rest of your life."
"This is very attractive to people but this is not a reason to try delaying just to avoid the MCAT. "
The disadvantage, however, is that they would ask you to commit to one school in a very, very short period of time. You arrive in a program within months and you're choosing one school at the exclusion of all the other 140 medical schools in the country. So you're trying to convince yourself it's where you belong. It's a tall order for a lot of students.
Now, if you're a postbac in a program that didn't have linkages, Glenn wouldn't worry about it. If you do well academically in the program and have the transcript and extracurricular to show, you're going to be a great applicant.
Glenn says it's a tough decision to make without the complete picture. If you applied the normal way, applying to 15 schools and you traveled around the country. You look back to that years from now knowing that you really cast the wide net and explored all your options. It's hard for someone linked to ever know that.
"One of the disadvantages is the choice of school and how well you really know you belong in one place."
[37:45] Why Bryn Mawr for Postbac?
Glenn takes pride in the students they have at the school due to their diversity. Second is the collaborative learning environment they have. The basic sciences are taught in a way that they're broken into groups and working collaboratively as much as possible.
[39:28] Looking for a Career Changer Postbac?
Glenn's advice is to get out there and get that clinical experience. Some people come into the program with very little of that. But if you're maximizing the way you're doing it, create some time in your week. Prioritize just enough to get three hours of time every week to get into a hospital setting and do some clinical volunteering or shadowing. Do it as long as there is patient contact. This the best way you can start at least to figure out if that's the environment you want to be in.
And for those students who might have deferred their decision to apply one year after the next and say their job just gets in the way, you just need to do it. Make it happen.
Lastly, Glenn wishes to tell people out there sitting in a cubicle and worried about making that leap,  it's never too late. And that's because of the postbac programs. So have faith in that.
"Just have faith that it's not too late."
Glenn adds that you can talk to other current postbac students who have also been career changers. Sometimes, they just have to see examples of people made the decision makes you realize that it can actually happen. While in some careers, it may be too late, but through their postbac programs, it's really not too late for those wanting to pursue medicine.
Links:
Bryn Mawr College – Postbac Program
The Premed Playbook: Guide to the Medical School Interview
Subscribe for Free
Listen to Other Episodes
Leave us a Review and Rating!
Just like Yelp reviews or IMDB ratings help you choose your next restaurant or movie, leaving a 5 star rating and/or a written review is very valuable to The Premed Years. It allows us to be able to share our information with more people than ever before.
I am so incredibly thankful to those who have recently gone into our listing in iTunes to provide a five start rating and a written review of The Premed Years.
Subscribe and Download
iOS/Mac/Windows – You can subscribe to the show in iTunes. Or you could manually add the RSS feed to your aggregator.
Android/Mac/Windows – You can download DoubleTwist and use that to manage all of our past and future episodes
Please help us spread the word!
If you like the show, will you please take a moment to leave a comment on iTunes? This really helps us get the word out!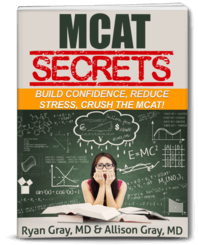 DOWNLOAD FREE - Crush the MCAT with our MCAT Secrets eBook