Session 291
Dr. Buck Parker shares his journey of struggling during undergrad to success in medical school and his new course, Secret Study Hacks. Listen to his journey
If you're listening to this before June 24 midnight Pacific time, enter to win a giveaway prize from Next Step Test Prep. Get one free MCAT course from Next Step Test Prep (worth $1,600). We're celebrating the 100th episode of The MCAT Podcast. Visit www.mcatpodcast.com/giveaway or text MCAT100 to 44222.
Back to our episode today, Dr. Parker used to be on the reality TV show and now has a thriving Instagram account. He is also now helping students learn and study. He is a general surgeon who specializes in trauma and he talks about his journey today and why he started Secret Study Hacks program to help students learn how to study. Buck has a special deal for you for his program.
[02:20] Interest in Medicine: Failing and Learning How to Study
Buck's dad was big on hunting when he was younger, in fact, he began hunting at 10. Then he got into big game hunting. As he was seeing the organs of the animals, his curiosity grew and thought it was something he should look into. By 19, he saw a documentary about surgeons, which he thought was the coolest thing in the universe. Ultimately, being a surgeon has what he has always wanted to do.
Not getting good grades in high school, he also just went to college because his parents told him to. He didn't think he'd do well. He was a Biology major, but he didn't really believe in himself. He was just partying and he barely went to class.
It was during his second semester that he got a 1.7 and his parents told him they weren't sure if they'd still shoulder college. After failing chemistry, he knew he had to do something. So he started studying in organic chemistry, but he admits not to have done it right. Obviously, he still wasn't doing well in the tests.
Then he decided to get a tutor for physics and he was teaching him the basics of studying and what not to do and how to prepare, etc. After taking the first test in class, he got the highest grades in the class! They literally didn't believe him thinking he was cheating. And the same trend went on test after test. Basically, it built his confidence.
[09:45] The Culture of Studying
After medical school, Buck started reading other books besides medicine and he realized there is a lot of productivity area a lot of people have studied a lot. He explains that studying is very cultural, in fact, even micro cultural, which means on a family level. So for instance, your parents never really passed on that cultural information so when you go to college, it's almost random how you learn to study.
[12:15] Life as an International Medical Graduate and Not Having a Plan B
The counselors at college that he approached totally brushed him off. But Buck had a family friend from India and he talked with him one time. He told him he could go to any school outside of the U.S. as long as he comes back and that he's eligible to get a residency. True enough, he did just go to any school outside of the U.S. But looking back now, he wished he could have researched a bit more and found a better school. There are programs though in the Caribbean that are very strong.
As an international medical graduate, Buck wanted to do surgery and nothing else. And this was a challenge for him during interviews when asked about his backup. Too confident, he was so dead spot on surgery. Period. And so when asked if he didn't get in that year, he told them he'd still apply next year.
There's data that shows form a psychology standpoint that if you have a plan B, you're less likely to put everything into your plan A. With Buck, he didn't have any plan B and stuck with Plan A the whole time. He put his effort all into that.
Buck thinks the reason people ask you for a backup plan is they want you to be okay. But what they don't realize is by doing that, you're sabotaging the person. They want you to be the safe.
[20:15] Buck's Study Habits During Medical School
Once he was doing really well, his study habits didn't really change a lot. Only that they've become more frequent. He says you end up incrementally improving. In fact, he was initially so scared that he was studying so much. Over time, you develop those very specific things as well as the motivational habits. You get to build on your momentum and use other people to help you.
But as for the big chunks like studying every day and reading before the class, or getting some information and repeating it and doing some association in your mind – all those things have already been there. All he had to do was refine what he did for medical school.
[22:27] The Biggest Study Mistakes Students Make
Buck believes that students tend to underestimate everything. Personally, it was a huge problem for him to have underestimated the effort it would take to get a certain grade in a certain class. So you result in cramming for an exam. Another thing is that students can't do delayed gratification that what's happening around them can distract them from sitting down and studying.
Buck adds there's this bias that we have just like the object in the mirror is farther than it appears.  And this is our bias as humans. So we have to bring that two months away to today. Today is imperative that you have to do x 100% today! Do today what you can do for two months. Develop that kind of "healthy paranoia" in studying because if you can develop that then you're like super focused that you're going to get this thing done today. And tomorrow is the same thing and so on.
"Develop that kind of "healthy paranoia" in studying because if you can develop that then you're like super focused that you're going to get this thing done today. "
The easiest way is just to break it into small chunks and set them as what you're going to do today. Some days, you get more while other days, you're going to get less. Overall, try to keep that schedule then you're going to be in a lot better shape. Buck admits he wasn't keeping his schedule but he was still so far ahead of everybody else as he was still doing well.
[27:20] Secret Study Hacks: Mindset Change
Buck things the reason studying is so hard for people is due to a culture where we're just not taught, or that our micro-cultures have not delivered that while we were younger. And studying is really not pleasurable, for most people. Not everybody wants to do the delayed gratification. But you have to go through all this pain right now in order to get to your goal and be able to treat patients.
With Secret Study Hacks, Buck's goal is to inculcate in the belief of students that it's possible. Buck reveals that a lot of students he has talked with were speaking as if it wasn't possible. So first portion, step one is a change of mindset.
The second step has to do with building the correct habits and learning about habits and how our brain works. We have neural pathways and our brain automates programs. If you can build the automated programs to study the right way, then that would be that much easier. And you won't have to spend a lot of energy choosing between studying or not since you will no longer have any choice.
Next, figure out the actions and how you can get yourself to do that even if you don't want to do that. Again, think about how you're going to fix your mindset. It's like hacking your thoughts and emotions by "hacking" them so you'll be able to complete your task with less pain.
[31:14] Secret Study Hacks: Motivation and Environment
Buck stresses the importance of staying motivated for a long time and throughout the day. What's going to keep you in your seat when all your friends want to go out?
Lastly, the third piece of this is your environment and how your environment affects what you do, how you make decisions, how you study, and how can hack your brain in a performance sense. Buck says that nutrition has a lot to do with that and the things around you as well.
[32:20] Resources for Mindset Change
Buck recommends the book, The Power of Habit by Charles Duhigg. He thought that had he known about it before then he would have been able to set up so many more things to help himself, especially during residency, which for him was really hard. If he understood how his brain worked a little bit better, he would have set some habits for himself that he didn't have to go astray so many times.
[33:30] Final Words of Wisdom
Buck says that anybody with an average IQ can go into medicine. He was in a position he didn't think he was smart enough. But he learned that it's not so much about that. Instead, it takes dedication and the right kind of tools to pursue medicine. Anybody can do it. But you have to be able to study correctly first. Stay motivated and have a purpose.
[34:23] Review About the Secret Study Hacks Course
Buck gave me free access to his course. When you sign up for my link I get an affiliate commission. But let me do a quick review about the course. So you will find some videos on the site and you will notice how Buck breaks down everything he has learned about studying. You're paying to expedite the process of reading all the books he has read and learning the takeaways he has learned. Most importantly, you can put those into practice. So he's taking all the things he has learned and combining that with the knowledge he has gained from the books. He's breaking down all of that information and that's given to you in a video format to help you expedite the process of learning how to study.
The great thing about Secret Study Hacks is that they're all condensed into a course that Buck has put together for you. The program costs $97/year and with that, you get access to the course and some other add-ons and bonuses including weekly live calls with Buck and a membership to their Facebook group.
If you need help studying and you find you don't have the time to go out and read all these books about studying yourself, perhaps you can subscribe to his program for a year and get all those access. It's up to you. I've asked students about it and they said it wasn't new information BUT, it was all information gather together and packaged up nicely so you get it concisely and quickly versus going out and reading all the information yourself. Plus, you're getting it from somebody who has been through the process and been through medical school and knows what you're about to encounter. So he's framing everything around that.
Go to medicalschoolhq.net/studyhacks to sign up for Buck's program.
Links:
Follow Dr. Buck Parker on Instagram @DrBuckParker
Follow us on Instagram @medicalschoolhq
Get the Podcast Free!
Listen to Other Episodes
Leave us a Review and Rating!
Just like Yelp reviews or IMDB ratings help you choose your next restaurant or movie, leaving a 5 star rating and/or a written review is very valuable to The Premed Years. It allows us to be able to share our information with more people than ever before.
I am so incredibly thankful to those who have recently gone into our listing in iTunes to provide a five start rating and a written review of The Premed Years.
Subscribe and Download
iOS/Mac/Windows – You can subscribe to the show in iTunes. Or you could manually add the RSS feed to your aggregator.
Android/Mac/Windows – You can download DoubleTwist and use that to manage all of our past and future episodes
Please help us spread the word!
If you like the show, will you please take a moment to leave a comment on iTunes? This really helps us get the word out!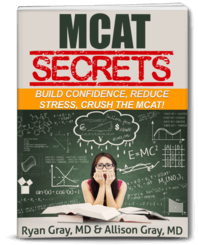 DOWNLOAD FREE - Crush the MCAT with our MCAT Secrets eBook