Session 327
Jeff was an accomplished athlete, but struggled to gain an acceptance to medical school his first two times. Listen to an amazing story of a student who had all the odds stacked against him coming from a lower socioeconomic household and broken house to turning it all around. Today, he talks about getting scholarship to college, the failures of applying to medical school three times, some life lessons along the way, and how he's continued to fight back.
Meanwhile, if you haven't yet, please be sure to check out all our other podcasts on MedEd Media Network so you get to have more resources to help you along your path towards going to medical school and becoming a physician one day!
[01:25] Interest in Becoming a Physician
Jeff's mom was diagnosed with breast cancer and as he would go to the doctors with her, he has seen the type of compassion and the things that they were doing with her. And this initially sparked his interest in medicine. It was the seed that was planted.
When he got to high school, he joined a club that exposed him to a lot of different healthcare fields, specifically medicine, which drove him to decide to go ahead and pursue it.
Each week they would spend time with nursing, or go to PT/OT, and then one week would spend time with some physicians. From this, he got to see a lot of different aspects of the medical field as a whole, but medicine in itself really drew him more so than the other parts of it.
[03:25] Challenges Growing Up From the Hood
Jeff tells about his challenging childhood, growing up in a really rough neighborhood. This and considering his mom having breast cancer, he never really thought he could pursue medicine. In fact, they lived in a city that had mostly black African-American people, and in all of their hospital visits, he never once saw a black physician. Plus, he had to work at a young age of 13-14, working at a barber shop, sweeping floors to help pay for rent.
Eventually, he ended up moving with his father later on in high school. This was when he started seeing a different side of things, started seeing more prominent African-Americans, and this got him thinking that if they could do it, then he could too.
Moving in with his father, there was just more discipline, which got him on the straight path. He put in a strong foundation and he started telling him about the importance of school. He would make sure he was in class. He started going to parent teacher conferences.
[06:07] Attending College and Adopting the Mamba Mentality
Jeff did consider going to college during the latter part of his high school year but he really didn't think this was possible considering the cost. They were still financially struggling at that time. So once he decided to really pursue medicine, he had to find ways to pay for it.
He didn't qualify for academic scholarships because of his grades, but he had one year of football left, so he thought of getting a football scholarship. At this time, he was already three years into school. He communicated with his dad and his coaches.
With hard work and determination, he ended up being the top running back in my state, that he began receiving multiple college offers off of one year. However, he knew he wasn't doing it for the NFL, but it was to get to college so he could ultimately chase his dream of becoming a physician.
When he got to college, Jeff considers football as becoming more of a job than high school was. They were practicing, working out, and all that – thirty to thirty-five hours a week. ALongside, he was trying to try to juggle all of that with his classes. This gave him a tough time adjusting to college life.
Jeff's favorite athlete of all time is Kobe Bryant and around this time, Kobe came out with his little vernacular Mamba Mentality, which Jeff adopted.
Basically, you have to be ready for opportunity once it comes so you're able to maximize that. So he would recite 'Mamba Mentality' every morning upon waking up at 5:00 to go train before school. He just used that and it turned on a different animal.
[11:33] Pushbacks as a Premed Student
Not only was Jeff a premed student and an athlete, but during his freshman year, he also had a child. And so he was working as well on top of all of that, and so such mentality just got him through his days. Nevertheless, he also experienced a lot of pushbacks. He got low grades in general chemistry and general biology during second semester of his freshmen year. They got a new coach who called him into his office one day, reminding him about how the school is paying for his school so he was there to play football while the school came second. So he was made to choose between being a biology major or playing football. He chose the former, thinking it was his way of getting into medical school. However, he knew he couldn't pay for school if he wasn't playing football. Upon his coach's advice, he shifted his major.
[click_to_tweet tweet=""You didn't have to be a biology major to get to med school, and once I found that out, I revamped everything and took on the path of trying to become a doctor again." https://medicalschoolhq.net/pmy-327-from-college-athlete-to-accepted-medical-student/" quote=""You didn't have to be a biology major to get to med school, and once I found that out, I revamped everything and took on the path of trying to become a doctor again.""]
[14:42] Juggling Between Being a Father, an Athlete, and a Student
There were obviously many days that Jeff wanted to give up, even days he spent crying and doubting himself as to whether he could do this. But then, he knew this was what he wanted. So just like football, when he got tackled and knocked down, he always had to get back up, and it was the same thing with this. If he got knocked down by a test, he just had to get back up and prepare himself for the next test. He just had to prepare himself for the next thing. He would have given up if not for his son. But he has another life to take care of, and something to live for. He didn't want him to have the same life that he had growing up.
[17:34] The Premed Path – Preparing for the MCAT
Jeff would describe his premed path as rocky. He didn't really have any guidance, and  just saw things on Google or on SDN, and just kind of went for it. He figured out the classes that he needed to take, the prereq's, and he took them.
He did extremely well in all of them, and then the MCAT came and I didn't know what a good score was for the MCAT. He didn't know how to prepare for it, which hit him like a truck.
Thinking he had A's in all of his classes anyway, he thought that was enough to pass the MCAT. So he signed up and went to the test, without even knowing how long the test was. So he got a 491 score. However, he wasn't really aware of what a good range of score was. In his mind and because he didn't have any guidance, he just took the test and applied regardless of the score. He really didn't know how to judge it at the time until he went through the application cycle.
He applied with the 491 score and he didn't get news from anybody. But he ultimately started getting more vigilant in his research in terms of what it takes to get into school. He knew he had to do something different. At that time as well, he didn't really want to reach out to others for help so he became a lone wolf.
[21:30] Applying the Second Time Around
Jeff then had to retake the MCAT, and he studied a little bit for it this time, but still didn't study correctly. And so he had to take it again. He basically would just read the content review and the books, without any practice exams. He did answer very few practice questions  and that was it. He took the MCAT again, and still didn't do very good on it. He got a 495, and then he applied again.
He thought being an athlete would do it, but that was obviously not the best thing. He had a few shadowing experiences and a few clinical experiences. Basically, he didn't really know what he was doing. The cycle came through and he got the same result – none.
Again, no interviews – just silence. At this point, he knew he definitely was doing something completely wrong. He needed to start seeking out resources and advice from people who have done it before, because he has proven twice now that he wasn't able to do this on his own.
[26:25] Jeff's Sources of Motivation
Jeff ended up getting a degree in business. He ran some sort of a cost benefit analysis and knew he was going to have to take out loans, and stuff like that. So he just looked at it as an investment.
He knew that the cost was going to be extremely high and that he wasn't going to be able to pay for it out of pocket. But he also started preparing a plan of how he was just going to pay that stuff back, being with the business background that he had. He was confident about that, plus the fact that he has a son so he knew he could not just give up as someone is counting on him. These were what kept him going.
[27:44] Jeff's Application Timeline
Jeff applied one year, and then the very next year. Then he had a two-year gap between that time. This time, he knew all the things he needed to do – clinical experiences, shadowing, etc. – all this in order to become a competitive applicant.
So he ended up shadowing a lot of the different specialties, volunteering at different hospitals, and working as a tech in two to three different hospitals. He wanted to prove to whoever was making the decisions that this is something that he really wanted to do.
Out of college, he had a pretty substantial job offer in terms of what is good at an entry level. But he turned it down because that wasn't what he wanted to do. It wasn't his passion. And so instead of taking the business job, he took a tech position at a hospital, and just doing what he needed to do to prove to admissions committees that he was serious about becoming a physician.
[29:55] Retaking the MCAT the 3rd Time
Jeff had to retake the MCAT the third time around. What changed was his focus on doing practice questions and full-length exams. In fact, he had 6 of the full-length exams plus doing practice questions everyday.
This time, he had a good hold on the material in terms of the content. He went back to the Mamba Mentality, and whatever he needed to do to succeed, he was trying to do it. So he took the MCAT again and didn't really get the score he would have wanted. However, what he got was enough to get him in somewhere.
[click_to_tweet tweet=""I think it was the whole picture, and I think that everything coupled together made me a better applicant." https://medicalschoolhq.net/pmy-327-from-college-athlete-to-accepted-medical-student/" quote=""I think it was the whole picture, and I think that everything coupled together made me a better applicant.""]
This time, he was able to show how much of a well-rounded applicant he was, more than just being a football, although it played a large role of it. He had volunteering, shadowing, clinical experience, better essays, better personal statement – all this was what got him into medical school.
[32:55] The Interview Process
Jeff was pretty well-prepared for the interview. And his struggles came up during interview but he didn't make any excuses for it. Instead, he explained his situation as well as what he learned from this whole experience. He told them that he doesn't believe that it won't be any hindrance going forward because he has learned from his mistakes and he has now moved on. He is now a different student from those early days.
A lot of his interviews actually brought up his athlete years. In fact, the one interviewing him shared the same passion for football. But this wasn't a coincidence. A lot of students don't realize that medical schools try their best to pair you up with somebody who has a similar background so that you guys can connect. Because remember part of the interview day is them trying to sell you on the school too. So they 100% did that on purpose.
Moreover, there were some ethical questions that have been brought up that really threw him off. Although he was prepared for some, but a couple of them just were way out there, that he had to take a moment to think about it. Nevertheless, he gave his best answer.
[38:00] Getting an Acceptance
When he got his acceptance, Jeff was ecstatic as he wasn't expecting it, He was at work and got a phone call from the school and they congratulated him. Finally, he accomplished the thing he has always wanted. Sure, he still has a long way ahead of him, but he's confident having a strong support system, with his wife helping him along this journey, as well as his parents.
[40:15] Getting More Minorities Into the Field
When I asked Jeff about getting more minority men and women into this field, he explains that it really starts before you get to college, and even really before high school.
You have to create certain pipelines and mentorship programs, because if you don't, it's really hard to become something if you don't see it.
You have to change the mindset, and you have to be present starting off at a young age. Jeff is following Dr. Dale Okorodudu, who has a platform called Diverse Medicine, where he interviews different African-American male physicians, and just getting those videos out to the community and into the minds of the younger generation.
He also follows Dr. Quinn Capers from the Ohio State University doing his work on implicit bias.
So it's about implementing more programs and stuff like that and seeing it as a young age, and helping students learn science and getting interested in science at a young age because it's hard to go from not having any math and science classes all throughout high school to going into college, and now you're expected to take physics, and organic chemistry, and biochemistry. And more importantly, mentorship plays a huge role.
[42:27] Final Words of Wisdom
If this is your passion, if this is your dream and this is something that you really want to do, there is no plan B. Plan B is to make Plan A work. Plan C is to make B work to make A work. You have to just keep pushing.
When things get tough, just know that if it was easy, everybody would be doing it. And it takes a certain type of person to be a physician, and you're destined to do it, but you'll never be that if you give up. So just continue to keep pushing and seek out help.
Seek out help and improve in the areas that they ask you to improve in, and whatever you have to do. Make investments and all of that. Know that it's not the end-all be-all. It's for this moment now, and it's always going to pass, and you're going to make it through, and once you make it through, you'll have another set of problems that you'll have to go through but you can look back and say you conquered this, and this is the next step, and so you can conquer this as well. And then it'll just continue to go on and go through until you get to where you want to be.
Links:
Listen to Other Episodes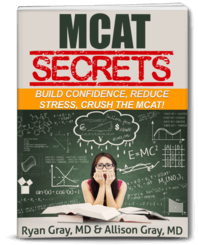 DOWNLOAD FREE - Crush the MCAT with our MCAT Secrets eBook