Session 73
Dr. Scott Harper is has been out of training for 8 years. He joined us to talk about his specialty, Geriatrics, and what he loves about it and more.
Scott is in an academic medical center at Wake Forest Medical School. He shares with us his journey to Geriatric Medicine, what it takes to get there, things he likes the most and least, and more!
And if you haven't yet, please take a listen to all our other podcasts on MedEd Media!
[01:24] Interest in Geriatric Medicine
Scott traces his interest in the speciality back to when he was medical school, going through the clinic rotations. When he was working with patients he found he was most drawn to the extremes of age. He envisions his practice to include babies and kids to adults and people nearing the end of their life.
When he was in family medicine for residency, he had an almost exclusively geriatric population in his clinic practice. He didn't feel he had the skillset to take care of all of their needs so this became his goal going into Geriatrics.
During medical school, Scott recalls his grandfather entering the first stages of Alzheimer's disease and this bolstered his interest. He would visit him often and one day while he was riding with him in the car, he was stopping at every stop light regardless of the color of the light. He knew then that something was amiss. And he got to see how his disease progressed and the challenges that came along with it especially that family was not in the same town.
[04:50] Traits that Lead to Becoming a Good Geriatrician
Patience is critical to be a good geriatrician. You've got to be comfortable with things moving slowly. Most of the patients you will be taking care of move slowly and talk slowly. A lot of times, their content is very rich but doesn't come out in a rush.
You also have to be comfortable with complexity. You have to be able to navigate all these things and understand that you may never have the perfect answer to what's going with the patient. Instead, you have to be able to tweak and optimize several different realms.
By complexity, it may run the gamut of acuity, but not entirely. Scott describes the neat thing specifically about his job is he gets to do a lot of geriatric primary care. So he gets to see people for anything from infected toenail to Crohn's disease, management of 10-12 co-morbid conditions. Or sometimes, they'd have acute infections and they'd have to triage them into the hospital or the emergency room.
There's other roles geriatricians play outside of primary care where you get to see different levels of acuity, which boils down to folks using medical services most often. If you're in the hospital as a geriatrician, you're going to be seeing a lot of acutely ill and complex older adults. Some geriatricians end up doing exclusively or a subset of the care in the nursing home setting or in a rehab center. Here, you'd be seeing folk who just came out of the hospital or moving in there for their final address.
[08:05] Diseases Specific to the Older Population
Scott explains this idea in geriatrics called Geriatric Syndromes, which are the end result of myriad processes that tend to commonly present in older adults. This occurs a lot in the primary care setting.
Some of these diseases include memory loss, cognitive impairment, dementia, or somewhere along that disease spectrum and acute delirium. They may also deal with dizziness, imbalance, or falls. There are also osteoporosis, vision loss, hearing loss, urinary incontinence.
[09:05] A Typical Day
Scott describes his day in the clinic seeing around 7 to 10 older adult patients in any given half day. He spends an average of 30 minutes with each of them. Most of them are there for regular check ins, where he has this process of getting their history. He'd also do a medication review. He'd usually touch on a functional assessment just to make sure there's not any significant change since last seeing his patients, otherwise he'd come up with a plan.
Sometimes, the plan is not a lot if the patient is doing really great in their current medication regimen and the current social support is optimized. In this case, they can just stay the course. Other times, it can be very detailed ad bulleted in big print, changing things and resources to mobilize.
[10:22] Taking Calls and Work-Life Balance
In terms of taking calls, the way their practice works is that they cover their own patients that are admitted to the hospital. As a group, they do the hospital care and they cover . for a week at a time. In about once every 7-8 weeks, he'd do 7 24 hours in row. During that time period, he's responsible for hospice care and covering phone calls and stuff overnight.
It's made more possible by the fact he's got nurses that work with him as well as residents to take first pass with the phone calls. So he goes from very busy patient care and long hours and then go back to having 6-7 weeks without having to take any phone call.
As to why there are no hospitalists taking care of their patients in the hospital, Scott explains their institution has chosen to keep it the traditional way. And this tends to be usual in academic settings or in rural settings.
Being an academic center, they hope residents are able to do care in a setting where they need to do hospital care. Or if they end up in a more typical primary care practice, they'd be able to recognize which patients need hospital care and be able to appropriately get them into the hospital. And that they'd be able to take the care back over from hospital care.
Currently, Scott describes that the most variable piece for him is the student education and clerkship administrations responsibilities. There are times of the year where it ebbs and flows. There are periods when they have to auto pilot in terms of figuring out what to change the next year. Or if they implement the change at the start of the new year, it can get very busy and the hours can get longer.
[13:45] The Training Path and Other Opportunities to Subspecialize
Scott outlines the training path to becoming a geriatrician. The two most typical would be to do residency in either internal medicine, which is a 3-4-year program, or family medicine, which is typically a 3-year program. Then you go on to do additional training fellowship in geriatrics. There are also programs that can run from one year to three years. The longer programs tend to include more palliative care training and more research opportunities. The one-year programs are focused on geriatric principles
In terms of competitiveness, Scott describes the specialty as very program-dependent, but overall, it's not very competitive. One of the few instances that you can do additional training and the result is you end up with a population that's insured by Medicare which tends to pay less than private insurers. And they would also require longer visits or longer hospital stays. So there's lower volume that you can provide care for. This said, you have to have the proper mindset.
The specialty he sees more commonly is that people pari geriatrics with some other training to expand the scope of their care like Palliative Care and Hospice Services. So they're not just doing geriatrics, but also managing patient symptoms and end of life care. This option also has a fellowship training involved. This also opens different doors. Instead of doing primary care, you might be a hospice director or do some sort of pain management in the outpatient setting.
Second, wound care is another place older adults with like arterial disease and venous problems and diabetes, and all the things that can put you at risk for wounds on your legs.
[17:30] Working with Primary Care and Other Specialties and Special Opportunities Outside of Clinical Medicine
Scott says that there are times patients can benefit from a geriatrician. There are only a few geriatricians in a huge and growing geriatric population. But because there aren't enough geriatricians to take care of the geriatric population, most folks are not going to have access to a geriatrician for their care.
So this is actually one of the things that called him towards his academic part of his life. Even if he can't impact the population directly, at least he can provide some geriatric principles and some things to keep in mind as you're making decisions on behalf of older patients regardless of the specialty you go into. This way, he still gets to bolster the care of older adults in a much broader sense. He gets to impart nuggets of knowledge to medical students and residents that come through, so they can take it and apply it to whatever field they end up to.
As to when to know when it's time to seek out the care of an older adult, Scott illustrates the two realms. First is when cognition fails. Where primary care doctors could and do provide care but it's a place where there's a lot of insecurity and patients and their families want a lot of answers. So having that familiarity with the pathophysiology and the ongoing research and local community support and resources are very important. The other instance is when there is so many concurrent problems that the patients don't fit neatly into the usual workflow in the primary care clinic.
Scott says they often work a lot with their geriatric colleagues on the internal medicine side of things. Other specialties include wound care doctors, urogynecologists, and neurologists.
There are unique opportunities outside of clinical medicine like home care positions, where you do house calls. A lot of geriatricians have some foot in one of two worlds – research is one and education is another.
[24:55] What He Wished He Knew that He Knows Now and the Most and Least Liked Things
What he wished he knew before that he now knows is that you can't be efficient and do geriatrics. There are goals you're not going to be able to achieve and you have to be okay with being inefficient. Remind yourself that your goal is to provide the best care to the patient as possible.
What he likes the most about being a geriatrician is the patients. He likes having gained the relational aspect of medicine. He gets to know patients over time and be able to meet their families. He gets to have frequent conversations that are enlightening and affirming, talking about goal setting.
What he likes the least is that piece that is mentally stimulating. For him, some of those simple visits are not part of his regular practice. He would have wanted to have some visits that you can just accomplish in 5 minutes and feel you've closed the loop on the condition brought to the office.
[28:29] Major Changes in the Future
Scott talks about lens and cataract removals and the ways they can treat urinary incontinence, even in men, where they put artificial sphincters. The hearing aid technology has been successful. Technology around would dressings can also be neat. So he gets to see how these technologies impact his patient's functions.
Another shift he sees that may impact geriatric primary care is his push towards risk-based care. It's the idea that insurers are going to pay healthcare systems a set amount to take care of patients based on their cumulative risks. Being able to use that money to provide care just makes sense.
[31:45] Final Words of Wisdom
Scott says to be open to the learning opportunities. There's not going to be any shortage and you'd be interacting with a lot of older adults.
Lastly, as you hear Scott talk about the shortage of geriatricians, we need more geriatricians now. As our population ages, we need more geriatric medicine specialists out there to take care of our aging population. It may not be the most glamorous or the highest paid specialty, but it's a great, and hopefully rewarding, career for you in the future.
Links:
Get the Podcast Free!
Listen to Other Episodes
Leave us a Review and Rating!
Just like Yelp reviews or IMDB ratings help you choose your next restaurant or movie, leaving a 5 star rating and/or a written review is very valuable to The Premed Years. It allows us to be able to share our information with more people than ever before.
I am so incredibly thankful to those who have recently gone into our listing in iTunes to provide a five start rating and a written review of The Premed Years.
Subscribe and Download
iOS/Mac/Windows – You can subscribe to the show in iTunes. Or you could manually add the RSS feed to your aggregator.
Android/Mac/Windows – You can download DoubleTwist and use that to manage all of our past and future episodes
Please help us spread the word!
If you like the show, will you please take a moment to leave a comment on iTunes? This really helps us get the word out!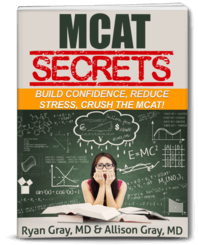 DOWNLOAD FREE - Crush the MCAT with our MCAT Secrets eBook