Original Article: Consumer Genetic Testing, Marmite for Your Brain, and Counting Human Calories
Dave is no scientist, but he is 'science-adjacent.'  This week, after having read of research involving the benefits to brain function conferred by Marmite consumption, he conducts his own experiment on SCP hosts John Pienta, Kaci McCleary, Aline Sandouk, and Nathan Miller.
Will they be able to use their new Marmite-based powers to pass Dave's Pop Quiz and identify actual Amazing Health Products You Can Get?  Listener Hannah wants to know all about the medical science training program lifestyle, and how it differs from the MD student experience, and since Aline is an MSTP student herself, Hannah's in luck.  And 23andMe has finally received approval from the FDA to offer genetic screenings for defects that either one already knows about or that knowing about might do more harm than good.  Listeners, if you like what you hear today, please leave us a review on iTunes!
Subscribe for Free
Listen to Other Episodes
Leave us a Review and Rating!
Just like Yelp reviews or IMDB ratings help you choose your next restaurant or movie, leaving a 5 star rating and/or a written review is very valuable to The Premed Years. It allows us to be able to share our information with more people than ever before.
I am so incredibly thankful to those who have recently gone into our listing in iTunes to provide a five start rating and a written review of The Premed Years.
Subscribe and Download
iOS/Mac/Windows – You can subscribe to the show in iTunes. Or you could manually add the RSS feed to your aggregator.
Android/Mac/Windows – You can download DoubleTwist and use that to manage all of our past and future episodes
Please help us spread the word!
If you like the show, will you please take a moment to leave a comment on iTunes? This really helps us get the word out!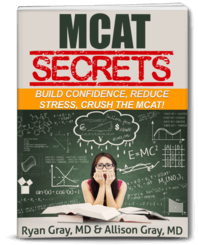 DOWNLOAD FREE - Crush the MCAT with our MCAT Secrets eBook