As a premed, your education doesn't only happen in the classroom. It also happens in your clinical work, volunteering, and community. You can also take time to do some self-education through documentaries and reading. I've compiled a list of some of the best medical and non-medical books for you to read as part of your education. The lessons you learn from these will still serve you if you leave the premed path.
1. The Immortal Life of Henrietta Lacks
This book tells the story of Henrietta Lacks, the woman behind the HeLa cells. Reading this book is a lesson in bioethics and the costs that communities of color and black women, in particular, have paid in the name of scientific discovery.
2. Being Mortal: Medicine and What Matters in the End by Atul Gwande
In Being Mortal, Atul Gwande discusses how to cope with the end of life and the medical and existential issues that come along with that. He also makes recommendations for how medical providers can adjust their thinking around end-of-life care and do better for their patients and their families.
3. On Becoming a Doctor: The Truth About Medical School, Residency, and Beyond by Tania Heller
Tania Heller takes you through the parts of medicine you often don't get to see until you're in it. It's easy to focus on the academic aspects or even the grueling work of residency. But Tania Heller shows you what it's like to work with insurance companies, the emotional reality of working in medicine, and the insights of physicians from multiple specialties.
4. Medical Bondage: Race, Gender, and the Origins of American Gynecology by Dierdre Cooper Owens
Owens reckons with the abuses carried out by the men awarded the title Fathers of American Gynecology. John Peter Mettauer, James Marion Sims, and Nathan Bozeman experimented on Black women in the name of scientific discovery. Owens examines the scientific literature and private communication of the time, using it to teach her readers hard but important lessons in the hopes that we ensure that our future does not resemble the darker corners of our past.
5. What Patients Say, What Doctors Hear by Danielle Ofri
Clear communication is key to the doctor-patient relationship, and the patient interview is often the key to helping our patients. Despite this, there can often be a disconnect due to miscommunications on the part of the doctor, patient, or both. Ofri combines evidence and narrative to teach us how we can improve doctor-patient communication and how we can all get the most out of our interactions.
6. Black Man in a White Coat: A Doctor's Reflections on Race and Medicine by Damon Tweedy
Black Man in a White Coat examines how race affected Tweedy's journey in medicine and how he's perceived by both his patients and colleagues. He also reflects on how he's seen race affect his patients and their care. "Through their stories, he illustrates the complex social, cultural, and economic factors at the root of many health problems in the black community." This is a powerful and important book that every premed and medical student should pick up.
7. The Man Who Mistook His Wife for a Hat and Other Clinical Tales by Oliver Sacks
Oliver Sacks is one of the most well-known physician-writers and was highly prolific before his death in 2015. His books are enlightening and entertaining as he approaches his patients and their stories with tenderness and care. Any of his books would make an interesting read for a premed, and The Man Who Mistook His Wife for a Hat is as good a starting place as any.
8. The Health Gap: The Challenge of an Unequal World by Michael Marmot
Where you live has a greater effect on your health and life expectancy than almost anything else. The Health Gap explores the roots behind health disparities across the globe and the ramifications on an individual and population-wide scale.
9. Women in White Coats: How the First Women Doctors Changed the World of Medicine by Olivia Campbell
Women in White Coats tells the stories of three of the first female physicians – Elizabeth Blackwell, Elizabeth Garett Anderson, and Sophia Jex-Blake. The existence and increase in the number of female physicians improved health outcomes for their individual patients and their communities as a whole.
10. Caste: The Origins of Our Discontent by Isabel Wilkerson
In Caste, Wilkerson explores the caste system that is present and known in other countries around the world. She then compares these to the often unseen and unknown caste system operating within the US. Despite being less obvious than the other examples in the book, it still underpins and affects every aspect of American society. Reading this book will open your eyes and allow you to have a more complete view of the society in which you live.
11. What the Eyes Don't See: A Story of Crisis, Resistance, and Hope in An American City by Mona Hanna-Attisha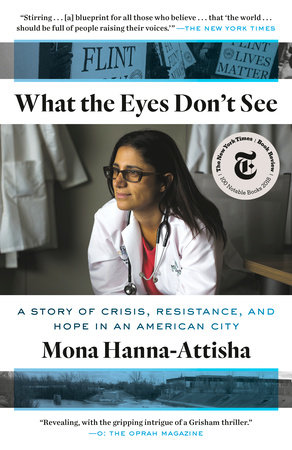 Hanna-Atisha tells the story of the Flint, Michigan water crisis and explains her pivotal role in discovering the crisis. She also examines the factors that led to the crisis and that allowed it to go undetected and unsolved. Hanna-Atisha is a hero and someone to be admired for the way she stood up and spoke out for her community.
12. Fearing the Black Body: the Racial Origins of Fat Phobia by Sabrina Stings
Fatphobia and the idealization of thinness have far-reaching ramifications in our private lives, in the media, and in the doctor's office. Patients subjected to weight stigma often must fight much harder and longer for adequate care. This is something that all future physicians should understand and work toward not perpetuating in their own practice. In order to fully understand fatphobia, it's important to understand the roots as well as the present-day effects. Stings explores how white supremacy and anti-blackness led to our current heralding of slenderness and shows how black women bear the brunt of the consequences of fatphobia yesterday and today.
13. Under the Skin: The Hidden Toll of Racism on American Lives and on the Health of Our Nation by Linda Villarosa
Linda Villarosa is known for her 2018 article on infant and maternal mortality. Now, she closely examines the ugly truth that black people in America live shorter and sicker lives than their white counterparts. She points out errors in our scientific and medical knowledge that first became entrenched during slavery. She also demonstrates the modern-day consequences of these long-held erroneous beliefs. Reading Under the Skin will give you the tools and drive to critically evaluate everything you learn and consider ways in which flawed beliefs harm our patients.
14. Complications: A Surgeon's Notes on an Imperfect Science by Atul Gwande
In Complications, Atul Gwande examines the art of medicine from within, using surgical precision. He also tells the stories of his surgical training and practice, recounting the lessons he's learned over his career so far. He explores how and why things go horribly wrong and the lessons we can learn from our mistakes. Gwande is one of the foremost medical writers today, and picking up any one of his books will serve you well.
15. When Death Becomes Life: Notes from a Transplant Surgeon by Joshua D. Mezrich
Dr. Mezrich pairs the history of transplant surgery with his present-day patients and stories. He examines what it means to give life to someone after your own death and looks at what we can accomplish when the scientific community makes large pushes toward advancements that benefit us all. He also faces some of the ethical debates that come along with life or death choices and invites the reader to consider their own stances.