Session 62
I found a post on Twitter about a student claiming she needed to spend $3,000 on an MCAT test prep course to pass it. Do you really need to spend this much on MCAT prep? Bryan (of Next Step Test Prep) and I discuss that today. Also, check out all our other podcasts on MedEd Media Network.
[01:15] Do You Need $3,000 to Pass the MCAT?
I came across this tweet where somebody said that they found an MCAT program they needed to buy to make sure to pass. It was at $3,000 and they were freaking out about that. So I wanted to raise these two questions:
Does someone have to spend $3,000 to pass the MCAT?
What else can a student do to figure out other options?
Bryan explains that being able to prep on whatever your budget is part of Next Step Test Prep's mission. They want to provide quality guidance and quality prep to students at whichever point they are. The free bundle they give away is almost $400 worth of prep materials.
The idea that you would need $3,000 to pass the MCAT is 100% wrong. You don't need to spend that much to pass the MCAT.
"You don't even need to spend anywhere near $3,000 to have professional level prep."
[02:55] Level 1: The Student Ramen Noodle Level
First is the free level. If you're on that student ramen noodle budget and you don't have a ton of money to spend on prep, the absolute minimum required is the registration for the MCAT itself. It's about $300. It's significantly less expensive if you qualify for the the free assistance program.
If you have no other money to invest in prep, the Khan Academy is free. Their quality of prep material ranges from excellent to pretty good. It's the official partner of AAMC and it's free.
Next Step Test Prep has the free bundle. It includes a full-length of 500 questions, science content diagnostic, MCAT diagnostic, QBank, lesson videos, review videos – almost an entire $400-worth of stuff for free.
Of course, you also have this, The MCAT Podcast has tons of practice questions we read through every week.
[04:20] Level 2: The Self-Study-er
If you decide to be a self study-er, the first thing your purchase for $204 (as of this recording) is the Online Bundle from the AAMC. Go to the AAMC's website and look for the Online Bundle. This includes a whole bunch of real official practice material. It's a pretty nice discount for buying it all together. All the official online stuff you need for a couple hundred dollars.
Typically, what most students find is they need a little additional prep beyond that. This is where test prep companies come in such as Next Step Test Prep. Sign up for a free bundle. Make sure you like it. Then sign up for either $99 or $149. Sign up for one of their text packages to get the additional full-length practice you need.
You can also get a content review with the Khan Academy or pick up a set of Next Step content review books. This will run you another couple hundred dollars.
"What you really need to keep up with the Joneses on the MCAT prep is more like $300, not $3,000."
So Bryan pegs it $300 to about $600 to get the AAMC material and get your Next Step full-length practice tests. And then either borrow a set of books or use the Khan Academy. This is what he considers the "minimum" that most students would need.
[06:30] Level 3: Next Step Test Prep
However, for a lot of people, the self-study approach is not going to work for them. They need a class and the social support of classmates. They need live interaction with faculty members. And they want one-stop shopping. They don't want to have to go around a million different places to get everything. They want to only do one thing.
Even in this level, you don't spend $3,000. Well, you could go to companies out there that charge thousands of dollars for a class. But this would be silly since the Next Step class is only at $1,300. It is significantly less expensive and has literally everything you need. They have a bundle in the AAMC and on top of this, they have ten full-length practice tests. They have 70 hours of class videos. They have ten hours a week of live office-hour instruction. You get a six-month enrollment so that's equal to 250 live hours. You get videos, Qbank, tests – everything you could possibly need for your MCAT prep.
"For a lot of people, the self-study approach is not going to work for them."
[07:30] Next Step's Study Planning App
Most importantly, what sets Next Step apart from being $1,000 less than competition, is they have an industry exclusive study planning app. It allows you to get a customized study calendar based on your own calendar. Sign up for their class and you get a study planning tool that generates a calendar for you.
There are companies that do the study planning app but not test prep companies that are intimately familiar with all of the material of the whole MCAT process like Next Step is.
A lot of websites and apps out there do study planning but that's all they do. The upside is a lot of them are free. But the downside is that they're not really very user-friendly. You have to manually enter every book and test you're going to do. You have to manually answer the number of pages you're going to do everyday. They're not smart enough to know when Christmas is or the fourth of July. So there are a lot of problems with a lot of apps out there because they're more of the generic planning tools. While Next Step's app literally does one thing – it builds you your MCAT plan.
"Ours literally does one thing – builds you your MCAT plan."
[09:45] For Those Qualified in AAMC's Fee Assistance Program
Aligned with Next Step's mission, they see themselves as educators first. They recognize that this might be outside the budget range for some students. Bryan wants you to understand that if you qualify for the AAMC's fee assistance program, they will essentially honor that. They give you their course for half off.
Next Step wants to make sure that students are not locked out of the opportunity to take a class just because of those budget concerns. Again,
"As part of AAMC's FAP program, you can get their course for practically less than a set of books and tests for another company."
[10:48] What's Worth $3,000?
Finally, Bryan wants to address the $3,000 price point. What is actually worth $3,000? It's not a group course. You don't go to a prep company and give them $3,000 for a group course. If spend that much, you deserve the absolute premium service, which is one-on-on coaching – not you and 20 people. Just you and the expert.
At Next Step, their 24-hour comprehensive plan is $2,899. Even that is slightly less than $3,000. But more realistically, what you need is just about $1,300 for their course.
[12:00] Last Thoughts
No, you don't need to spend $3,000 for an MCAT course. Next Step Test Prep has their course at $1,300. This includes access to all of their practice tests, AAMC materials, books, etc. If you really want to spend $3,000, you can already get a one-on-one tutoring from Next Step. To save even more money off their services, use MCATPOD upon checkout.
"Don't think you have to spend $3,00 for a course which isn't going to cater directly to you."
Links:
Listen to Other Episodes
Leave us a Review and Rating!
Just like Yelp reviews or IMDB ratings help you choose your next restaurant or movie, leaving a 5 star rating and/or a written review is very valuable to The MCAT Podcast. It allows us to be able to share our information with more people than ever before.
I am so incredibly thankful to those who have recently gone into our listing in iTunes to provide a five start rating and a written review of The MCAT Podcast.
Subscribe and Download
iOS/Mac/Windows – You can subscribe to the show in iTunes. Or you could manually add the RSS feed to your aggregator.
Android/Mac/Windows – You can download DoubleTwist and use that to manage all of our past and future episodes
Please help us spread the word!
If you like the show, will you please take a moment to leave a comment on iTunes? This really helps us get the word out!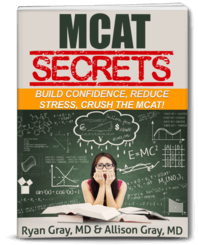 DOWNLOAD FREE - Crush the MCAT with our MCAT Secrets eBook