Session 07
In today's episode, Ryan is joined for the first time by his wife, Allison Gray, who is a Senior Neurology Resident, her last year of residency at Massachusetts General Hospital and Brigham and Women's Hospital in Boston. https://medicalschoolhq.net/about/
A senior high school student sent in a very personal email describing her dream of becoming a doctor along with her struggles in life. She also posed two questions, being:
What qualities are essential to have in order to get through medical school?
Do you really have to be academically gifted and grow up in an advantaged family?
In response to these questions, Ryan and Allison came up with a list of qualities that would help students through medical school and even through undergraduate, residency, and beyond.
10 Traits You Need to Succeed in Medical School
Discipline
Self-discipline comes from your own motivation or parents and teachers
As a medical student and physician, you agree to become a life long learner and you need to discipline to be able to study and keep studying.
Make studying as a priority regardless of what's going on in your life
Discipline is important to learn on an ongoing basis so you can serve the patients you're taking care of
Persistence/Drive
The journey to become a doctor is a long road and even as a physician.
Keep pushing yourself even when it gets hard.
Pick yourself up after each problem you encounter and move on.
It's not how you fall but how you pick yourself back up.
Remember that medical school is a very big investment so you have to keep pushing yourself.
Humility
You run into arrogant people in medical school and think they're the "best thing since sliced bread."
Learn how to be humble and how to be a good team player.
Challenge yourself to be the best but realize there are other people around you that have skills and knowledge.
It's impossible to know everything and you have to rely on other people – There is "too much to know" all by yourself so you have to work as a team.
Team Player
A skill you need to hone even when still in high school such as working in study groups
Participate and do whatever it takes to help out with patient care.
You can't accomplish anything without a team, which is very pervasive in the field of medicine today.
You will work with nurses, occupational therapists, physical therapists, technicians, physician assistants, social workers, case managers, and office staff.
Be willing to do "scut work" – this is a common term in a hospital setting where a resident asks you to do little tasks such as getting a chart or the most minuscule tasks (but it's a different story when they ask you to pick up their dry cleaning)
Bright
You don't have to be a valedictorian or the smartest person in your class.
Quantifying smartness can be difficult but you can look at your grades to measure your success.
You need to do well in school since medical school only gets harder.
Part of being bright is knowing how to know your limits and what you need to ask help with..
Adaptable
You go through many different rotations in your clinical years.
In medical school rotations, you'll be exposed to many different teams of people and exposed to different subject matters in a very fast pace; you get exposed to different areas of medicine all the time.
You switch teams constantly with different attending physicians and every attending works differently so you have to be able to change accordingly as part of the team.
Go with the flow and adapt to change.
Empathic
Being able to put yourself in another person's shoes and understand what they're experiencing
Empathy is not sympathy.
You will be taking care of patients from all walks of life and even if you come from a completely opposite background to someone, you need to provide the best care for the patient.
This is one of the most key things to being a good medical student and a good physician.
Your judgment or biases have no place in the patient room and the bedside.
Good attitude/Enthusiastic
This helps you become motivated to get through the material and do well in the exams. This is even just as important in your clinical years through your rotations to make your job more fun.
Put your solid good effort into each thing you do.
Residents appreciate working with medical students who are positive and enthusiastic.
The more interest you have in a subject material, the more you'll take it with you.
People respond well to someone who has a positive attitude .
Having a sense of humor
In medicine, you're exposed to really tough stuff so have some kind of a buffer where you learn to find humor in the process and not let it get you down.
Even oncologists have the best sense of humors.
Know how to live your life and be present to the things in life that make you laugh.
Dealing with emotions is not taught in medical school or residency. So be able to laugh and find the humor in things.
Laughter is a form of healing. Don't feign laughter with somebody but if you're good at it, don't hide it.
Confidence
Patients want to go to a doctor who really knows what they're doing.
Do not confuse confidence with arrogance.
Express your confidence to your patients to make them feel they're in safe hands.
Don't assume to know it all but take responsibility when taking care of people.
Confidence builds with time and experience as a medical student and a resident. It's something you can always work on.
Here's a bonus:
You have to be able to deal with blood and guts. If you faint at the sight of blood, you might want to reconsider unless you're able to get over that fear.
Links and Other Resources:
Check out this Goo Tolerance Index: A Foolproof Method for Choosing a Medical Specialty
If you need any help with the medical school interview, go to medschoolinterviewbook.com. Sign up and you will receive parts of the book so you can help shape the future of the book. This book will include over 500 questions that may be asked during interview day as well as real-life questions, answers, and feedback from all of the mock interviews Ryan has been doing with students.
Are you a nontraditional student? Go check out oldpremeds.org.
For more great content, check out www.mededmedia.com for more of the shows produced by the Medical School Headquarters including the OldPremeds Podcast and watch out for more shows in the future!
Free MCAT Gift: Free 30+ page guide with tips to help you maximize your MCAT score and which includes discount codes for MCAT prep as well.
Hang out with us over at medicalschoolhq.net/group. Click join and we'll add you up to our private Facebook group. Share your successes and miseries with the rest of us.
Check out our partner magazine, www.premedlife.com to learn more about awesome premed information.
Next Step Test Prep: Get one-on-one tutoring for the MCAT and maximize your score. Get $50 off their tutoring program when you mention that you heard about this on the podcast or through the MSHQ website. Check out their 10-full length practice tests and save 10% using the code "MSHQ".
Listen to our podcast for free at iTunes: medicalschoolhq.net/itunes and leave us a review there!
Email Ryan at ryan@medicalschoolhq.net or connect with him on Twitter @medicalschoolhq
Tweet Allison @allison_mshq or send her an email at allison@medicalschoolhq.net.
Subscribe for Free
Listen to Other Episodes
Leave us a Review and Rating!
Just like Yelp reviews or IMDB ratings help you choose your next restaurant or movie, leaving a 5 star rating and/or a written review is very valuable to The Premed Years. It allows us to be able to share our information with more people than ever before.
I am so incredibly thankful to those who have recently gone into our listing in iTunes to provide a five start rating and a written review of The Premed Years.
Subscribe and Download
iOS/Mac/Windows – You can subscribe to the show in iTunes. Or you could manually add the RSS feed to your aggregator.
Android/Mac/Windows – You can download DoubleTwist and use that to manage all of our past and future episodes
Please help us spread the word!
If you like the show, will you please take a moment to leave a comment on iTunes? This really helps us get the word out!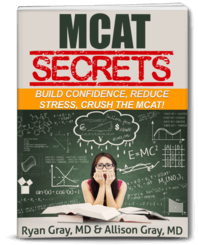 DOWNLOAD FREE - Crush the MCAT with our MCAT Secrets eBook