Session 45
In today's episode, Ryan and Allison talk about the 5 reasons to go into medical school and 5 reasons to not. In the first part of the episode, Ryan played a short clip from the EntreLeadership Podcast talking about how you have to truly enjoy patient care to enjoy your job as a physician and truly be rewarded.
Before that, an update about the Academy. As of the release of this podcast, we are closed to new members, as we are working hard with the Charter Members, but please go sign up to be notified when we reopen! Go to http://www.jointheacademy.netto learn more about it.
5 Reasons to Go to Medicine:
Improve the lives and health of other human beings.
You can improve the other's lives numerous other ways but as doctors, you're really focused on really improving their health and life.
It becomes more than just wanting to help people.
Helping the family cope at the end of a patient's life is a profound thing
A sense of leadership
You're leading a group of people in the care of a patient on your service
The presence of autonomy since people look to you for guidance and reassurance
A variety of what you can do besides patient care
Clinician seeing patients in a hospital, in private practice, or in a community center
Clinician educator
Researcher (bench research or clinical research)
Work for the government work (ex. FDA)
Work at a pharmaceutical company
Teacher
Create an awesome podcast (like this!)
Intellectual challenge
Every person should be a lifelong learner. Most importantly, medicine changes all the time so physicians have to make sure they continually learn so they can continually improve their patients' lives.
Being able to perform surgery
The ability to operate on another human being and having that trust from your patient.
Additional reason:
The ability to change one life and many other people's lives like finding a cure or discovering a new virus or a new medicine that could change lives across the world.
5 Reasons to Not Go to Medicine:
Money
It's the wrong reason to want to become a doctor.
If you only want to make money, you can be many things – banker, lawyer, stock broker, medicine is not the place to go.
Medicine is something you do day in and day out and if you don't love what you're doing, you're going to be miserable no matter how much money you make.
Not to mention that medical school is so expensive, you will have to deal with huge loans.
Prestige
If you want to become a doctor just to have that "MD" at the end of your name, you will be dissatisfied with your work.
Respect and prestige are things you earn because of the hard work you put in and not because you have some initials at the end of your name.
Introducing yourself to the patient
Ryan thinks introducing yourself to the patient as a doctor puts a wall between you and the patient psychologically.
Allison thinks otherwise and that it helps fill in that role in letting the patient know that you're with them.
What do you think? Share it with us.
Medical drama disillusionment
What you see on medical dramas is not what life is as a physician.
Life as a physician is hell (but worth it).
There are so many discrepancies in medical dramas that's just unrealistic and crazy.
Pressure from parents
Try to shadow a physician and see if it's something you want to do in your life and not because your parents said so
You have to have the passion and desire to be called to this profession.
You cannot do this for someone else. It's your life to live.
Work-life balance
Medicine is stressful.
Medicine takes over your life. It becomes who you are.
Your life may get better as an attending (depending on your field) but it does take a lot from you and your family.
Additional reason:
Being the smartest in your class or your county doesn't mean you want to be a doctor. Medicine is not all about intelligence. Bedside manner is just as crucial.
Some pieces of advice for premed students:
You have to do what you love. That is what shadowing is for so you will know what it's like to be a physician. You have to know what you're getting into to make sure that you're happy on the other side.
Do some soul-searching no matter where you are in the process and go through this list to help you figure out if medicine is really for you.
Links and Other Resources:
Session 1 – Ryan's Intro and Story
Save $225 on the Princeton Review's MCAT Ultimate or MCAT Self-Paced Prep Course through March 30th 2016 by going to www.princetonreview.com/podcast
If you need any help with the medical school interview, go to medschoolinterviewbook.com. Sign up and you will receive parts of the book so you can help shape the future of the book. This book will include over 500 questions that may be asked during interview day as well as real-life questions, answers, and feedback from all of the mock interviews Ryan has been doing with students.
Are you a nontraditional student? Go check out oldpremeds.org.
For more great content, check out www.mededmedia.com for more of the shows produced by the Medical School Headquarters including the OldPremeds Podcast and watch out for more shows in the future!
Free MCAT Gift: Free 30+ page guide with tips to help you maximize your MCAT score and which includes discount codes for MCAT prep as well.
Hang out with us over at medicalschoolhq.net/group. Click join and we'll add you up to our private Facebook group. Share your successes and miseries with the rest of us.
Check out our partner magazine, www.premedlife.com to learn more about awesome premed information.
Next Step Test Prep: Get one-on-one tutoring for the MCAT and maximize your score. Get $50 off their tutoring program when you mention that you heard about this on the podcast or through the MSHQ website.
Listen to our podcast for free at iTunes: medicalschoolhq.net/itunes and leave us a review there!
Email Ryan at [email protected] or connect with him on Twitter @medicalschoolhq.
Tweet Allison @allison_mshq or send her an email at [email protected]
Subscribe for Free
Listen to Other Episodes
Leave us a Review and Rating!
Just like Yelp reviews or IMDB ratings help you choose your next restaurant or movie, leaving a 5 star rating and/or a written review is very valuable to The Premed Years. It allows us to be able to share our information with more people than ever before.
I am so incredibly thankful to those who have recently gone into our listing in iTunes to provide a five start rating and a written review of The Premed Years.
Subscribe and Download
iOS/Mac/Windows – You can subscribe to the show in iTunes. Or you could manually add the RSS feed to your aggregator.
Android/Mac/Windows – You can download DoubleTwist and use that to manage all of our past and future episodes
Please help us spread the word!
If you like the show, will you please take a moment to leave a comment on iTunes? This really helps us get the word out!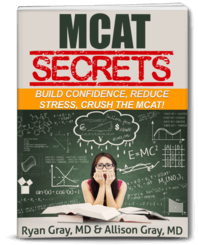 DOWNLOAD FREE - Crush the MCAT with our MCAT Secrets eBook