Session 13
In today's episode, Ryan talks with Dr. Deborah German, the Dean of The University of Central Florida College of Medicine (UCF COM). UCF COM was the first, built from the ground up, allopathic medical school in the US in almost 30 years.
Before we dive into the discussion, the show begins with a question we got in the email forum from Laura, a 3rd-year biomedical PhD student, where she asked about how to shadow on weekends if your schedule is too full during the week.
Ryan answers this by saying that while not ideal, there are opportunities on weekends. Hospitals are open 24/7 so you can probably shadow in a hospital ER if they let you. It's a matter of reaching out to your local hospital. Also look around for doctor's offices that may be open on weekends in your area as well as some walk-in clinics which fill in where other offices are closed.
Back to the interview, Ryan talks with Dr. German where they discuss about Lake Nona Medical City, the types of students UCF is looking for, and having that passion to really do what you love to do which Dr. German has reiterated for a number of times.
Here are the highlights of the conversation with Dr. German:
Types of students UCF looks for:
Strive for excellence
Heart for medicine
Pioneering entrepreneurial spirit
Spirit of inquiry and curiosity about medicine
Leadership
Professionalism – Willing to put themselves aside for the needs of another
7,000 acres of land (700 of which becomes the new medical city)
Adjacent to the Orlando International Airport
Approved in 2006, the medical school serves as an anchor along with other partners like:
Veterans Affairs Medical Center (second largest VA hospital)
UCF's current progress:
UCF did better than half of the medical schools across the country on USMLE
Students doing international trips
New online medical journal Cureus
UCF won the global competition for student research for medical students, residents, and graduate students
Full accreditation https://today.ucf.edu/ucf-college-of-medicine-achieves-full-accreditation/
Curriculum at UCF:
Integrated curriculum
Clinical work starts in the first year
Basic and clinical science throughout all 4 years
Research required of every student (First two years)
Use of technology to assist the education for students (simulation, virtual patients, standardized patients, live patient interaction, assessment system)
UCF Admissions:
Admitting 120 in the Fall
Reasons for the rise of new medical schools:
To address healthcare nationally
Scarcity of physicians
Economic driver for communities
3 Categories of dreamers that lay the foundation of UCF:
Mother Teresa – Taking care of people
Nobel Prize Winners – Curing cancer, eliminating obesity, or eradicating infectious diseases
Sergeants General – Global health, healthcare reform, and health disparities
Dr. German's advice to those struggling with poor grades:
You have to show that you're committqed and it has to come across in your grades in your last couple of years. Otherwise, take a Master's degree if you have to to really show that you're committed to it.
Some pieces of advice for high school seniors and premed students:
If you love it, give it everything you have. If you can't, then think about that.
Links and Other Resources:
Call in and leave a question like Laura did at 617-410-6747 so we can play it here on the podcast and share it with everyone. This is not a competition. We're all in this together!
University of Central Florida College of Medicine
PDF showing 8.9% of 3.8+GPA and 39+ MCAT applicants DO NOT get into Medical School
10,000 people are turning 65 EVERY DAY!
If you need any help with the medical school interview, go to medschoolinterviewbook.com. Sign up and you will receive parts of the book so you can help shape the future of the book. This book will include over 500 questions that may be asked during interview day as well as real-life questions, answers, and feedback from all of the mock interviews Ryan has been doing with students.
Are you a nontraditional student? Go check out oldpremeds.org.
For more great content, check out www.mededmedia.com for more of the shows produced by the Medical School Headquarters including the OldPremeds Podcast and watch out for more shows in the future!
Free MCAT Gift: Free 30+ page guide with tips to help you maximize your MCAT score and which includes discount codes for MCAT prep as well.
Hang out with us over at medicalschoolhq.net/group. Click join and we'll add you up to our private Facebook group. Share your successes and miseries with the rest of us.
Check out our partner magazine, www.premedlife.com to learn more about awesome premed information.
Next Step Test Prep: Get one-on-one tutoring for the MCAT and maximize your score. Get $50 off their tutoring program when you mention that you heard about this on the podcast or through the MSHQ website. Check out their 10-full length practice tests that you can take.
Listen to our podcast for free at iTunes: medicalschoolhq.net/itunes and leave us a review there!
Email Ryan at ryan@medicalschoolhq.net or connect with him on Twitter @medicalschoolhq
Subscribe for Free
Listen to Other Episodes
Leave us a Review and Rating!
Just like Yelp reviews or IMDB ratings help you choose your next restaurant or movie, leaving a 5 star rating and/or a written review is very valuable to The Premed Years. It allows us to be able to share our information with more people than ever before.
I am so incredibly thankful to those who have recently gone into our listing in iTunes to provide a five start rating and a written review of The Premed Years.
Subscribe and Download
iOS/Mac/Windows – You can subscribe to the show in iTunes. Or you could manually add the RSS feed to your aggregator.
Android/Mac/Windows – You can download DoubleTwist and use that to manage all of our past and future episodes
Please help us spread the word!
If you like the show, will you please take a moment to leave a comment on iTunes? This really helps us get the word out!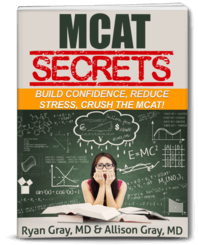 DOWNLOAD FREE - Crush the MCAT with our MCAT Secrets eBook