Session 120
As you build your school list, you may find that there are new medical schools opening when you are applying. Is it a good idea to apply to those schools?
This is a question that has been coming up more often since more and more new medical schools are opening.
If you have questions you want answered here, go to the Nontrad Premed Forum to ask away and hopefully it would be answered here on this podcast.
[01:13] OldPreMeds Question of the Week:
"I'm curious to know if anyone has any experience or tips for someone who's thinking of applying to a brand new medical school? My undergraduate school, University of Houston, is opening its new medical school at exactly the time when I'll be ready to apply. So if I went there, I'd be in the first cohort. Does anyone have any helpful advice on this?
I know new few schools have popped up in the last few years and would love to hear what it was like to be in one of the early classes. I imagined a school wouldn't be completely organized and that might add some extra stress but it also seems like a neat experience."
[01:55] The Risks of Applying to a New School
When you look at LCME (Liaison Committee on Medical Education) that does the accreditation for MD medical schools and COCA (The AOA Commission on Osteopathic College Accreditation) for DO schools, they go through this whole process.
As soon as a school says about starting a new school in the city and who's going to run it, all of these conversations will take place with the accreditation bodies.
This means that the school will have to get a preliminary accreditation through these bodies. And in order for the school to get to that point, they'd have to have shown a lot of things. They have to show their curriculum or the administrative structure and facilities in place. So there's a lot that they have to do to get to this point.
All this being said, you're not going to show up to a school that doesn't have a building or a faculty or leadership or administration set up. All that has been going on for years prior to the school accepting their fires class.
[03:47] Help with the Boards
A lot of students are worried about curriculum when it comes to new schools. "Is the school going to prepare me for the boards?" And as I've said, the school doesn't help you score well on your board exams. Only you do that. Yes, they may have resources and they may buy you access to certain test prep materials. But it's you that puts in the effort day in and day out to make sure that you score the best you can do on your board exams.
You shouldn't be worried about the school preparing your for the boards. The boards is an open book test for you and medical schools. You know what's going to be on the boards. You know how you have to prepare. If the school isn't providing that, you have to go out and seek out the resources necessary for you. Even if the school does provide those resources, if they're not providing them in a way that you learn the best, then you're likely to go out and seek out other materials or resources where you can learn better.
So from a curriculum and a boards preparation standpoint, don't worry about whether or not the school is prepared to help you on those tests. Again, through the accreditation process, the curriculum is evaluated. Then the accreditation bodies make sure that you are as prepared as possible to get you the information that you need to succeed.
[06:06] Concern with Residency Programs
Program directors know that students coming from these universities, they've been able to judge those students over the years as to how prepared they are to come out. However, the preparation is not necessarily the school, but the clinical rotations. What is expected of you in those clinical rotations? What responsibilities do you have in those clinical rotations? What sort of exposure to different environments do you have in your clinical rotations?
Going through third and fourth year through your clinical rotations is going to help set you up for success during your internship and the rest of your residency. That part of a medical school helps program directors figure out who you are.They don't care you had a certain way of learning Biochemistry or Pathology. But it's how ready are you to be on the floors in the hospitals when it comes to residencies. And that's through your clinical years.
Depending on the locations, maybe a new medical school is setting up a new teaching hospital as well. So this is another thing to think about. How prepared is the hospital to be training medical students? Or has the hospital had medical students before from another medical school and they're just adding you?
Where are the clinical rotations? Are they an established teaching hospital that is used to medical students and residents? How are the staff there, the physicians and ancillary staff, how are they going to treat this new influx of medical students into their system?
[08:36] Going Through the HPSP Scholarship
Although I haven't enough info on this, but if you're thinking about an HPSP scholarship through army, navy, or air force, you have to get to a fully accredited university/medical school to get the scholarship.
And because new medical schools only have their prelim accreditation since they don't get fully accredited until that first cohort graduates, I'm not really sure if you can go through the HPSP scholarship at these new medical schools. However, take this info with a grain of salt. To be sure, ask a recruiter and find out.
[09:35] Should You Go to a New Medical School or Not?
At the end of the day, a new medical school does offer some excitement. Everybody is there and everybody is learning from each other above and beyond a normal medical school class. Everybody is doing things for the first time. A lot of times, faculty and the leadership of a new medical school is coming from another medical school. So it's not their first rodeo. But it's their first time in this new environment and new faculty and new admins. It's their first cohort. They have new facilities. So you're all there experiencing it together for the first time. And this can be exciting for some people. That, on the other hand, may be too stressful for you.
So you have to look at who you are as a person. What stresses you out? What gives you anxiety? And if a new medical school and all those adventures give you too much anxiety, don't do it. But if you're ready for the ride and the adventure, go ahead and take a look at it.
As long as it's not affecting you personally from an anxiety or stress standpoint, going to a new medical school won't have any big repercussions on the rest of your career. It's all about who you are as a student, the effort that you put into things. It's about the grades and scores you get. But, you have to consider the clinical rotations. What do teaching hospitals look like?
Links:
Listen to Other Shows
Leave us a Review and Rating!
Just like Yelp reviews or IMDB ratings help you choose your next restaurant or movie, leaving a 5 star rating and/or a written review is very valuable to the OldPreMeds Podcast. It allows us to be able to share our information with more people than ever before.
I am so incredibly thankful to those who have recently gone into our listing in iTunes to provide a five start rating and a written review of the OldPreMeds Podcast.
Subscribe and Download
iOS/Mac/Windows – You can subscribe to the show in iTunes. Or you could manually add the RSS feed to your aggregator.
Android/Mac/Windows – You can download DoubleTwist and use that to manage all of our past and future episodes
Please help us spread the word!
If you like the show, will you please take a moment to leave a comment on iTunes? This really helps us get the word out!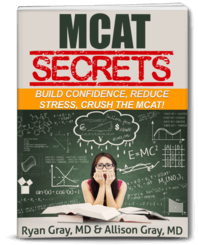 DOWNLOAD FREE - Crush the MCAT with our MCAT Secrets eBook