Session 16
In today's episode, Ryan talks with Dr. David Muller, the Dean for Medical Education at Icahn School of Medicine at Mount Sinai (MSSM) about FlexMed, a program that allows you to apply to medical school as early as high school senior or undergrad freshmen or sophomore as well as skip most of the traditional premed requirements like the MCAT, organic chemistry, biochemistry, or physics. FlexMed is basically an upgrade of what was previously called HuMed (Humanities in Medicine).
Today, David discusses all you need to know about FlexMed including how you can prepare yourself to become a competitive applicant to the FlexMed program in the future.
Here are the highlights of the conversation with David:
What is FlexMed?
An alternative path to medical school for students that don't want to sacrifice broad and deep college experience or don't want to go through the "detrimental" environment in the premed world
Students don't have to take the traditional science requirements and instead explore their passions
Additional semester in the realm of health policy, public health, global health, bioethics, and biostats
The number of available seats for the program has increased from 1/4 of a class to 1/2 of a class
The structure of US medical schools vs. medical schools in Europe
Students having limited exposure to science:
Getting the bearings after the first semester and on par with their peers
FlexMed students are given a 6-week course to expose them to biochemistry, cell biology, and genetics to avoid "shell shock"
FlexMed students vs. "regular" students
2010 published HuMed article showing no statistical difference between success
Non significant trend towards psychiatry and primary care residencies
Students coming in without hard sciences background don't have any significant withdrawal from medical school
The ideal applicants for the FlexMed program:
Great degree of commitment to the field
The ability to articulate and demonstrate what they're going to do with their education
Innovative and creative
Ambitious
Avoiding burnout and making students more happy:
Creating a system that won't make people burned out before going to medical school, students will be less likely to undergo burnout
These students can be the drivers of a more dramatic change
Links and Other Resources:
If you need any help with the medical school interview, go to medschoolinterviewbook.com. Sign up and you will receive parts of the book so you can help shape the future of the book. This book will include over 500 questions that may be asked during interview day as well as real-life questions, answers, and feedback from all of the mock interviews Ryan has been doing with students.
Are you a nontraditional student? Go check out oldpremeds.org.
For more great content, check out www.mededmedia.com for more of the shows produced by the Medical School Headquarters including the OldPremeds Podcast and watch out for more shows in the future!
Free MCAT Gift: Free 30+ page guide with tips to help you maximize your MCAT score and which includes discount codes for MCAT prep as well.
Hang out with us over at medicalschoolhq.net/group. Click join and we'll add you up to our private Facebook group. Share your successes and miseries with the rest of us.
Check out our partner magazine, www.premedlife.com to learn more about awesome premed information.
Next Step Test Prep: Get one-on-one tutoring for the MCAT and maximize your score. Get $50 off their tutoring program when you mention that you heard about this on the podcast or through the MSHQ website. Check out their 10-full length practice tests and save 10% using the code "MSHQ".
Listen to our podcast for free at iTunes: medicalschoolhq.net/itunes and leave us a review there!
Email Ryan at ryan@medicalschoolhq.net or connect with him on Twitter @medicalschoolhq
Transcript
Introduction
Dr. Ryan Gray: The MCAT Podcast is only sixteen weeks into its release, but The Premed Years is now celebrating four years. If you haven't checked out that podcast, go to www.MedicalSchoolHQ.net.
This is The MCAT Podcast, session number 16.
A collaboration between the Medical School Headquarters and Next Step Test Prep, The MCAT Podcast is here to make sure you have the information you need to succeed on your MCAT test day. We all know that the MCAT is one of the biggest hurdles as a premed, and this podcast will give you the motivation and information that you need to know to help you get the score you deserve so you can one day call yourself a physician.
Alright so we've talked about pre-req's before, but we're going to dig into one specific subject here, Sociology, so let's get started. Alright Bryan we talked about pre-req's for the MCAT back in session 9, which if you're listening to this and you haven't heard that one, go to www.TheMCATPodcast.com/9. But we want to- or I want to cover specifically Sociology and whether or not it's really a subject we have to take for the MCAT, or is living life enough of- like school of hard knock for knowing things about Sociology?
Taking Sociology as a Pre-Req
Bryan Schnedeker: So Ryan I know the listeners may be a little tired of hearing me say this, but the answer is yes and no, or it depends of course, right? So you hear a lot of students say things like, "Oh but so much of this just seems like common sense." Like you said like, "I've lived in a society for some decades now, shouldn't that be enough? Do I really need Sociology?" And in one sense the answer is no, you don't have to take it as a college course because good MCAT prep will involve reviewing Sociology. At the same time, you can't necessarily rely just on kind of being an adult in society and expecting to be able to make good decisions on MCAT multiple choice questions. And I'll give you an example of what I'm talking about. So you take the words 'prejudice,' 'discrimination,' and 'stereotype,' right? So three words that we all know what they mean, we use them in everyday sort of conversation and you think, 'Why would I need a Sociology class, right? I know what a stereotype is.' But the thing about the MCAT is they're going to actually demand that you know the technical definitions of things. So not just the college educated adult definitions of things. And I've seen many, many of my students on initial practice exams or early in their prep get the question wrong because they didn't realize the very specific and precise distinction between stereotypes, prejudice, and discrimination. So I'll- for the listeners now I'll tell you what the difference is so you can see how you really do have to either take the course or study it on your own so that you're ready for the MCAT. So discrimination as it's going to show up on the MCAT has to be a behavior, right? Someone has to do something to discriminate against someone else. A stereotype is an idea, it's cognitive. So it's a thing that you think. It's not something you do, it's a thing you think. It's a belief that you have. And prejudice is a feeling or an affect. So it is an immediate positive or negative feeling that you have towards somebody because of some group membership that they have, right? So prejudice is a feeling, stereotype is an idea, and discrimination is a behavior. And just even a simple definition like that will let you get the questions right on the MCAT, but that may not be a subtlety that most folks would be aware of just on kind of like generalized college educated adult knowledge. And the thing about the MCAT is there's lots and lots of these sorts of subtle distinctions between technical terms as they're used in Sociology or Psychology, and my favorite is the difference between 'I' and 'me.' Right? Mead, a particular sociologist made a distinction between the 'I' and the 'me,' and you think- there's actually an official AAMC question where answer choice A is 'I' and answer choice B is 'me.' And the first time I saw that I just burst out laughing. It was like what is this? Dr. Seuss? I and me?
Dr. Ryan Gray: It cannot be.
Bryan Schnedeker: Right? I will not take the MCAT. Say I'm not with Green Eggs and Ham. You know and so that's the thing, you either have to take it in school or if you don't, you have to self-study it with good MCAT prep materials. So don't treat Sociology as a brush off subject, don't treat it as a common sense subject even though it very often is, you have to know all these technical terms for the MCAT.
Dr. Ryan Gray: So what the heck is the difference between 'I' and 'me'?
Bryan Schnedeker: Well the idea is that the 'I' is kind of your true autonomous self, and the 'me' is the vision you have in your head of how other people view you very loosely, so the 'me' kind of has to obey social norms and things like that. But there is a distinction there and it does show up on the MCAT.
Dr. Ryan Gray: That sounds like split personality disorder.
Bryan Schnedeker: Right, yeah the good old Dissociative Identity Disorder, right.
Dr. Ryan Gray: Yeah alrighty, well that's an interesting one. So go sign up for a Sociology class.
Bryan Schnedeker: There you go, yup.
Final Thoughts
Dr. Ryan Gray: Alright there you have it. So you might be better off figuring out your schedule and fitting in Sociology so that you can understand these nuances with different words, and definitions, and everything else like we were talking about. So check that out. If you haven't checked out the other podcast episode we did about all of the pre-req's, go to www.TheMCATPodcast.com/9, again that's session number 9 of The MCAT Podcast. If you don't subscribe to this podcast, you should so that you can get this podcast every week on your device for free without missing one. It's easy to do. If you're listening to this right now in a browser like in Google Chrome, or Internet Explorer if that's even still a thing, or Apple's Safari, go on your device and search for podcasts, and download whatever podcast app you have, and it's easy to subscribe. Just search for MCAT, or Med Ed Media. You can find all the podcasts there.
Alright I hope you have a great week of MCAT prep if you're in the middle of it. Keep pushing forward and understand that as you're studying for the MCAT it's hard, it's daunting, it's stressful, it's frustrating, it's lonely, it's a lot of things but as long as you keep the goal in mind of passing the MCAT, and understanding why you're doing it, it makes it that much easier. So keep your head up and we'll see you next week here at The MCAT Podcast.
Subscribe for Free
Listen to Other Episodes
Leave us a Review and Rating!
Just like Yelp reviews or IMDB ratings help you choose your next restaurant or movie, leaving a 5 star rating and/or a written review is very valuable to The Premed Years. It allows us to be able to share our information with more people than ever before.
I am so incredibly thankful to those who have recently gone into our listing in iTunes to provide a five start rating and a written review of The Premed Years.
Subscribe and Download
iOS/Mac/Windows – You can subscribe to the show in iTunes. Or you could manually add the RSS feed to your aggregator.
Android/Mac/Windows – You can download DoubleTwist and use that to manage all of our past and future episodes
Please help us spread the word!
If you like the show, will you please take a moment to leave a comment on iTunes? This really helps us get the word out!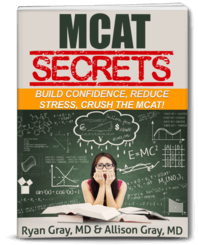 Crush the MCAT with our
MCAT Secrets eBook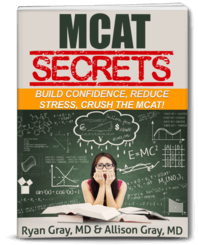 DOWNLOAD FREE - Crush the MCAT with our MCAT Secrets eBook