Session 17
In this episode, Ryan talks with Chris Manual, a senior lead instructor with The Princeton Review where he has been teaching for 11 years. Even if you're taking Kaplan or other MCAT prep course, this session is still worth listening to as Chris shares with us some key things you need to know about taking the MCAT, the right mindset in taking it, some possible options they offer, ways to prepare for the MCAT, the biggest mistakes student make in preparing for the MCAT and some more tips to help you prepare well for the MCAT.
He goes on to give some great premed advice on what to major in to help you get the best GPA, volunteering, and writing your personal statement.
Here are the highlights of the conversation with Chris:
The normal in-person classroom setting:
Having individual teachers per subject
Getting interaction from other students
ICC (In Class Companion) going over MCAT topics covered in class
42 classes to 2 1/2 hours each
Chris' experience in taking the MCAT:
Scoring 99.9%
Taking the MCAT during the "paper and pencil" days
Not understanding physics very well but having really good test-taking skills
Missing only 6 questions on his MCAT (5 of them are physics questions)
What the MCAT tests you for:
A "balancing act" between content and test taking skills
The material itself is not hard but it's the way the questions are being asked that make them difficult
How Princeton Review pick their teachers:
Non-academic interview/presentation
Subject-specific content test
20-hour training (presenting live classroom material)
Interactive methodology using the Socratic method
Princeton Review's different class options:
Online – MCAT Live Online (webinar-type) with office hours
In-person
Private tutoring
Summer Immersion Program (San Diego and Austin classes)
The biggest mistakes students make in their MCAT prep:
Underestimating the psychology of test-taking
Memorizing everything and not understanding
Not referencing the passages
More MCAT prep tips from Chris:
Set a baseline of memorizing certain facts that you can build upon.
Pair up with someone to bounce ideas off with.
How is Princeton Review preparing for the MCAT 2015:
Finding out what's exactly on the MCAT
Revamping all their materials
Retraining all of their current teachers and staff
Understanding the history of MCAT:
Prior to 1991
MCAT is tested on memorization
Students from foreign countries scoring better than US students
Resulting to doctor shortage
Paper and pencil model to computer-based test
Based on critical thinking
Giving a higher correlation to Step 1
MCAT 2015
To get rid of score discrepancy between men and women
To get a higher correlation between MCAT, Step 1, and academic performance
Helping medical schools to find the best candidates
Must-have MCAT prep tips for premed students:
Do not be a science major unless you truly love science. (Major in something you truly love to get a higher GPA)
Volunteer somewhere consistently throughout your academic career.
When writing your personal statement, think of it as a touching off-point for what you want to discuss during interview.
Links and Other Resources:
The Princeton Review MCAT Prep – Full Resources
If you want some Kaplan MCAT Prep info, check that out here
If you need any help with the medical school interview, go to medschoolinterviewbook.com. Sign up and you will receive parts of the book so you can help shape the future of the book. This book will include over 500 questions that may be asked during interview day as well as real-life questions, answers, and feedback from all of the mock interviews Ryan has been doing with students.
Are you a nontraditional student? Go check out oldpremeds.org.
For more great content, check out www.mededmedia.com for more of the shows produced by the Medical School Headquarters including the OldPremeds Podcast and watch out for more shows in the future!
Free MCAT Gift: Free 30+ page guide with tips to help you maximize your MCAT score and which includes discount codes for MCAT prep as well.
Hang out with us over at medicalschoolhq.net/group. Click join and we'll add you up to our private Facebook group. Share your successes and miseries with the rest of us.
Check out our partner magazine, www.premedlife.com to learn more about awesome premed information.
Next Step Test Prep: Get one-on-one tutoring for the MCAT and maximize your score. Get $50 off their tutoring program when you mention that you heard about this on the podcast or through the MSHQ website. Check out their 10-full length practice tests and save 10% using the code "MSHQ".
Listen to our podcast for free at iTunes: medicalschoolhq.net/itunes and leave us a review there!
Email Ryan at ryan@medicalschoolhq.net or connect with him on Twitter @medicalschoolhq
Subscribe for Free
Listen to Other Episodes
Leave us a Review and Rating!
Just like Yelp reviews or IMDB ratings help you choose your next restaurant or movie, leaving a 5 star rating and/or a written review is very valuable to The Premed Years. It allows us to be able to share our information with more people than ever before.
I am so incredibly thankful to those who have recently gone into our listing in iTunes to provide a five start rating and a written review of The Premed Years.
Subscribe and Download
iOS/Mac/Windows – You can subscribe to the show in iTunes. Or you could manually add the RSS feed to your aggregator.
Android/Mac/Windows – You can download DoubleTwist and use that to manage all of our past and future episodes
Please help us spread the word!
If you like the show, will you please take a moment to leave a comment on iTunes? This really helps us get the word out!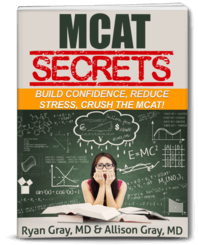 DOWNLOAD FREE - Crush the MCAT with our MCAT Secrets eBook