Session 20
 In today's episode, Ryan talks with the National Health Service Corps (NHSC) Scholarship Program. Back in session 18, the podcast covered the Air Force HPSP Program. Both of which are scholarships that you can apply to so you can get medical school paid for where you get a monthly stipend and cost through medical school will be covered.
Here are the highlights of the conversation:
About the NHSC Scholarship Program:
Authorized in 1974 to address the shortage of primary care physicians, especially in rural America
In the 80's, NHSC included the loan repayment program
Accepting the scholarship doesn't make you commit to live in a rural area; instead, NHSC sites are found throughout the country where there are underserved populations
To increase access to care by supporting primary care providers as they practice in underserved areas
Provides for students pursuing a degree in the following health professions:

Internal Medicine
Family Medicine
Psychiatry
Pediatrics
OB/GYN
Dentistry
Certified nurse midwives
Nurse practitioners
Physicians assistants
What the scholarship covers:
Full tuition and fees (non-taxable)
Other reasonable costs (books, microscope, instruments, etc.)
Monthly stipend (taxable)
Years of scholarship available:
1 year minimum
4 years maximum
Required years of commitment:
2 years minimum to practice at the NHSC site located in a Health Professional Shortage Area (HPSA)
Choosing another specialty not included in the program:
If you switch from IM to surgery for example, you have to give back all the money given to you plus penalties on top of that
Defining the Health Professional Shortage Area (HPSA):
Using data sets for determining whether an area (typically a county) has a shortage of healthcare providers based on birth rate, morbidity, mortality, socio-economics, what it takes for an average person to drive to a healthcare facility, insurance, etc.
Based on a scoring system of 0 to 26 with 26 indicating the highest needs
Outpatient setting for the most part
HPSA Scoring:
Re-scoring every 3 years
Scholars in their last year training enter into a placement cycle where they are given one-on-one support
Some sites are not approved but are approvable
Sites are not limited to rural areas but located everywhere (rural, urban, frontiers, reservations, etc.)
Characteristics of HPSA populations:
On Medicare/ Medicaid
No insurance
Workforce but no access to healthcare
How competitive is the scholarship program?
They receive thousands of applications with over 200 awards in the past 2 years
What makes you a good candidate for the program?
Being able to demonstrate that you can complete the program
Demonstrated commitment to practicing in underserved areas
Volunteering experiences and healthcare missions
Priority is given to students with economic and social disadvantaged backgrounds
Which medical schools you can go to:
Fully accredited program in the US
Requirements for the application process:
Completed online application
Two letters of recommendation (Academic and Non-academic)
Documentation (if you are from a disadvantaged background)
Transcript
CV
3 Essays
Current tuition and fees of the school they're planning to attend
Robust initiative to help scholars prepare for practice:
Webinars
Podcasts
Mentor program
Requirements for loan repayment option:
Practicing at an NHSC approved site
Full-time or half-time
Priority funding goes to providers practicing in higher needs areas
Participant is able to come in every year for a one-year contract with caps or limits on the money
Links and Other Resources:
Session 018: Air Force HPSP Scholarship Info Interview
Health Professional Shortage Area Search
NHSC Application and Program Guidance
NHSC Criteria for Disadvantaged Background
If you need any help with the medical school interview, go to medschoolinterviewbook.com. Sign up and you will receive parts of the book so you can help shape the future of the book. This book will include over 500 questions that may be asked during interview day as well as real-life questions, answers, and feedback from all of the mock interviews Ryan has been doing with students.
Are you a nontraditional student? Go check out oldpremeds.org.
For more great content, check out www.mededmedia.com for more of the shows produced by the Medical School Headquarters including the OldPremeds Podcast and watch out for more shows in the future!
Free MCAT Gift: Free 30+ page guide with tips to help you maximize your MCAT score and which includes discount codes for MCAT prep as well.
Hang out with us over at medicalschoolhq.net/group. Click join and we'll add you up to our private Facebook group. Share your successes and miseries with the rest of us.
Check out our partner magazine, www.premedlife.com to learn more about awesome premed information.
Next Step Test Prep: Get one-on-one tutoring for the MCAT and maximize your score. Get $50 off their tutoring program when you mention that you heard about this on the podcast or through the MSHQ website. Check out their 10-full length practice tests and save 10% using the code "MSHQ".
Listen to our podcast for free at iTunes: medicalschoolhq.net/itunes and leave us a review there!
Email Ryan at ryan@medicalschoolhq.net or connect with him on Twitter @medicalschoolhq
Subscribe for Free
Listen to Other Episodes
Leave us a Review and Rating!
Just like Yelp reviews or IMDB ratings help you choose your next restaurant or movie, leaving a 5 star rating and/or a written review is very valuable to The Premed Years. It allows us to be able to share our information with more people than ever before.
I am so incredibly thankful to those who have recently gone into our listing in iTunes to provide a five start rating and a written review of The Premed Years.
Subscribe and Download
iOS/Mac/Windows – You can subscribe to the show in iTunes. Or you could manually add the RSS feed to your aggregator.
Android/Mac/Windows – You can download DoubleTwist and use that to manage all of our past and future episodes
Please help us spread the word!
If you like the show, will you please take a moment to leave a comment on iTunes? This really helps us get the word out!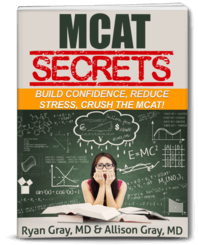 Crush the MCAT with our
MCAT Secrets eBook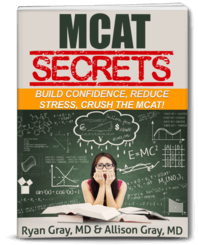 DOWNLOAD FREE - Crush the MCAT with our MCAT Secrets eBook