Session 19
In today's episode, Ryan talks with Dr. Norma Wagoner. With almost 30 years of experience in the admissions process, she has served as the Dean of Admissions for multiple medical schools such as Rush University, University of Chicago's Pritzker School of Medicine and the University of Colorado School of Medicine.
Today, she shares a ton of valuable information about with the interview process, what medical schools are looking for on an application to get an interview, and what the admissions committee is looking for during the interview process.
Here are the highlights of the conversation with Dr. Wagoner:
Norma's path to medicine:
Graduating with a PhD from WashU in Anatomy
Taking her first job at Rush Medical College in Chicago teaching anatomy
Becoming Dean of Admissions after one year out of graduate school
Recruited to the University of Cincinnati College of Medicine serving for 10 years
Becoming the National Chair of Student Affairs
Being on the National Board of Medical Examiners
She wrote the electronic residency application process
Becoming Dean of Students at the University of Chicago's Pritzker School of Medicine for 14 years (also doing admissions)
Becoming Dean of Admissions at University of Colorado School of Medicine
What the admissions committees are looking for in the application:
Meeting the criteria and competencies the school is looking for
Understanding the mission of the institution
Good critical thinking skills
Excellence in quantitative reasoning
Strong scientific inquiry (especially if the school has a big research component)
Communication skills
Residency competencies
Knowledge of themselves and others
Cultural competence
Teamwork and reliability
Ethical responsibilities
Ability to cope well and adapt
"Demystifying the process" at the University of Colorado School of Medicine:
Posting all the criteria they used online for applicants to see
Handing out the interview form to applicants as she seeks to "demystify" the process.
Making students as comfortable as they can be to allow them to do their best
The more information given out, the more comfortable students feel
Predictors of Success:
Undergrad GPA and MCAT – Gives an indication of how well a student might do in the first two years of medical school and on your Step 1 score
Knowledge and professionalism in the third year
The applicant pool:
In 2012, there were 45, 266 applicants
A student submits an average of 14 applications
This means medicals schools wade through well over half a million applications
Under 20,000 people are matriculating to medical school
Roughly only half will be interviewed
Ratio of 2.3 applications to each position
About 54 medical schools get between 5,000 and 15,000 applications
Narrowing the group of applications:
Initial weight goes to grades and MCAT being the only standard measure across the board for all applicants
Inviting the top students first and working the way down the process
Tremendous grade inflation as an issue (for GPA)
How to prepare for the interview process:
Standard interview
Multiple Mini Interviews (MMI) – 15 school in the US are now participating
Ask yourself why you applied to the school
What are your strongest attributes that you would do well as a student there?
Go the school's website and read all materials
Make up questions you want to ask to the interviewer
Look at the time of the interview, where to go, where to park, etc.
Build a little portfolio on each of the schools you're applying to
Identify whether it's an open or closed interview (blind or partially blind)
Review your application, goals, and experiences
Note: Be careful when you wrote in your application that you speak fluent Spanish (when you don't), they might conduct the entire interview in Spanish
*The University of Colorado uses partially blind interview to focus on their criteria, looking at the student's passions and goals, and avoid bias by grades and MCAT scores that pre-directs them to certain questions confirming why they should take the students
More on the MMI:
Not about connecting with the interviewer but how the applicant responds to a series of standardized situations
Looking for communication, social interaction, compassion, problem-solving and teamwork
Strengths, weaknesses, and some issues around it
Students need to practice flexibility in facing new situations with confidence
Discussing poor grades in a personal statement:
Don't mention poor grades in a personal statement (unless there are circumstances that enabled growth or change)
What the interviewer looks for:
Consistency of response
Depth of knowledge
How reality has tested them
Passion for medicine
Criteria of the school
Eye contact
Genuineness and honesty
More great topics covered:
Questions you can ask during the interview
What you should wear (no hot pink!)
Should you wear a beard?
The most common mistakes interviewees do wrong
The value of mock interviews
Links and Other Resources:
Join Ryan on Skype and learn the skills to ace your interview day! Check out https://medicalschoolhq.net/mockinterviews for more info.
Stanford Article about the MMI
McGill Fact Sheet about the MMI
If you need any help with the medical school interview, go to medschoolinterviewbook.com. Sign up and you will receive parts of the book so you can help shape the future of the book. This book will include over 500 questions that may be asked during interview day as well as real-life questions, answers, and feedback from all of the mock interviews Ryan has been doing with students.
Are you a nontraditional student? Go check out oldpremeds.org.
For more great content, check out www.mededmedia.com for more of the shows produced by the Medical School Headquarters including the OldPremeds Podcast and watch out for more shows in the future!
Free MCAT Gift: Free 30+ page guide with tips to help you maximize your MCAT score and which includes discount codes for MCAT prep as well.
Hang out with us over at medicalschoolhq.net/group. Click join and we'll add you up to our private Facebook group. Share your successes and miseries with the rest of us.
Check out our partner magazine, www.premedlife.com to learn more about awesome premed information.
Next Step Test Prep: Get one-on-one tutoring for the MCAT and maximize your score. Get $50 off their tutoring program when you mention that you heard about this on the podcast or through the MSHQ website. Check out their 10-full length practice tests and save 10% using the code "MSHQ".
Listen to our podcast for free at iTunes: medicalschoolhq.net/itunes and leave us a review there!
Email Ryan at ryan@medicalschoolhq.net or connect with him on Twitter @medicalschoolhq
Subscribe for Free
Listen to Other Episodes
Leave us a Review and Rating!
Just like Yelp reviews or IMDB ratings help you choose your next restaurant or movie, leaving a 5 star rating and/or a written review is very valuable to The Premed Years. It allows us to be able to share our information with more people than ever before.
I am so incredibly thankful to those who have recently gone into our listing in iTunes to provide a five start rating and a written review of The Premed Years.
Subscribe and Download
iOS/Mac/Windows – You can subscribe to the show in iTunes. Or you could manually add the RSS feed to your aggregator.
Android/Mac/Windows – You can download DoubleTwist and use that to manage all of our past and future episodes
Please help us spread the word!
If you like the show, will you please take a moment to leave a comment on iTunes? This really helps us get the word out!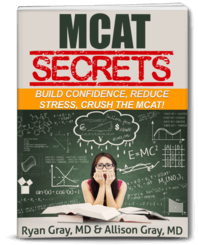 DOWNLOAD FREE - Crush the MCAT with our MCAT Secrets eBook