Session 47
In this episode, Ryan talks with Dr. Dike Drummond as they talk about a common serious issue in the medical world today – physician burnout. In fact, burnout is found to happen to one in three physicians. Not only physicians experience burnout but even medical students as well. And don't blame it on the EMRs. Surveys on the prevalence of physician burnout have actually been done in the last 20 years.
As physicians, we have the intention to heal other people that sometimes we tend to forget to take care of ourselves. This is something that needs to be discussed because physician burnout seems to be invisible and no one is noticing. However, physician burnout can take its toll on your practice and your life in general.
Listen in to learn more about what burnout is, how it's measured, how to avoid it, and the powerful for mindfulness. Lastly, learn about the squeegee breathing technique to help you get through the day with more awareness and less stress.
Here are the highlights of the conversation with Dr. Drummond:
What is burnout?
A cluster of symptoms measured by the Maslach Burnout Inventory
Scale 1 – Measurement of Exhaustion (downward spiral trajectory)
Scale 2 – Deep personalization (compassion fatigue)
Scale 3 – Lack of efficacy (Self-doubt about the work they do)
Looking into the "disease" paradigm:
Stress as the cause of burnout
Burnout as the disease
The popularity of physician burnout:
Physician burnout prevalence surveys have been done for 20 years
One in three practicing doctors is suffering from symptomatic burnout on any given office day (regardless of country, delivery systems, and specialty)
"It takes happy doctors to have happy patients."
Factors that contribute to physician burnout:
American healthcare environment
Acceleration of change in healthcare system (big data and EMR getting in between the physician and the patient)
Subconscious programming physicians tend to take on during training:
"Patient comes first."
"Never show weakness."
The "Patient comes first" mindset:
A programming we receive in training
The difficulty of recognizing our needs like rest, sleep, emotional, and personal self-care
Creates the blind spot that underlies everything else
Multifactorial aspect of it – stressed patients come to you plus you still have to take care of the EMR plus you're supposed to be available for your kids and your spouse
Burnout rates in men vs. women (based on Maslach Burnout Inventory):
How men experience burnout:
Cynicism and sarcasm
Exhaustion
*They don't get to "self-doubt." So doctors get tired, cynical, and sarcastic but still believe they're doing good work.
How women experience burnout:
Exhaustion
Cynicism and sarcasm
Questioning the quality of their work
They ask for help or tell somebody they're not doing well
*Women comprise 85% of Dr. Drummond's clients.
Medical error rates associated to burnout:
Medical error rate is higher the more burned out you are
Variation in the standard of care is wider in the burned out population
What other rates go up:
Patient satisfaction rate
Turnover rates for physician and the staff members
Malpractice risk
Divorce
Alcohol addiction
Suicide
Coping mechanisms that turn into survival strategies for burned out physicians:
Workaholic
Superhero
Emotion-free
Lone ranger
Perfectionist
How to avoid burnout:
Acknowledge your self-care needs.
Balance your life as you go through your training.
Acknowledge your humanity and reach out to people who seem to be struggling.
Be okay to ask for help.
Balancing career and family life:
There is no such thing as "balance in the moment"
It's either you're studying 100% or you're with your family 100%
You have to take care of your needs first
The powerful of mindfulness:
Having awareness in the moment
Notice the way you breath.
Notice the way stress you hold your shoulders.
Learn how to release stress in the moment and be present with your breathing.
How to be burnout-proof:
Acknowledge the end of your humanity and the need to perform.
Recognize whenever you're using those coping mechanism tools and notice how to put them away.
Develop a mindfulness practice through meditation or yoga.
Dr. Drummond shares the squeegee breathing technique!
Some pieces of advice for premed students:
You are not a doctor. You are a human being with a larger life who's chosen to practice the craft of medicine as the way to make a difference in the world. However, it's not who you are. Shut it off when it's time to and relax into the rest of you.
Links and Other Resources:
Burnout and Satisfaction With Work-Life Balance Among US Physicians Relative to the General US Population
Burnout and Suicidal Ideation among U.S. Medical Students
Save $225 on the Princeton Review's MCAT Ultimate or MCAT Self-Paced Prep Course through March 30th 2016 by going to www.princetonreview.com/podcast
If you need any help with the medical school interview, go to medschoolinterviewbook.com. Sign up and you will receive parts of the book so you can help shape the future of the book. This book will include over 500 questions that may be asked during interview day as well as real-life questions, answers, and feedback from all of the mock interviews Ryan has been doing with students.
Are you a nontraditional student? Go check out oldpremeds.org.
For more great content, check out www.mededmedia.com for more of the shows produced by the Medical School Headquarters including the OldPremeds Podcast and watch out for more shows in the future!
Free MCAT Gift: Free 30+ page guide with tips to help you maximize your MCAT score and which includes discount codes for MCAT prep as well.
Hang out with us over at medicalschoolhq.net/group. Click join and we'll add you up to our private Facebook group. Share your successes and miseries with the rest of us.
Check out our partner magazine, www.premedlife.com to learn more about awesome premed information.
Next Step Test Prep: Get one-on-one tutoring for the MCAT and maximize your score. Get $50 off their tutoring program when you mention that you heard about this on the podcast or through the MSHQ website.
Listen to our podcast for free at iTunes: medicalschoolhq.net/itunes and leave us a review there!
Email Ryan at [email protected] or connect with him on Twitter @medicalschoolhq
Subscribe for Free
Listen to Other Episodes
Leave us a Review and Rating!
Just like Yelp reviews or IMDB ratings help you choose your next restaurant or movie, leaving a 5 star rating and/or a written review is very valuable to The Premed Years. It allows us to be able to share our information with more people than ever before.
I am so incredibly thankful to those who have recently gone into our listing in iTunes to provide a five start rating and a written review of The Premed Years.
Subscribe and Download
iOS/Mac/Windows – You can subscribe to the show in iTunes. Or you could manually add the RSS feed to your aggregator.
Android/Mac/Windows – You can download DoubleTwist and use that to manage all of our past and future episodes
Please help us spread the word!
If you like the show, will you please take a moment to leave a comment on iTunes? This really helps us get the word out!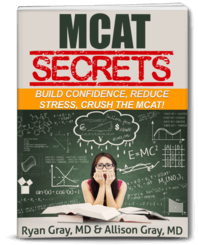 DOWNLOAD FREE - Crush the MCAT with our MCAT Secrets eBook