Session 46
In this episode, Ryan and Allison talk about relationships in medical school which include personal relationships, relationships with family and friends, and newly-formed friendships.
This is a very important topic to discuss because, in more ways than one, becoming physicians will affect you and relationships do change. Getting lost with friends and family can be inevitable. They simply are not going through the exact things you're going through so it's easy for frustration and tension to arise. Therefore, understanding and good communication are crucial at this point in your life in order for you to be able to focus on your path to medicine while still be able to maintain healthy relationships.
On a more positive note, medical school is where you get to meet new, awesome friends or even the love of your life!
Here are the highlights of the conversation with Ryan and Allison:
Why relationships change:
Limited time to interact with the outside world
Most of your time is spent on studying
Medical school is very different from college
Once you enter the medical school world, you speak a new language
Effects of changing relationships:
Frustration and tension from people who's not going through your situation
You can't explain to another person who's not going through what you're going through
Sharing information to your friends not in medicine:
Friends not in medicine need limits – not everyone likes to hear about the gooey stuff you do because it's not something they're comfortable with
Figuring out what people's comfort level is
Ryan's pet peeve: Families and friends asking you if you're a doctor yet
Residents are doctors
Overwhelming amount of details for families to take in
New relationships built in medical school:
As things are changing, you also get to form new relationships in medical school
You're with these people all the time so you get to know them and grow with them
On personal relationships:
They don't always make it through medical school.
There is that disconnect.
The concept that there's something in your partner's life that is taking away from their time with you leading to jealousy and frustration
You may also find the love of your life in medical school.
Some pieces of advice for premed students:
People understand how hard you're working so be patient with your family and friends if there is a discrepancy between what they understand and what you're trying to share with them.
Reserve as much time as you can to keep those relationships going.
Communication is key. Let your families and friends know that you still love them and care about them but you're just in the middle of something really busy.
Enjoy meeting new people in medical school.
Links and Other Resources:
Save $225 on the Princeton Review's MCAT Ultimate or MCAT Self-Paced Prep Course through March 30th 2016 by going to www.princetonreview.com/podcast
If you need any help with the medical school interview, go to medschoolinterviewbook.com. Sign up and you will receive parts of the book so you can help shape the future of the book. This book will include over 500 questions that may be asked during interview day as well as real-life questions, answers, and feedback from all of the mock interviews Ryan has been doing with students.
Are you a nontraditional student? Go check out oldpremeds.org.
For more great content, check out www.mededmedia.com for more of the shows produced by the Medical School Headquarters including the OldPremeds Podcast and watch out for more shows in the future!
Free MCAT Gift: Free 30+ page guide with tips to help you maximize your MCAT score and which includes discount codes for MCAT prep as well.
Hang out with us over at medicalschoolhq.net/group. Click join and we'll add you up to our private Facebook group. Share your successes and miseries with the rest of us.
Check out our partner magazine, www.premedlife.com to learn more about awesome premed information.
Next Step Test Prep: Get one-on-one tutoring for the MCAT and maximize your score. Get $50 off their tutoring program when you mention that you heard about this on the podcast or through the MSHQ website.
Listen to our podcast for free at iTunes: medicalschoolhq.net/itunes and leave us a review there!
Email Ryan at ryan@medicalschoolhq.net or connect with him on Twitter @medicalschoolhq
Subscribe for Free
Listen to Other Episodes
Leave us a Review and Rating!
Just like Yelp reviews or IMDB ratings help you choose your next restaurant or movie, leaving a 5 star rating and/or a written review is very valuable to The Premed Years. It allows us to be able to share our information with more people than ever before.
I am so incredibly thankful to those who have recently gone into our listing in iTunes to provide a five start rating and a written review of The Premed Years.
Subscribe and Download
iOS/Mac/Windows – You can subscribe to the show in iTunes. Or you could manually add the RSS feed to your aggregator.
Android/Mac/Windows – You can download DoubleTwist and use that to manage all of our past and future episodes
Please help us spread the word!
If you like the show, will you please take a moment to leave a comment on iTunes? This really helps us get the word out!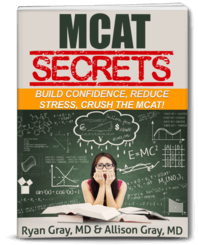 Crush the MCAT with our
MCAT Secrets eBook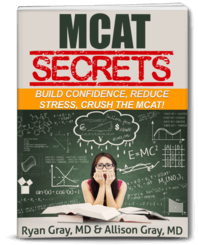 DOWNLOAD FREE - Crush the MCAT with our MCAT Secrets eBook