Session 55
In today's episode, Ryan and Allison talk about how to pick a medical specialty and they came up with 5 key things that are instrumental to forming your path and choosing your specialty at whichever point of your journey you may be right now. Whether you're a premed or a medical student, it's never too early to start thinking about what kind of doctor you want to be.
When is the best time to think about what specialty you want to take?
It's never too early to be thinking about what specialty you want to take. The very latest that you want to arrive to that decision is 4th year of medical school since you need to apply for residency where applications open around September. Data show that many people apply to multiple specialties. Although it's never too late too, should you decide to switch to another specialty later on. If you have an interest early on explore that early.
Always keep an open mind.
Go into every rotation with an open mind. Go through your pre-clinical years with an open mind either.
There is that possibility of switching to a different specialty because things can completely change once you get immersed into the real thing and you get actual time exposure to that certain field. The point of 3rd year rotation is to teach you about the different fields.
Try to get as much experience in the field as you can to cement in your mind if it's the specialty for you. Experience is the best way to figure out the right fit for you.
What you see during hospital rotations is not entirely reflective of what is actually going to look like in the future. You don't necessarily have to practice in a hospital since you can opt to work in a community setting.
Get exposure as early as you can.
Start figuring out what you might be interested in.
Some specialties are research-heavy. The earlier you get exposure to a field, the more opportunities you're going to get.
Generally, there are 5 core clinical rotations as a 3rd year:
Internal Medicine
General Surgery
Pediatrics
OB/Gyn
Psychiatry
Don't wait till 3rd year, get exposed as early as you can to figure out what you want to be doing
Use the process of elimination.
Sit with a checklist and go through all the specialties.
Cross things off as progress through medical school.
Some questions to ask yourself:
Do you want to be a surgeon or a diagnostician?
Do you want to spend most of your time doing procedures or solving puzzles? (Consider your level of dexterity and spatial sense. Understand where your skills may lie. It's not about a matter of being able to do it, rather, you have to be a master at your craft.)
Do you want to take care of adults or children? (Dealing with the child's parents can be very challenging) Med-Peds is a select residency where you will be trained to be able to practice and take care of both adults and children. Family medicine also allows you to take care of the whole family unit.
Do you like generally well people or those who are critically ill? (Critical care medicine involves majority of your time taking care of critically ill people.)
Are you an adrenaline junkie? (If you can handle jumping from room to room with patient crashing after patient crashing, consider being an ER physician)
How much patient contact do you want? (If you don't want any patient interaction, consider pathology or radiology)
Another thing to consider:
Patients you're going to be taking care of and the emotional toll it's going to have on you especially when dealing with cancer patients.
Find a mentor.
Having a mentor is one of the keys to success to medical school. Mentors help pave the way for you. It's life-changing.
Benefits of having a mentor:
Broadening your experience
Exposing you to different facets of the field
Providing opportunities for you to meet other people in that field
Qualities in a mentor to look for:
Someone you look up to and you connect with
Someone who's passionate about the field
Someone who has the time to devote to helping you
Research.
Specialties like Neurosurgery, ENT, and Rad-Onc expect you to have research experience in that certain specialty so find a research mentor and get involved in a project early on.
About The Academy
We talked about the Academy, and how we are REOPENING in the next week or so. We even played an amazing testimonial from one of our members. Go to http://www.jointheacademy.net to sign up to get on the list!
Links and Other Resources:
Surgical Skill and Complication Rates after Bariatric Surgery
12 Medical Specialty Stereotypes
The Ultimate Guide to Choosing a Medical Specialty, Third Edition
Medical Specialty Aptitude Test
Session 052: Getting a Mentor to Guide Your Premed Path
Save $225 on the Princeton Review's MCAT Ultimate or MCAT Self-Paced Prep Course through March 30th 2016 by going to www.princetonreview.com/podcast
If you need any help with the medical school interview, go to medschoolinterviewbook.com. Sign up and you will receive parts of the book so you can help shape the future of the book. This book will include over 500 questions that may be asked during interview day as well as real-life questions, answers, and feedback from all of the mock interviews Ryan has been doing with students.
Are you a nontraditional student? Go check out oldpremeds.org.
For more great content, check out www.mededmedia.com for more of the shows produced by the Medical School Headquarters including the OldPremeds Podcast and watch out for more shows in the future!
Free MCAT Gift: Free 30+ page guide with tips to help you maximize your MCAT score and which includes discount codes for MCAT prep as well.
Hang out with us over at medicalschoolhq.net/group. Click join and we'll add you up to our private Facebook group. Share your successes and miseries with the rest of us.
Check out our partner magazine, www.premedlife.com to learn more about awesome premed information.
Next Step Test Prep: Get one-on-one tutoring for the MCAT and maximize your score. Get $50 off their tutoring program when you mention that you heard about this on the podcast or through the MSHQ website.
Listen to our podcast for free at iTunes: medicalschoolhq.net/itunes and leave us a review there!
Email Ryan at [email protected] or connect with him on Twitter @medicalschoolhq
Subscribe for Free
Listen to Other Episodes
Leave us a Review and Rating!
Just like Yelp reviews or IMDB ratings help you choose your next restaurant or movie, leaving a 5 star rating and/or a written review is very valuable to The Premed Years. It allows us to be able to share our information with more people than ever before.
I am so incredibly thankful to those who have recently gone into our listing in iTunes to provide a five start rating and a written review of The Premed Years.
Subscribe and Download
iOS/Mac/Windows – You can subscribe to the show in iTunes. Or you could manually add the RSS feed to your aggregator.
Android/Mac/Windows – You can download DoubleTwist and use that to manage all of our past and future episodes
Please help us spread the word!
If you like the show, will you please take a moment to leave a comment on iTunes? This really helps us get the word out!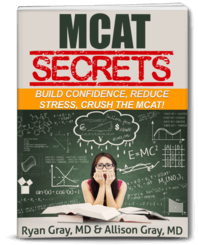 DOWNLOAD FREE - Crush the MCAT with our MCAT Secrets eBook