Session 61
In today's episode, Ryan talks with Rebekah Costello, a current 4th year medical student at Midwestern University Chicago – College of Osteopathic Medicine. She also runs a blog at doctorandmom.blogspot.com. Today, she shares with us her medical school experience as nontraditional student who went through seven different higher education institutions before finally landing at the current school she's at.
Having started medical school at 35 years old and a mom of three children, find out how Rebekah practically juggled her life and glean lessons from her, particularly on how to set your priorities and put aside those that are not really important to you. Her passions for both her family and becoming a physician that exude from this interview will truly inspire you.
Here are the highlights of the conversation with Rebekah:
Rebekah's path to her medical school journey:
Being pregnant with her son and going back to her undergrad studies
Pursuing her biology degree to be eligible to do genetic counselling
Shadowing a genetic counsellor and realizing the actual job was different from what she thought it to be
Wanting to be there more than just a 15-minute interaction with patients
The importance of shadowing:
To know what it's like being a physician
It's okay to step away if it's not what you thought it was or wanted
Her experiences of balancing being a nontraditional student and a mother:
Starting a family at a very early age
Going through the Master's program
Knowing that it's really what you want 100%
Getting support from her husband
Preparing meals for her family
Teamwork as the key!
Her 1st year of medical school as a very challenging phase – letting go of micromanagement
Having a good support network
Being okay with not being the number one in class as long as she's able to be there for her family
Prioritizing her time as a nontrad premed:
Literally making use of every spare second of his day
Asking her professors about certain points about the lecture for clarification
Perusing her note packets to have an idea of their lecture flow
Making audio flashcards
Making sure she is able to spend dinner with her family to maintain that sense of family
Having lunch with her daughter on the weekends
Planning the week ahead and studying after the kids went to bed at night
Family time was crucial, vital, and key but limiting the activities of her kids
Going through her application and the interview:
Getting put on the waitlist and her Master's being not a guaranteed acceptance
Integrating the fact that she has a family into the interview
Some pieces of advice for premed students:
Don't let anybody tell you it can't be done.
Let go of little things and micromanagement. Even if you don't do it, it will be okay.
Family always comes first.
You will hear people giving a ton of advice. Don't listen to them because you and only you know what study skills and organizational skills work for you.
Be flexible and be willing to change because life happens.
Don't lose sight of who you are. Do not let the process change you. Keep who you are.
Links and Other Resources:
Check out Rebekah's blog at doctorandmom.blogspot.com
If you need any help with the medical school interview, go to medschoolinterviewbook.com. Sign up and you will receive parts of the book so you can help shape the future of the book. This book will include over 500 questions that may be asked during interview day as well as real-life questions, answers, and feedback from all of the mock interviews Ryan has been doing with students.
Are you a nontraditional student? Go check out oldpremeds.org.
For more great content, check out www.mededmedia.com for more of the shows produced by the Medical School Headquarters including the OldPremeds Podcast and watch out for more shows in the future!
Free MCAT Gift: Free 30+ page guide with tips to help you maximize your MCAT score and which includes discount codes for MCAT prep as well.
Hang out with us over at medicalschoolhq.net/group. Click join and we'll add you up to our private Facebook group. Share your successes and miseries with the rest of us.
Check out our partner magazine, www.premedlife.com to learn more about awesome premed information.
Next Step Test Prep: Get one-on-one tutoring for the MCAT and maximize your score. Get $50 off their tutoring program when you mention that you heard about this on the podcast or through the MSHQ website.
Listen to our podcast for free at iTunes: medicalschoolhq.net/itunes and leave us a review there!
Email Ryan at ryan@medicalschoolhq.net or connect with him on Twitter @medicalschoolhq
Subscribe for Free
Listen to Other Episodes
Leave us a Review and Rating!
Just like Yelp reviews or IMDB ratings help you choose your next restaurant or movie, leaving a 5 star rating and/or a written review is very valuable to The Premed Years. It allows us to be able to share our information with more people than ever before.
I am so incredibly thankful to those who have recently gone into our listing in iTunes to provide a five start rating and a written review of The Premed Years.
Subscribe and Download
iOS/Mac/Windows – You can subscribe to the show in iTunes. Or you could manually add the RSS feed to your aggregator.
Android/Mac/Windows – You can download DoubleTwist and use that to manage all of our past and future episodes
Please help us spread the word!
If you like the show, will you please take a moment to leave a comment on iTunes? This really helps us get the word out!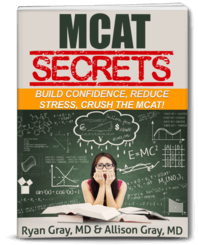 Crush the MCAT with our
MCAT Secrets eBook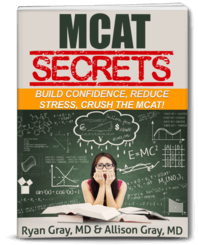 DOWNLOAD FREE - Crush the MCAT with our MCAT Secrets eBook