Session 65
In this episode, Ryan talks with Alec Lee, former premed student and co-founder of M Prep, a test prep company established back in 2007. Since then, Alec has been working with MCAT content having taught 1500 hours of coursework with students, being the head instructor of their comprehensive course, and developing most of the course strategy content for the MCAT course.
As you probably already know, M Prep is popular for their MCAT Question of the Day which sends an MCAT question right to your email inbox. Today, Alex answers the three most common questions that he receives about the MCAT.
3 Most Common Questions that M Prep Receives:
How long should I spend studying for the MCAT?

The general rule of thumb is not to study for less than 8 weeks.
Take the pre-requisites before the MCAT
Students need fewer prerequisites than they're led to believe (No need for calculus or statistics or a semester's worth of organic chemistry).
The exam is about critical thinking and application.
MCAT is written to be relevant from all sources of backgrounds. It is the great equalizer of GPA, academic, and non-academic factors.
The difficulty is in the critical thinking rather than content knowledge.
Performance in the courses
You don't have to excel in the course to be ready for the MCAT but have a solid understanding of the concepts discussed
Have a strong background in biology (although not a requirement). Take advanced courses in biology such as genetics, microbiology, cell biology.
Amount of study time
By 8 weeks, devote a good 15-30 hours per week for studying
If you work full-time or you're really busy that you only get to study 10-15 hours a week, then it should take a longer period of time.
Check out the AAMC website and take the free practice MCAT exam and get a sense for yourself where you're sitting at this time.
Reasons for under preparing for the exam:
Studying too late
Studying on time or early but procrastinating
They did not #RespectTheMCAT and understand what it was
"The MCAT is a game with rules. When you know how to play the game well, you can beat it."
Studying for too long vs. studying the wrong way
There is no issue if you're studying for too long, but did you study the wrong way?
"Practice doesn't make perfect. Perfect practice makes perfect."
If you're preparing correctly, you can't spend too much time doing it.
It's all about how you think about information and that skill won't decline with time – it will only grow.
You might forget content but you can't forget the way you think.
Another great pitfall of prep courses in general is the impression that everything made sense when you reviewed it and so you know it and there's no need to review again. By 3 weeks out, you have to go back and make sure it's fresh in your mind
Should I take the new MCAT?
No. Take the current MCAT. New MCAT starts February 2015.
Don't take the MCAT especially if you don't have your prerequisite courses since you won't be ready for the test.
Reasons for not taking the new MCAT:
Longer exam
From 5 hours in the current exam, the new exam will take 7 hours. This requires a lot more of mental stamina.
A lot more content.
Less physics and chemistry but more content will actually be added than removed – greater chance of having gaps in your knowledge.
Roll-outs of brand new major standardized tests see a drop in the scores for 1-2 years after the switch.
This happened to the SAT, GRE, GMAT. People generally don't perform as well after a switch until people get more used to the content, there is more publishing, and people have done more time with the new content. MCAT scoring is different. AAMC is not releasing their scoring information until the end of April 2014.
Less content available and less expertise.
There is only 1 official practice exam as opposed to the current 8. Current MCAT contents existing are obsolete. AAMC give test prep companies ample time to prepare students for the exam structure but there are still several uncertainties making it difficult for them to develop practice materials and course work.
Where is the best place that has the most information about the MCAT 2015?
Go directly to the AAMC MCAT 2015 which contains various preview guides, sample practice questions, and a sense of the exam structure.
Is it futile to take an old practice test?
The structure of the questions will be constant (multiple choice, four answer options per question, penalty for wrong answers, testing for critical thinking over content).
AAMC is cutting off all access to the old contents by end of January.
Take the current practice test with a grain of salt because a decent amount of content from the physical sciences are removed.
The old exam can end up doing more harm than good if they give you unrealistic expectations.
When should I take the MCAT?
Take it when you're ready, which usually means later in your undergrad career and once you've got a strong background in the pre-requisite content.
The exam can be taken as early as at the end of your sophomore year.
Alec predicts that overall raw scores are going to drop for 2014 since a lot of people are going to be rushing to take the exam before they're actually ready, hence, weaker performance.
Generally, you're ready to take the exam once you've taken your pre-requisites and have put in a solid 2-3 months of studying at a minimum.
Note: On average, MCAT is typically taken in your 2nd semester as a junior. Students apply to medical school at the end of junior year/beginning of senior year
Pushing the exam back as long as possible:
Taking it too late will delay your application.
Make sure to have your score, if possible, by the time you submit your application or very soon after that.
MCAT takes a month to get your score back so the latest you can take it is March or April.
Get far from the habit of delaying the MCAT because it's just one portion of the application. The more time spent studying for the MCAT, the less time you have for shadowing, volunteering, and exploring the premed space.
If you've submitted your application and checked on there that you're scheduled to take the MCAT later, the medical school will sit on your application until all information is there.
Later summer/early fall test dates are geared towards people who are planning to applying next year and just want to have an extra year to not have to worry about the MCAT and do all things involved for preparing for the application process.
"The rolling admissions is a game of musical chairs. The longer the game goes, the less chairs there are, and the music keeps playing."
Some pieces of advice for premed students:
Have a conversation with test prep companies to see what available options you have to help you along.
A course isn't for everyone but at least give it some serious consideration to see if it's going to be right for you or not.
What M Prep offers:
Practice content
Database of practice passages
MCAT Question of the Day (with over 2,000 practice questions for free)
Online course
Links and Other Resources:
MCAT Question of the Day Service
Check out Ryan's review on M Prep www.medicalschoolhq.net/mprep
Session 62: Allison's Story – When the Doctor Becomes the Patient
If you need any help with the medical school interview, go to medschoolinterviewbook.com. Sign up and you will receive parts of the book so you can help shape the future of the book. This book will include over 500 questions that may be asked during interview day as well as real-life questions, answers, and feedback from all of the mock interviews Ryan has been doing with students.
Are you a nontraditional student? Go check out oldpremeds.org.
For more great content, check out www.mededmedia.com for more of the shows produced by the Medical School Headquarters including the OldPremeds Podcast and watch out for more shows in the future!
Free MCAT Gift: Free 30+ page guide with tips to help you maximize your MCAT score and which includes discount codes for MCAT prep as well.
Hang out with us over at medicalschoolhq.net/group. Click join and we'll add you up to our private Facebook group. Share your successes and miseries with the rest of us.
Check out our partner magazine, www.premedlife.com to learn more about awesome premed information.
Next Step Test Prep: Get one-on-one tutoring for the MCAT and maximize your score. Get $50 off their tutoring program when you mention that you heard about this on the podcast or through the MSHQ website.
Listen to our podcast for free at iTunes: medicalschoolhq.net/itunes and leave us a review there!
Email Ryan at ryan@medicalschoolhq.net or connect with him on Twitter @medicalschoolhq
Subscribe for Free
Listen to Other Episodes
Leave us a Review and Rating!
Just like Yelp reviews or IMDB ratings help you choose your next restaurant or movie, leaving a 5 star rating and/or a written review is very valuable to The Premed Years. It allows us to be able to share our information with more people than ever before.
I am so incredibly thankful to those who have recently gone into our listing in iTunes to provide a five start rating and a written review of The Premed Years.
Subscribe and Download
iOS/Mac/Windows – You can subscribe to the show in iTunes. Or you could manually add the RSS feed to your aggregator.
Android/Mac/Windows – You can download DoubleTwist and use that to manage all of our past and future episodes
Please help us spread the word!
If you like the show, will you please take a moment to leave a comment on iTunes? This really helps us get the word out!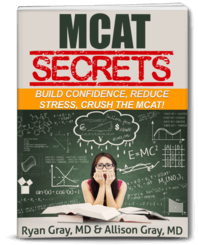 DOWNLOAD FREE - Crush the MCAT with our MCAT Secrets eBook