Session 281
When should you start writing your personal statement, your extracurriculars, taking the MCAT, asking for letters of recommendation and more application timelines?
It's a common question I get, all around application timing. What does the timeline look like? If you do this or delay your MCAT, would it affect your application? How will it affect your application? Listen in to shed light on these questions that you may also be having as well.
First off, when you're studying for the MCAT, full-length exams are very important. And a lot of students have given the feedback that Next Step Test Prep's full length exams are second best to AAMC. Check out their full length exams at medicalschoolhq.net/nextstep and use the promo code MSHQ to save 10% on them.
[02:31] The General Timeline
The MCAT is the biggest variable that determines everything else in this process. However, let's discuss the general timeline first.
First, remember there are three different application services out there – TMDSAS (for Texas medical schools), AMCAS (for MD schools), and AACOMAS (for DO schools). These three roughly follow the same timeline. TMDSAS opens on May 1, 2018. AMCAS opens on May 2. And AACOMAS opens on May 3.
For TMDSAS and AACOMAS, you can submit your application immediately. As soon as you've entered your information, you've checked it multiple times, you can submit it right then and there. With AMCAS, however, there's a delay between when the application opens up and when you can actually submit. This year (2018), it's May 31st.
Another interesting students don't know about AMCAS and AACOMAS is that once you submit your application, that doesn't mean schools are getting it. Say you applied early, your application and transcripts need to go through a verification process, which is done manually.
After this, there's still that delay for when the first wave of applications go out to medical school.For AMCAS, it's June 29 is when they will send the first wave of verified applications to medical schools. So until then, medical schools won't find out that you have applied to them through the AMCAS service. Meanwhile, AACOMAS is sending out the application by June 15. TMDSAS doesn't give that information however.
After the first wave of applications goes out, then the data becomes available for any medical school anytime when they want to pull down from the application service.
[08:05] MCAT Dates
The ideal time to take the MCAT is March or April. That way, you get your score back before you submit your application. It takes about a month before your MCAT score comes back.
So you have enough time to work on your application and finish up your personal statement and extracurriculars. Get those letters of recommendation in. Continue to shadow and do extracurricular activities. Continue to do your classes.
There are so many moving pieces through this application process that sometimes your head starts to spin.
A common question coming from students on the Premed Hangout or the Medical School HQ Forums is whether to push back taking the MCAT. So my question right back is what's going to change between now and then to warrant pushing your MCAT back to a month?
Taking the MCAT in June
And what happens when you take in late June? Late June is about the latest that I recommend for applying that same year.
*But usually, the students who do this have something the medical school is looking for in that they fit the community that the school is fitting together. Hence, don't take it's the norm to take the MCAT late and be okay getting into medical school. This is the reason I always harp on applying early.
If you took the MCAT late June, it takes a month to get your score back. Now, you're looking at your score of late July hitting the medical schools. In that time, the recommendation is still always apply as early as possible. Even if you don't have your MCAT score and even if you already have an old MCAT score and it's a bad MCAT score.
When you register for a new MCAT test, that new test date will go into your application. And medical schools will see that you have a pending date and a pending score. They care about your new score because you're taking the new test again. That being said, they're going to wait to process and review your application until that score comes back. So don't be afraid to apply with a bad score if you're registered to take the MCAT again.
If you apply at the end of May to beginning of June, and you're not taking the MCAT until the end of June, while you're preparing all the other elements of your application – personal statements, autobiography (if required), etc. At the same time you're doing this, you're also preparing for the MCAT and you're taking classes. So there's a lot of time being asked of you that is taking away from your MCAT prep. You can push the date off, but you're doing more and more things in that process as well.
If you submit your application at the end of May, then you'd have time to focus on studying for the MCAT full time now. So you study for the MCAT full time and take the MCAT at the end of June.
[11:44] Writing Your Secondary Essays
Then June 15, AACOMAS says that medical schools that these students are applying to medical schools. And if you're in that first wave of applications, you're going to start getting secondary essays back. And for MD medical schools, it's going to be June 29 and the same thing happens.
When you apply to medical schools on time or early (end of May-beginning of June), and you're taking a late MCAT, you are hindering your ability to pre-write your secondaries. Or if you do pre-write them, you're taking away time from studying for the MCAT.
If you're planning on pushing it back, you need to factor in all of these other pieces to the puzzle that will factor in your ability to do well on the MCAT as well as your ability to apply with a strong application on time. The same as writing all of your secondary essays in a timely manner.
I highly recommend that you follow the general rule of thumb that you should turn around your secondary applications within about two weeks. And if you don't, it's not going to destroy your application. But there are medical schools out there that track how long it takes you to turn around your secondary essays. The longer that you take, they assume you're less interested in going to that medical school so they might not interview you because of that.
Writing secondaries takes a lot of time. They go faster the more you do and this is good since they can get repetitive. But they're very time-consuming. When you apply to 20 medical schools and your wave of applications goes out all at the same time, all of those medical schools are going to send you a secondary essay, even without your MCAT score. Even if you have a bad prior MCAT score and even if you've never taken the MCAT before but you don't have the score in, the majority of medical schools out there will send you a secondary application because they don't screen to determine whether or not you're actually qualified to be a medical student at their school. What they care about is that they need to send you a secondary application and you need to submit it and pay the fee.
[14:57] Medical Schools Sitting on Your Application
Once you turn around those secondaries, your score comes back at the end of July. If you're able to turn around those secondaries within a couple of weeks (mid-July), and if the score doesn't come back until the end of July, medical schools are sitting on your application for a couple of weeks before it's complete. That's not terrible actually. It's not a bad deal.
Medical schools have this rolling admissions. And when you're pushing it off, the long you wait, the less chance you have of getting into medical school.
Applying to medical school is like a game of musical chairs where your chances of getting a seat becomes slimmer and there's one extra player to the number of seats. But in medical school, there's an increasing number of students applying as the application cycle goes on. Then there's an ever decreasing number of seats available and interview slots. This is why you need to apply early and understand how putting off the MCAT can affect you.
[16:24] Pushing Back the MCAT Further
If you need to push it back past the end of June, it's possible. If you need to push back past July, then don't even bother applying this application cycle. Put it off until the next year. And if you do this, just delay your MCAT as well and take it at the end of the year, beginning of the next year. That way, you're not cramming everything together.
If you decide to delay your application a year, your MCAT prepare isn't going the way you wanted it to, and if you decide more time to prepare for the MCAT, take the time off. Delay your application a year. Stop stressing about writing your personal statement, extracurriculars, prepping for the MCAT, doing your classes, etc. Push the MCAT back, and take a deep breath and start over. This is totally okay.
In fact, this is much better than taking the MCAT very late in the application cycle and submitting your application very late. You're likely just wasting an application cycle and along with that wasting money.
[17:51] Other Things to Keep in Mind: Transcript, School List, and More!
As soon as the application cycle opens up, print out the transcript request form and send them to all of the institutions that you went to get the official transcript sent to the application services. This is the first thing you should be doing as soon as those application services open up beginning of May.
By end of April and beginning of May until end of June, you should be working on your school list. School list doesn't matter – what your GPA or MCAT score is – until the very end. Think about the schools you want to go to, locations you want to go, class sizes that fit your style and curriculum, etc. And then look at MCAT and GPA.
Personal statement should be written in January. It takes a long time to write. Check my book, The Premed Playbook; Guide to the Medical School Personal Statement  coming out in August. Preorder that now if you're applying for the 2019 application cycle to start medical school in 2020.
So again, write your personal statement in January. It takes a lot of drafts to go through. Then January to March, work on your letters of recommendations from professors, PI's, supervisors at work or volunteering positions, etc. Set up an Interfolio account since you can't do anything about the letters until the application cycle opens up for that year. And with that account, you can have those letters sent immediately as soon as the writers are done with them. And as soon as the application service opens up, Interfolio sends those letters of recommendation to the application service.
While you're still writing your personal statement, you should also be working on your extracurriculars (January-February).
[20:35] As Soon As You Hit Submit: Pre-Writing Your Secondaries
As soon as you submit your application, and assuming you've pressed Submit, you're not done.
The next thing you should do is turn around. Find all of the secondary essays available for that school. By the way, I will have a secondary essays database where I will have a post for each of the schools and the secondary essays they're looking for.
If you've already pre-written your secondaries, that way, when schools start sending back secondary essay application request and you get then of them in one day, you already have them done. Just do a quick triple check and submit it within a couple of hours or a couple of days.
In times the questions have changed, then just scramble and re-write an answer. It's better than writing answers fresh for the first time for all ten of those secondaries coming back on the same day.
If you have any more questions, please feel free to join the Hangout Group and be part of the group.
Links:
Next Step Test Prep – Use the promo code MSHQ to save 10% on them.
The Premed Playbook; Guide to the Medical School Personal Statement
Get the Podcast Free!
Listen to Other Episodes
Leave us a Review and Rating!
Just like Yelp reviews or IMDB ratings help you choose your next restaurant or movie, leaving a 5 star rating and/or a written review is very valuable to The Premed Years. It allows us to be able to share our information with more people than ever before.
I am so incredibly thankful to those who have recently gone into our listing in iTunes to provide a five start rating and a written review of The Premed Years.
Subscribe and Download
iOS/Mac/Windows – You can subscribe to the show in iTunes. Or you could manually add the RSS feed to your aggregator.
Android/Mac/Windows – You can download DoubleTwist and use that to manage all of our past and future episodes
Please help us spread the word!
If you like the show, will you please take a moment to leave a comment on iTunes? This really helps us get the word out!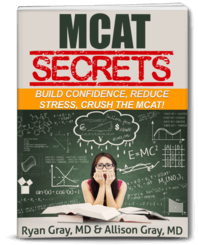 DOWNLOAD FREE - Crush the MCAT with our MCAT Secrets eBook