Session 83
In today's episode, Ryan talks with Alex Breslin, a premed student at the University of Florida studying Biology. He started the "Dream Team," a nonprofit organization run by students where they volunteer with pediatric patients in the cardiac care unit at UF Health Shands Hospital in Gainesville.
Medical school application is highly competitive where it absolutely pays if you stand out, which Alex did by starting this Dream Team. Today, he shares with us why he started it, who he reached out to, and how all this inspiring endeavor came about. Providing 1500 hours a day, 6 days a week of volunteers, draw upon Alex' experiences and maybe you could start something similar at your campus, at your hospital.
Here are the highlights of the conversation with Alex:
Alex's journey to medical school:
Shadowing a physician and seeing the compassion involved
Went on a medical mission trip in the Dominican Republic (He remembers sitting in the jungle and really feeling he was making a difference)
His decision on going to University of Florida
Getting advice from older students
Currently studying for the MCAT (Kaplan and Examkracker books)
How Alex conceived the Dream Team:
Becoming a Shands volunteer where you get to hang out with kids in the hospital
Spending time with one particular kid with brain cancer and understanding the need for bringing more students into the hospital to interact with the kids
What is the Dream Team?
Dream Team is a nonprofit organization that specializes in pediatric cardiology where they seek to brighten the experience of the current children in cardiac care by donating their time and attention to the kids.
Asking for help:
Setting the foundation of the future organization
The importance of networking (reached out to the physician he shadowed and other physicians in different pediatric units)
Getting the hospital involved and bringing in volunteers:
Tons of meetings (2-min elevator spiels)
Shout out to Ms. Chris Brown, the director of the Child Life Program (who has helped him tremendously)
Everything has to be very organized and fundamentally sound
Initially, they were given the ok signal to bring in 10 volunteers until eventually bringing in more volunteers
What is the Child Life Program?
Child Life deals with any volunteer specifically interacting with children (a subspecialty within Shands volunteer)
Recruiting the first ten volunteers:
Reaching out to the UF population through the internet (Facebook, emails, etc.)
Creating a solid Facebook page
Strict application cycle + interviews
Some pieces of advice for premed students who want to stand out:
Focus on embracing the journey you have as an undergrad rather than just the outcome.
Be involved in organizations and activities that are making a difference.
Links and Other Resources:
Dream Team UF Volunteer Application
Are you a nontraditional student? Go check out oldpremeds.org.
For more great content, check out www.mededmedia.com for more of the shows produced by the Medical School Headquarters including the OldPremeds Podcast and watch out for more shows in the future!
Free MCAT Gift: Free 30+ page guide with tips to help you maximize your MCAT score and which includes discount codes for MCAT prep as well.
Hang out with us over at medicalschoolhq.net/group. Click join and we'll add you up to our private Facebook group. Share your successes and miseries with the rest of us.
Check out our partner magazine, www.premedlife.com to learn more about awesome premed information.
Next Step Test Prep: Get one-on-one tutoring for the MCAT and maximize your score. Get $50 off their tutoring program when you mention that you heard about this on the podcast or through the MSHQ website.
Listen to our podcast for free at iTunes: medicalschoolhq.net/itunes and leave us a review there!
Email Ryan at ryan@medicalschoolhq.net or connect with him on Twitter @medicalschoolhq
Subscribe for Free
Listen to Other Episodes
Leave us a Review and Rating!
Just like Yelp reviews or IMDB ratings help you choose your next restaurant or movie, leaving a 5 star rating and/or a written review is very valuable to The Premed Years. It allows us to be able to share our information with more people than ever before.
I am so incredibly thankful to those who have recently gone into our listing in iTunes to provide a five start rating and a written review of The Premed Years.
Subscribe and Download
iOS/Mac/Windows – You can subscribe to the show in iTunes. Or you could manually add the RSS feed to your aggregator.
Android/Mac/Windows – You can download DoubleTwist and use that to manage all of our past and future episodes
Please help us spread the word!
If you like the show, will you please take a moment to leave a comment on iTunes? This really helps us get the word out!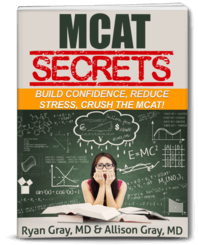 Crush the MCAT with our
MCAT Secrets eBook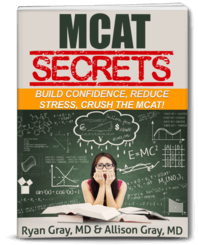 DOWNLOAD FREE - Crush the MCAT with our MCAT Secrets eBook