Session 82
With too much information found on the internet today, it could be challenging to sort and sift the best and most trusted sources of information that you need along your journey to medical school.
In today's episode, Ryan talks about the Top 10 Resources premed students need to be going to for information.
Top 10 Resources for Premed Students
Access to other premed students, medical students, and physicians
Collaborate with other premed students. Two heads are better than one.
Older students are great sources of information because they have just gone through the process so they'll be honest with you.
Twitter is a great avenue for you to connect with other students and even physicians. Follow Ryan @medicalschoolhq and search for keywords like #premed, #mcat, #futuredoctor, #medschool, etc. You get to jump into conversations that allow you to learn, share your views, and then move on to the next conversation.


Features various forums for everyone in the medical field.
Also a great resource for secondaries where they have a wide database of previous questions on secondaries which have been contributed by past students.
Warning!!!
Don't get sucked into the vortex of SDN. While the site provides a lot of great information, the premed forum particularly, contains a lot of cutthroat negativity that could greatly affect your self-esteem as it relates to your path to medical school. So tread lightly.
The opposite of SDN, this site has a very nontraditional crowd that many nontraditional students can gather great information from although traditional student are also welcome to check it out. The organization just had their 14th annual conference in the Washington, D.C. area.
Premed advisors
Specific answers to questions
Access to premed advisors can be real challenging but start with your premed advisors since they would have the pulse on the situation. Understand that not all classes are built the same. Hence, these advisors can give you the specific answers to your questions regarding courses that you need to be taking.
They can also help you with your committee letter (your premed office gathers all the letters of recommendation and writes a single committee letter to be submitted with your applications).
Books
MSAR (Medical School Admission Requirements) book – This is a must-have for allopathic medical schools (MD).
College Information Book (CIB) -For osteopathic schools (DO)
AACOM and AAMC
American Association of Colleges of Osteopathic Medicine (AACOM) – for DO schools
Association of American Medical Colleges – for Osteopathic/MD schools
(Texas has a separate medical and dental school application service called TMDSAS.)
Both are great sources of information. AAMC creates the MCAT so they have all the information about 2015 MCAT including practice tests. All of these sites have instructions for applications. Read them before you even start applying to save you a ton of time.
Medical schools
Different schools have different rules on interacting with applicants versus premed students. Don't be afraid to ask questions. They're not off-limits. They have advisors who are there for you so use them.
This website is more of a self-controlled resource that allows you to vote for responses Check out AMAs (Ask Me Anything) where you can ask a certain person just about anything.
At the Academy, we are your own premed advisor with monthly office hours featuring a video chat that allows you to ask questions and other people asking questions and help answer questions. We have a community forum that contains great discussions. It's  non-anonymous so it's a great environment. Go to jointheacademy.net today!
YOU
Trust yourself. Trust your instincts and use the information you have to best figure out your path.
Here's one additional great resource:
Check out our partner magazine, www.premedlife.com to learn more about awesome premed information.
What resources have you used on your path? Share it with us and leave a comment.
Links and Other Resources:
MSHQ 74: 1st Year of Medical School for a Non-Traditional Premed
MSHQ 77: Starting the Journey to Med School at 38, taking the First Steps
schools.studentdoctor.net for a database of questions on secondaries
Are you a nontraditional student? Go check out oldpremeds.org.
For more great content, check out www.mededmedia.com for more of the shows produced by the Medical School Headquarters including the OldPremeds Podcast and watch out for more shows in the future!
Free MCAT Gift: Free 30+ page guide with tips to help you maximize your MCAT score and which includes discount codes for MCAT prep as well.
Hang out with us over at medicalschoolhq.net/group. Click join and we'll add you up to our private Facebook group. Share your successes and miseries with the rest of us.
Check out our partner magazine, www.premedlife.com to learn more about awesome premed information.
Next Step Test Prep: Get one-on-one tutoring for the MCAT and maximize your score. Get $50 off their tutoring program when you mention that you heard about this on the podcast or through the MSHQ website.
Listen to our podcast for free at iTunes: medicalschoolhq.net/itunes and leave us a review there!
We are also on Android! Listen to us using your Android device clicking on the Android icon right in our homepage. https://medicalschoolhq.net/
Email Ryan at ryan@medicalschoolhq.net or connect with him on Twitter @medicalschoolhq
Subscribe for Free
Listen to Other Episodes
Leave us a Review and Rating!
Just like Yelp reviews or IMDB ratings help you choose your next restaurant or movie, leaving a 5 star rating and/or a written review is very valuable to The Premed Years. It allows us to be able to share our information with more people than ever before.
I am so incredibly thankful to those who have recently gone into our listing in iTunes to provide a five start rating and a written review of The Premed Years.
Subscribe and Download
iOS/Mac/Windows – You can subscribe to the show in iTunes. Or you could manually add the RSS feed to your aggregator.
Android/Mac/Windows – You can download DoubleTwist and use that to manage all of our past and future episodes
Please help us spread the word!
If you like the show, will you please take a moment to leave a comment on iTunes? This really helps us get the word out!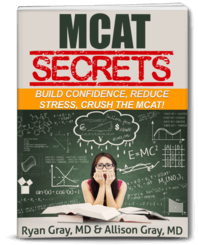 Crush the MCAT with our
MCAT Secrets eBook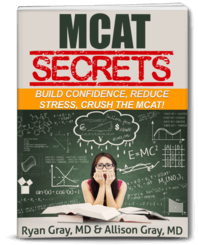 DOWNLOAD FREE - Crush the MCAT with our MCAT Secrets eBook