Session 146
Today, Ryan talks about the 9 biggest mistakes during the medical school interview and how to fix each of them to help you go through the interview successfully.
The medical school interview is a key part to the application process which, unfortunately, many students take for granted. So they end up not doing very well during the interview and making a lot of mistakes.
You need to understand that interview spots are limited and precious so if they're offering you an opportunity for an interview, remember that the interview day is your opportunity to show them who is on the application and who is written about in the letters of recommendation and your personal statement. They want to make sure what they see on paper is who you are in person.
So here are the biggest mistakes you should keep away from during the interview as well as some strategies to help you do well during the interview.
9 Biggest Mistakes During the Medical School Interview
 Sounding too rehearsed

It should be conversational between you and your colleague.
It has to flow back and forth.
Don't sound like you're reading a script.
Following a script makes it hard for you to find your place in your head in case the interviewer throws you off.
Rehearse it enough so that you know what the key points are without sounding scripted.

Sounding like you're reading your application or resume

Tell them something exciting.
Show them what you've done and tell them something memorable about you (favorite hobby, sport, coolest place you've ever been to), something that someone else isn't going to say

Dressing inappropriately

Wear a suit.
For men, shave
Dress neutral.

Not taking the time to think before answering the question

Do not answer the questions too quickly that you're not taking the time to think and not interrupting the interviewer.
Take a pause after the interviewer asks the question.
Ask yourself, did you understand what he/she just asked you? If not, ask for clarification.
Should you need to pause, tell the interviewer you need to think about it for a second.

Not staying on topic

You may go down rabbit holes that might not have been asked by the interviewer
You might have the tendency to say things you're not sure it's true or don't know all the facts of and the interviewer may ask follow-up questions.
Answer what is asked of you and no more.

Being negative

Don't push blame on other people.
Don't be negative about former bosses, classmates, or teachers.
Being "unmotivated" is not a good word you can use. Rearrange your words to come up with a stronger answer and make it less negative or have a positive spin to it.

You don't put on a smile.

Understand your nervous tics and gestures that get in the way of the interview.

Not having good, solid, informed questions to ask

Be prepared and that you care by asking informed questions that connects you to the interviewer.

Not doing a mock interview

Prepare for a mock interview like it's a real interview.
Get it recorded to see your vocal pauses and nervous ticks.
Understand your stress level so you're able to control your responses.
One-on-One Mock Interview Prep
I've been doing mock interviews with many students over the last couple of years. Last year, every student I did a mock interview with, got into medical school.
If you're interested in mock interview prep – go here!
Links and Other Resources
Free MCAT Gift: Free 30+ page guide with tips to help you maximize your MCAT score and which includes discount codes for MCAT prep as well.
Connect with me on Twitter @medicalschoolhq
Listen to our podcast for free at iTunes: medicalschoolhq.net/itunes and leave us a review there! Get us free on your device. Subscribe and listen to new episodes each week. Visit www.medicalschoolhq.net/listen
Check out our partner magazine, www.premedlife.com to learn more about awesome premed information.
Next Step Test Prep: Get one-on-one tutoring for the MCAT and maximize your score. Get $50 off their tutoring program when you mention that you heard about this on the podcast or through the MSHQ website.
Hang out with us over at medicalschoolhq.net/group. Click join and we'll add you up to our private Facebook group. Share your successes and miseries with the rest of us.
Subscribe for Free
Listen to Other Episodes
Leave us a Review and Rating!
Just like Yelp reviews or IMDB ratings help you choose your next restaurant or movie, leaving a 5 star rating and/or a written review is very valuable to The Premed Years. It allows us to be able to share our information with more people than ever before.
I am so incredibly thankful to those who have recently gone into our listing in iTunes to provide a five start rating and a written review of The Premed Years.
Subscribe and Download
iOS/Mac/Windows – You can subscribe to the show in iTunes. Or you could manually add the RSS feed to your aggregator.
Android/Mac/Windows – You can download DoubleTwist and use that to manage all of our past and future episodes
Please help us spread the word!
If you like the show, will you please take a moment to leave a comment on iTunes? This really helps us get the word out!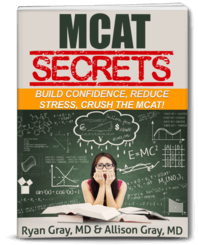 Crush the MCAT with our
MCAT Secrets eBook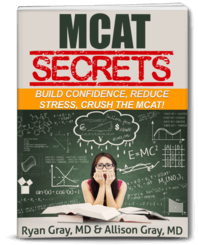 DOWNLOAD FREE - Crush the MCAT with our MCAT Secrets eBook