Session 154
Today's guest is an MSHQ Academy member, Saidat, who has just started medical school. She talks about her experience going through premed and medical school while she walks you through her thought and decision process during the medical school application.
Saidat is a first year medical student at Marshall University in West Virginia where she currently describes her medical school life as "surviving" – find out why she thinks this way.
Among the things she loved back in her preschool years were hotdogs, the color green, and wanting to become a doctor. Now… she hates hotdogs. She hates the color green. But she definitely still wants to be a doctor. 🙂
In this episode, she shares some pains and triumphs along the way such as taking the MCAT twice but eventually getting acceptance into more than one school.
Here are the highlights of the conversation:
Why she is surviving:
Going through the hardest block of med school
When she knew she wanted to become a doctor:
Early exposure to medicine with her dad being a nurse and her mom, a pharmacist
What obstacles she faced along the way:
Fighting through the negative comments from other people
Organic Chemistry (Isn't this true for almost everybody?)
MCAT and her MCAT score (She had to take it the second time)
Not discovering the health advisory programs until later on
Facing the obstacles:
A good support system from family and friends
Describing her transition from high school to college:
A sense of independence
Moving from Maryland to West Virginia
Dealing with "culture shock"
Deciding not to take a gap year
What she did preparing for starting medical school:
Having fun and enjoying her last summer
Discover her thought process behind applying to both MD and DO
A week to decide which school to go to
Considering the school that's best for her learning ability
Her best resources to help her on this journey:
People who have gone through medical school
Some pieces of advice for premed students:
Do not take your MCAT until you're ready.
Don't stop. If you want to do this, you can do this.
Take a time off if you need to.
If you believe you can do it, yes you can!
If this is what your really want then go for it!
Links and Other Resources
Subscribe for Free
Listen to Other Episodes
Leave us a Review and Rating!
Just like Yelp reviews or IMDB ratings help you choose your next restaurant or movie, leaving a 5 star rating and/or a written review is very valuable to The Premed Years. It allows us to be able to share our information with more people than ever before.
I am so incredibly thankful to those who have recently gone into our listing in iTunes to provide a five start rating and a written review of The Premed Years.
Subscribe and Download
iOS/Mac/Windows – You can subscribe to the show in iTunes. Or you could manually add the RSS feed to your aggregator.
Android/Mac/Windows – You can download DoubleTwist and use that to manage all of our past and future episodes
Please help us spread the word!
If you like the show, will you please take a moment to leave a comment on iTunes? This really helps us get the word out!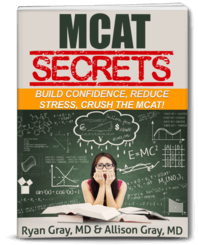 DOWNLOAD FREE - Crush the MCAT with our MCAT Secrets eBook