Apple Podcasts | Google Podcasts

Session 253
A semester into grad school, this nontrad is changing gears and pursuing a premed career changer postbac. Should they include their masters on their app?
Questions answered here on the podcast are taken directly from the Nontrad Premed Forum over at premedforums.com. Please go ahead and register for an account, ask your question, and have fun with the community.
Check out Mappd.com. is the new technology platform that I co-founded with Rachel Grubbs who has 20 years of experience in the test prep world. Mappd is a tracking tool to help you through your premed process.
If you're a nontraditional student just starting out on your premed journey, sign up for a free two-week trial today. Enter in your activities, your job that you currently do all of the volunteering that you currently do all of your old grades, and any MCAT scores that you may have. Again, go sign up for an account to know what your next steps are.
Also, please be sure to check out all our other podcasts on Meded Media as we try to bring you as many resources as you need on this journey.
Listen to this podcast episode with the player above, or keep reading for the highlights and takeaway points.
[02:30] OldPreMeds Question of the Week
"I'm applying to Post-Bac Career Changer Pre Med programs. Back in 2018, I started a Master's degree in clinical mental health counseling before realizing that I wanted a "higher" degree. After finishing one semester (with excellent grades), I dropped out of the program.  
I am worried that this won't look good to a post-bac program: they may see leaving a previous program as evidence that I won't be committed to finishing THEIR program. This isn't true, but they may think about it.  
Do I need to mention this semester of a Master's program or include transcripts from it in my PostBacCAS application? If I don't include it, would they be able to find out that I had enrolled in those courses?"
[03:14] Should You Include Your Semester of Master's Program
Go to the application service manual. Now, if the PostBacCAS is anything like AACOMAS, which is the DO application that runs on the same software, that PostBacCAS runs on, and it has some of the same kind of rules and regulations and instructions, then yes. You would need to include that semester of your master's program. They could find out about it.
They have clearinghouses, which are data repositories of all the students, all of the courses, and everything else that schools and application services potentially could check.
TMDSAS catch students often enough who try to lie on their application and they get flagged and they get booted. So don't do that. Report according to the instructions and what is required.
'Report what you need to report.'
Click To Tweet
[04:20] How Medical Schools Look at an Unfinished Degree
The unfinished degree doesn't mean anything in your personal statement. Depending on what this PostBacCAS actually requires, if they do require a personal statement, you could put in there briefly in one sentence. Tell them you realized you wanted something different and that's all you need to put to do it. 
"A lot of students are in this same similar situation where they're worried about what they've done previously."
Click To Tweet
If you went down a path thinking that's what you wanted to do, or maybe you've always wanted to be a physician. But you're doubting yourself and going down a different path. And then you realize halfway through that it's not what you want, and you need to go to medical school, then start the journey to medical school.
Many students will spend extra money and time finishing something that they don't want to do. Or they aren't committed and they're just going to quit the program. That's a valid argument.
If you started one medical school and dropped out and now you're applying to medical schools, again, that is a valid argument. 
But if you started PT school, dental school, OT, or nursing school, or if you started a master's program for something else, and you realize that you wanted to go to medical school. That is a completely legitimate argument, assuming you have good reasons you want to go to medical school for stopping the program that you're in.
[05:46] How to Answer Their Questions
The admissions committees may have some questions. But as long as you have a good explanation like you wanted to be a physician, and why you want to be a physician. Then they can see why you didn't want to spend extra money. And that's because you didn't want to spend extra time going down this path that wasn't going to do anything for you in the future. So don't worry about those repercussions. Do what is right for you.
Explain it in any way that you think you'll need to explain it in an application. You don't have to go overboard when trying to explain it. It's a common thing. You're not the only person in the entire world that has gone down one path and then realized that's not what you want to do. You're not the first person, and you won't be the last.
'It's very common in an application to see students starting programs and not finishing it for this very specific reason.'
Click To Tweet
Links: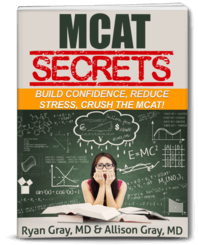 DOWNLOAD FREE - Crush the MCAT with our MCAT Secrets eBook